Western Sanctions Against Russia Impact Major Projects and Contracts
Publication: Eurasia Daily Monitor Volume: 11 Issue: 96
By: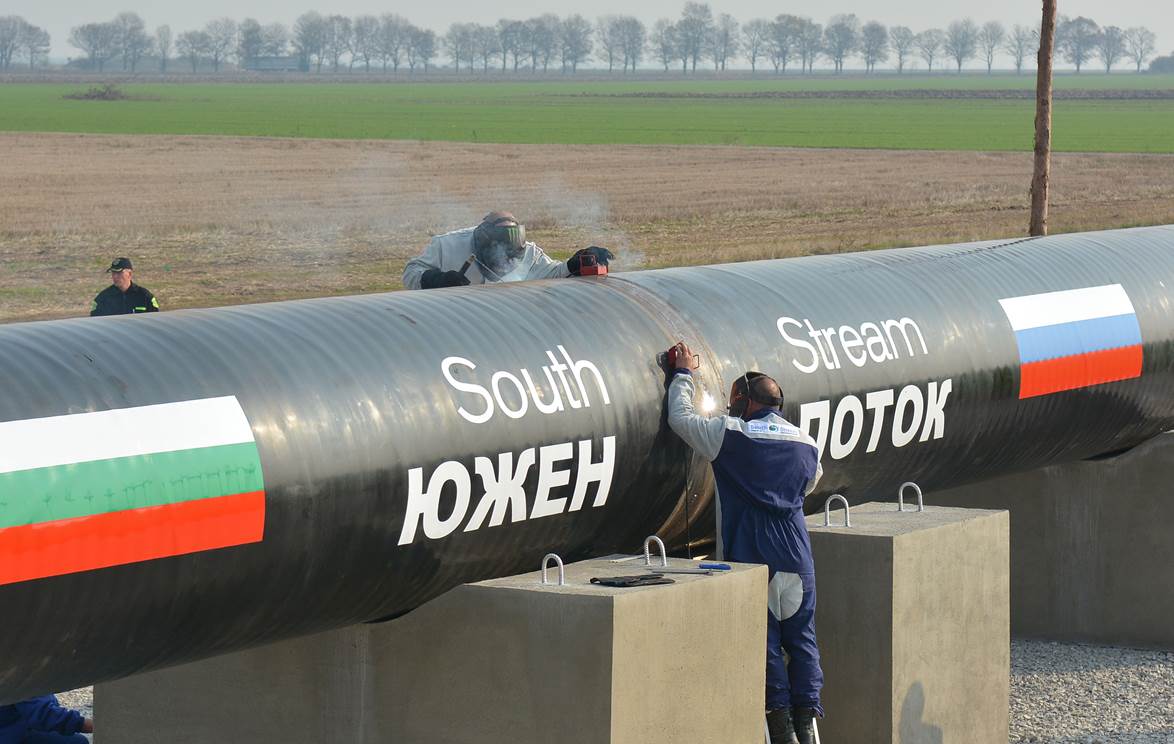 Western sanctions against Russia may not appear as strong or as sweeping as many expected, but their targeted effect is becoming visible in major Russian industries and critical ongoing projects, such as the South Stream gas pipeline, Yamal liquefied natural gas (LNG) project, and the telecommunication industry. They have even impacted the recent gas deal brokered by Russian President Vladimir Putin in Beijing.
It is clear that the combined sanctions passed by the United States, the European Union, Canada and Australia, along with Europe's plans to reduce its dependence on Russian energy, have forced President Putin to accept less favorable terms for the long-awaited gas contract with China. On April 29, Gazprom recognized the risk of the US and the EU imposing sanctions against the company and said that it would try and mitigate their possible repercussions by developing cooperation with partners in the East (Interfax, April 29).
"There can be no assurance [that] the existing or new sanctions will not be expanded to include any company of the Gazprom Group. Gazprom sells a significant part of its products, purchases equipment and owns operating assets in Europe. A large portion of Gazprom Group's revenues and obligations are denominated in US dollars and euros. An expansion of the existing or introduction of new sanctions against any entity within the Gazprom Group could have a material adverse effect on the business, financial condition and results of operations of the Gazprom Group," Gazprom said in a commentary in its financial report to the International Financial Reporting Standards (IFRS) (Gazprom, Management Report, 2013).
When, on May 21, Gazprom CEO Alexei Miller triumphantly said in Beijing: "This is Gazprom's biggest contract. No company has ever signed a contract like this," he did not disclose the agreed gas prices. The Twitter remark of Alexei Pushkov, head of the State Duma's International Affairs Committee, made clear how desperate Putin was to show that he was directing Russian energy supplies to Eastern markets, clearly under pressure caused by Western sanctions: "The 30-year gas contract with China is of strategic significance. [US President Barack] Obama should give up his policy of isolating Russia—it will not work," said Pushkov (Interfax, May 21).
The gas supply contract with China is worth $400 billion over 30 years. Gazprom will supply up to 38 billion cubic meters of gas to China per year—amounting to about $350 per thousand cubic meters (Interfax, May 21). This price is much lower than what Central and Eastern Europe, Germany included, pay for Russian gas. Currently, Russia delivers four times these volumes to Europe and sells them at a price higher by at least $100 per thousand cubic meters.
In a commentary for Slon.ru, Russian energy expert Vladimir Milov from the Institute for Energy Policy in Moscow concluded: "The Russian budget will not receive anything from the gas deal with China. Revenues due to the Russian state for developing the Eastern Siberian gas deposits are going to be given to the Chinese" (Slon.ru, May 21).
On a project level, the politically important Kremlin undertaking—the South Stream natural gas project—is effectively blocked not only by the EU, but also as a result of the sanctions against Gennady Timchenko, whose company Stroytransgaz Holding has allegedly won a tender to build the pipeline's Bulgarian section (Mediapool.bg, March 14; Capital Online, March 23). Timchenko, a close ally of President Putin, was included on the US sanctions list of March 20. His Volga Group and another ten related companies were also sanctioned by the US Treasury Department on April 28 (https://www.treasury.gov/press-center/press-releases/Pages/jl2369.aspx).
As Sofia supports the sanctions against Russia, it could not possibly announce Stroytransgaz Holding as the winner of the tender. At the same time, the government is hesitant to call off the tender and thus upset relations with Gazprom, which is the only gas supplier in the country. Bulgaria is probably the most critical EU country for the South Stream project, since the undersea portion of the pipeline comes onshore on its Black Sea coast. Blocked in Bulgaria, the project is unable to move forward, despite claims by Russian officials that construction is on schedule (https://www.gazprom.com/press/news/2014/may/article190959/).
Timchenko is believed to have managed Putin's personal wealth. The sanctions against him, therefore, target Putin directly and his political project in Europe—the South Stream pipeline. Timchenko made his fortune as co-founder of the Swiss-based oil trading company Gunvor Group, the fourth-largest crude oil trade company in the world. However, he was forced to sell his 44-percent share to his partner Torbjorn Tornqvist a day before the announcement of the sanctions. Now, Gunvor is being prepared for sale again. According to Kommersant, negotiations are held with several potential buyers, including Russian oil major Rosneft. The company could be valued at $5 billion (Kommersant, May 21).
Additionally, the launch of the Yamal LNG plant in Russia's Arctic could be held up due to problems with financing in Europe and access to technology, France's Total has warned. Sanctions against Gennady Timchenko, who is also a co-owner of Novatek, the controlling shareholder of the $27 billion gas project, could delay the opening of the plant, said Vedomosti on May 21.
Russian telecommunication group Vimpelcom informed its investors about potential risks to its business due to Crimea's annexation by Russia and the ongoing turmoil in Ukraine. The company warned about potential losses from both political instability and the impact of sanctions. Having written off a $2.085 billion paper loss from its fourth-quarter financial statement at its wholly owned Ukrainian subsidiary Kyivstar, the Vimpelcom group is concerned about real losses of assets as well as the negative impact of sanctions that Europe and the US have already imposed and might yet impose. Vimpelcom said in its financial statement, "The annexation of the Crimea by Russia and unrest in eastern Ukraine may result in significant damage or loss of assets and may also present some regulatory issues, the resolution of which may adversely impact our group" (Interfax, May 16).
Russian economic analysts are openly stating that the future of the market now depends largely on the de-escalation of tensions in eastern Ukraine and the absence of new sanctions, Uralsib Capital analyst Vyacheslav Smolyaninov asserted in a report (Interfax Russia & CIS Business and Financial Daily, May 19).