Where Next for Sudan's Soldiers of Fortune? Army Withdrawal from Yemen Signals Wider Reform
Publication: Terrorism Monitor Volume: 18 Issue: 5
By: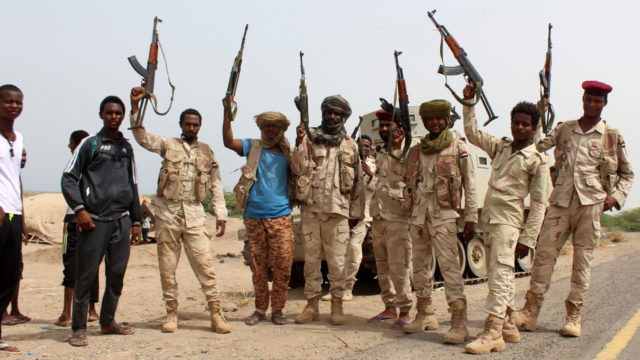 Sudan's April 2019 popular revolution—aided by the military—ended three decades of rule by dictator Omar al-Bashir. The removal of Bashir was celebrated, and the country was hopeful for a new era. Despite Bashir's ouster, the next steps would prove difficult as the new transitional government inherited one of the world's worst economic and foreign policy portfolios. One of the outstanding failed policies during the fading years of the Bashir regime was the deployment of Sudanese armed forces into the quagmire of Yemen's civil war.
The Gulf Origins of Sudan's Army-for-Hire and its Inherent Political Limit
At the outset of the Yemeni civil war in 2015, Saudi Arabia aimed to build up its ground forces with the armies of both allies and potential allies. Then-dictator Bashir offered his experienced soldiers to Saudi Arabia and the UAE in exchange for funds that Sudan desperately needed (Terrorism Monitor, October 27, 2017). For roughly five years, tens of thousands of Sudanese troops (including youths in their early teens) cycled in and out of deployments, often engaging in the heaviest of the fighting. Many Sudanese sought out the mission in Yemen for its high rate of pay, which posed an alluring sum in Sudan's dire economy (Al-Jazeera, December 29, 2018).
While Sudan's regular military mostly deployed to the border areas between Yemen and Saudi Arabia, it was the paramilitary Rapid Support Forces (RSF) from Darfur, led by Mohamed Hamdan Daglo, (a.k.a "Hemedti"), who were deployed directly inside Yemen (Middle East Eye, December 22, 2019).
The mission was unpopular, and while exact casualty numbers are unknown, Houthi rebels claim 4,000 Sudanese troops have been killed and other accounts indicate that upwards of 3,700 have been wounded (Press TV, November 2, 2019; Middle East Eye, November 10, 2019). Sentiment against the country's presence in the war has persisted within Sudan's government and the wider population, including members of the political movement that would eventually help topple the Bashir regime in April 2019 (Radio Dabanga, April 30, 2019).
Normalization: Sudanese-style
Just four months after the revolution, despite aspirations of reform, reports surfaced of possible additional Sudanese deployments to a separate conflict altogether, in Libya (Africa News, July 17, 2019). For the time being, it appeared the old regime's patterns had remained in place.  Some Yemen experts believed Sudan's post-revolution government was still too military-dominated for the country to buck the trend and withdraw its troops from overseas (Al Araby, September 13, 2019).
Nonetheless, a July 2019 deal for a new, post-revolution government arrangement established the position of prime minister, which was taken up by Abdullah Hamdok on August 21 (Gulf News, August 22, 2019). Hamdok began his tenure by quickly moving to establish himself as a normalizing figure, paying a visit to Washington in December 2019—the first time a Sudanese prime minister had visited in over 30 years. On this trip, Hamdok repeatedly stated that Sudan would reduce its role as a destabilizing factor in its region and draw down its involvement in foreign wars (Middle East Eye, December 15, 2019; YouTube, December 5, 2019). Just days later, he followed these statements with an announcement that 10,000 troops had returned home to Sudan from Yemen (YouTube, December 9, 2019).  In February 2020, a military spokesperson stated that Sudan's force in Yemen had been reduced further to just 657 soldiers (Press TV, February 10; Al-Monitor, February 3). A new foreign policy had paralleled the transitional government's formative stage and set the tone for Hamdok's strategy.
Meanwhile, in Libya, Sudan plays a much murkier role than in Yemen. The total number of Sudanese fighters in Libya who are former Darfuri rebels versus how many are RSF, and which Libyan faction holds the majority in their rosters, remains unclear. While Sudanese officials and UN panels deny the country's official involvement in Libya, some Sudanese media and separate UN panels contradict them and affirm the RSF is inside Libya, alleging 1,000 RSF militiamen were sent to aid Khalifa Haftar's siege of Tripoli beginning in July 2019 (Radio Dabanga, January 15; Middle East Eye, November 9, 2019). Later accounts emerged of thousands of Sudanese serving as rearguard forces for Haftar's eastern oil fields, bordering Sudan (Middle East Eye, January 28). A UAE-based company allegedly hired numerous Sudanese for security jobs in the country, but then after training, only presented them with positions fighting in either the Yemeni or Libyan conflict zones. The practice has generated anti-UAE protests in Khartoum (TRT World, January 28; Sudan Tribune, January 27).
Hamdok has had less to say about Libya, possibly because of Sudan's official position that it is not involved. Given his mission to bolster Sudan's image abroad and his past role in backing Sudan's exit from Yemen, however, a similar pattern of reform could envelop Hemedti's schemes in Libya.
Potential Tampering of Other War Policies
One does not have to look far back into history—or lingering current issues—to see less preferable directions for Sudan's future. Sudan's wars are unpopular, and its principal benefactors (the RSF) are linked to some of the worst humans rights abuses of the 21st century.
In this context, Hamdok will likely attempt to further limit the inherited Bashir-era arrangements that could damage Sudan's recovering reputation. In some ways, he has already begun a type of damage control for the past dictatorship. In February, Hamdok announced a deal with the United States on compensating the families of the victims of the USS Cole terrorist bombing in 2000 that was linked to Sudan (though officially denied) (Al Jazeera, February 13; The East African, February 13).
Looking ahead, any future attempts to reduce the flow of weapons, militiamen, and terrorists into other African and Middle Eastern countries will likely influence the global community's perception of the reforms made possible by Hamdok. However, these are the illicit industries closest to the hearts of his military competitors in the government. If Hamdok can reform the underworld of the Sudanese security sector, then it is likely that the outside world will perceive him as being able to reform the less contentiously violent sectors. But on the contrary, a lack of a coherent Yemen/Libya policy or a sudden RSF rebound abroad may leave the door open for further RSF meddling in any of Sudan's neighbors. Such a scenario would highlight that the ghosts of Bashir-economics persist, and slow the rest of the reform agenda.
Finally, the potential legitimacy gained from taking on popular public grievances—indeed the cause of the April revolution— against the regime's self-serving war-making, could also ultimately help to shield Hamdok from military factions, who remain Hamdok's greatest threat, as demonstrated by a March 9 assassination attempt (Sudan Tribune, March 9; Middle East Eye, March 9).