Will Karachaevo-Cherkessia Follow the Path of Destabilization of Other North Caucasus Republics?
Publication: Eurasia Daily Monitor Volume: 8 Issue: 195
By: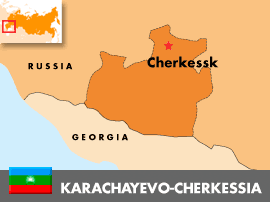 On October 18, the Supreme Court of Karachaevo-Cherkessia concluded a trial of a group of 29 suspected militants. The process became the most massive case of imprisonment of alleged North Caucasus rebels in recent times, but it received surprisingly little coverage in the Russian press. According to the prosecutors, the head of the Caucasus Emirate, Doku Umarov, and a certain Rustam Ionov (aka Abu-Bakar) set up "an organized crime group" over the period November 2006-September 2007. The group initially had 35 members and reportedly plotted to overthrow the government, create a sharia state and secede from the Russian Federation. Twenty-two members of this radical faction were sentenced to prison terms ranging from seven to 14 years (www.kommersant.ru, October 19).
The trial was quite unusual, given that the Russian security services prefer to kill suspected North Caucasian insurgents on the spot, and they rarely take them as prisoners. In this group, only its leader, Rustam Ionov, and two other members were killed by the security services – in 2007 and 2008, respectively. The security services confiscated 12 machineguns, four rifles, two handguns, 60 explosive devices and other unspecified pieces of ammunition. The court in Cherkessk significantly reduced the prison terms of the suspects from the 13-24 years, which the prosecutors had asked for, to 7-14 years (www.kommersant.ru, October 19).
The peculiar feature of this rebel group was that it practically carries out no attacks. Ionov was shot dead when he tried to cross the Russian-Georgian border illegally in 2007. He and his partner Elvira Kitova allegedly recruited women for suicide bombings, but since 2007 there have been no reports of suicide bombers from Karachaevo-Cherkessia attacking any targets (www.kommersant.ru, October 26). Members of the group, Pavel Novikov and Timur Kronov, allegedly took part in shooting at police in Karachaevo-Cherkessia in April 2007, but they were arrested in Moscow and St. Petersburg, where they were living openly, in 2008 (https://i-r-p.ru/page/stream-event/index-17734.html). Two others, Umar Korkmazov and Aslan Jabrailov, were accused of attacking a police patrol in Cherkessk in December 2007. No one was hurt in that attack and Korkmazov was even exonerated and released from police custody at the trial's conclusion (www.kommersant.ru, October 19). It is not surprising that the detainees did not acknowledge their guilt, admitting only to illegal arms possession.
The recent history of the insurgency in Karachaevo-Cherkessia is full of paradoxes. The most well known leader of the insurgents in the republic was Achimez Gochiyaev, who is officially designated in Russia as the organizer of the infamous explosions of apartment buildings in Moscow in 1999. Gochiyaev is on the wanted list and his whereabouts are unknown, even though the Russian security services have executed a number of insurgents and political opponents abroad in the past few years. The Moscow apartment building bombings were regarded by many as a turning point in Russian public opinion that helped Vladimir Putin garner public support for launching the second war in Chechnya and his subsequent ascent to power. The 1999 bombings have remained a mystery to this day and the Russian government has made them a taboo subject, raising suspicions about the security services' role in these politically profitable attacks (https://youtu.be/EsnrMolzLTo).
Karachaevo-Cherkessia is a small and remote North Caucasian republic, situated between Adygea and Kabardino-Balkaria. Despite its small population of little more than 470,000 people (2010 est.), the republic is very diverse ethnically (https://www.perepis-2010.ru/results_of_the_census/results-inform.php). According to the 2002 census, the Turkic-speaking Karachays make up 39 percent of the total population; while ethnic Russians plus Ukrainians and Cossacks make up 35 percent; the Circassians or the Cherkes comprise 11 percent of the total; the Abaza, who are related to both the Circassian and the Abkhaz people but still have their own distinct identity, make up seven percent; and another Turkic-speaking people, the Nogai (aka Western Kazakhs) make up three percent of the republic's population. These proportions have obviously changed since 2002 given that ethnic Russians have been moving out of this republic, as they have been leaving other North Caucasian territories (https://perepis2002.ru/index.html?id=17).
Even though there have been some attacks in Karachaevo-Cherkessia in the past several years, it has remained relatively quiet in comparison to neighboring Kabardino-Balkaria, which is ethnically very similar, although less diverse. There are probably many reasons for the comparative failure of the rebels in Karachaevo-Cherkessia. This republic was part of the Russian-speaking Stavropol region until 1990, when it seceded and formed a separate entity within the Russian Federation. Its long history of being incorporated into a Russian-speaking administrative unit may have had a somewhat "pacifying" impact on the local population. In particular, it may have been more prone to being permeated by the Russian security services, which ensured the quick identification and isolation of radicals. The ethnic Russian population of Karachaevo-Cherkessia is the largest among all North Caucasian republics with the exception of Adygea, where ethnic Russians comprise a majority.
Another possible cause of the relative tranquility and lawfulness of Karachaevo-Cherkessia is that the security services may have acted sparingly in the republic precisely because they did not want to unsettle its substantial ethnic Russian populace. If this premise holds true, it raises difficult questions about who triggered the ongoing violence in other North Caucasian republics, such as Dagestan, Ingushetia and Kabardino-Balkaria, where the ethnic Russian population is small or practically absent.
And the relative peace in Karachaevo-Cherkessia could end despite all of the Russian security services' precautions. At the start of September 2011, in response to an attack on a police checkpoint in Stavropol region, about 100 Muslims were detained in Karachaevo-Cherkessia. The police interrogated the detainees so vigorously that the Russian Public Chamber issued a special warning about potential massive destabilization in this republic (www.kavkaz-uzel.ru, October 13). The situation in Karachaevo-Cherkessia still appears to be relatively stable, but there is a real possibility it could go down a path of destabilization similar to Kabardino-Balkaria and other republics of the North Caucasus.