Xi's Anti-Corruption Campaign: Yunnan Province in Focus
Publication: China Brief Volume: 23 Issue: 2
By: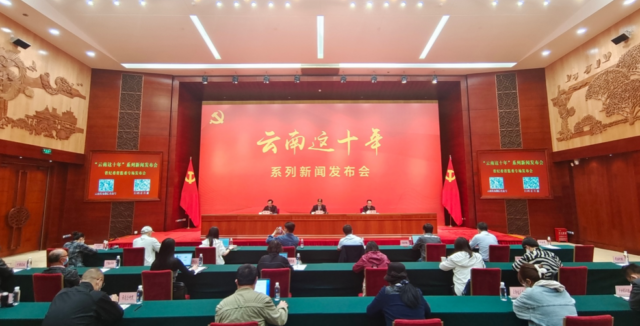 Introduction
At the 20th National Congress of the Chinese Communist Party (CCP) last October, General Secretary Xi Jinping lauded the achievements of his anti-corruption campaign, reminding the audience that a total of 207,000 "top leaders" (一把手) at all levels had been investigated by the discipline inspection and supervision organs across the country (Chinanews.com, October 17, 2022). This unprecedented crusade against corruption, which is predominantly seen as a survival and position-assuring exercise on the part of Xi, has also brought to light the cliquish "small circle culture" (圈子文化) in provincial politics, which has escaped central scrutiny for years. [1] During the reform and opening-up period, decentralization afforded the provinces greater autonomy in decision-making and control of fiscal resources. However, in many provinces, the leadership exploited this situation to strengthen their local political networks and harbor misconduct, thereby hollowing out the CCP from within. [2] Ultimately, it is Yunnan, the distant southwestern border province endowed with abundant natural resources that lies far from Beijing, that most resembles Minxin Pei's "mafia state." [3]
Since the 18th Party Congress in 2012, in addition to eleven senior officials, or "tigers," the province has investigated the highest number of department and division-level cadres (Chinanews.com, June 22, 2019). According to a press report in 2021, the province's discipline inspection and supervision organs have filed 55,693 cases, disciplined 53,711 people, and investigated 418 cadres under provincial control in the past five years (Yunnan.cn, November 25, 2021). Several cases in Yunnan's anti-corruption drive have highlighted deep-seated corruption in transportation, housing construction, social security, medical care and education. However, publicly owned assets such as land and mines topped the list in terms of graft. Various local media articles equate the "earthquake" striking Yunnan officialdom with the crackdowns in Shanxi and Inner Mongolia Autonomous Region, exposing the link between natural resources and corruption in China (People.cn, August 10, 2020; Boxun.com, March 20, 2015). Unlike the urbanization-centric rent-seeking in eastern provinces, the corruption in the "metal kingdom" has been dominated by the development of mineral resources and the tobacco industry. The public confession of Bai Enpei, former provincial Party Secretary of Yunnan, in the 2016 miniseries, Always on the Road (永远在路上), which was co-produced by the propaganda department of the Central Commission for Discipline Inspection (CCDI) and China Central Television (CCTV) put the Yunnan administration in the spotlight (People.cn, October 18, 2016). Nevertheless, Yunnan provincial and local officials' dances with power, status and corruption go a long way back.
Western Development and Tryst with Corruption 
Recently, Chinese writer and scholar Deng Yuwen (邓聿文) stated frankly that corruption has served as a lubricant for economic reform and development. According to him, alliances among elites and bribery were the norm during Deng Xiaoping-Jiang Zemin-Hu Jintao eras, when corruption was an open secret. [4] Yunnan, although underdeveloped in comparison to the east coast provinces, is not an exception. The southwestern province has long been sidelined as a remote frontier, with significantly less potential for economic growth. However, Yunnan is endowed with abundant raw materials and hydropower potential, but accessing these resources has been challenging. In the earlier days of reform, the western region suffered from a lack of capital investment, so industries such as tobacco, sugar, tea and the border trade with neighboring states drove the local economy.
The opening up of China's economy during the 1980s had no significant impact on the western region. However, the administrative and management changes resulting from economic restructuring paved the way for increased provincial autonomy. Policy changes related to decentralization and market economy gave local leadership the opportunity to manage economic growth and personnel within their territory. Soon enough, the provincial leadership in Yunnan began to promote its economic appeal as the Southwestern gateway" (西南大门) to China's South and Southeast Asian neighbors (Yunnan.cn, March 9, 2020).The provincial capital of Kunming has become a nexus for regional arrangements such as the ASEAN Free Trade Area (AFTA), Greater Mekong Sub-region cooperation (GMS) and the Bangladesh China India Myanmar (BCIM) initiative (ASEAN-China Centre, May 31, 2011). At the turn of the 20th century, the region also saw increased attention from Beijing under "Great Western Development Strategy" (西部大开发), which prioritized building up the infrastructural and transportation sectors in China's underdeveloped west (Gov.cn, October 10, 2009). On the one hand, such upscaling aided socio-economic development in Yunnan and created regional opportunities for local state-owned firms; on the other hand, it opened a Pandora's box for "collusive" corruption.
The first corruption case to rock the province was in 2003 and involved former Yunnan governor Li Jiating, who is of Yi ethnicity. Li was sentenced to death for taking 18.1 million yuan (US$2.2 million) in bribes beginning in the 1990s when he was first a vice governor and deputy party secretary and then governor until 2001 (Shaanxi Legal Network, February 22, 2022). The saga did not end there, as the imbroglio ended up being a family affair. The Standing Committee of the Central Commission for Discipline Inspection also charged Li with abusing his powers to seek illegal benefits for his son Li Bao and mistress Xu Fuying (Sina, May 27, 2003; China Youth Daily, December 16, 2004). Referred to as an "underworld beauty" (黑道美人), Xu was infamous for running a restaurant known to host gatherings of the leaders of Kunming's criminal underworld and was eventually thrown in prison for her involvement with smuggling (China News Digest, 2003; ChinaNews.com, May 27, 2003). Another high-profile corruption case involved the former vice mayor of Kunming Hu Xing, who also served as deputy director of the Yunnan Provincial Transport Department. Hu took more than 40 million yuan ($ 5.3 million) in bribes while in charge of overseeing construction, roads, and city planning, the highest amount ever charged for graft in Yunnan (China Daily, August 8 2007). Although Li and Hu were both harshly punished, these measures did not stem the issue of corruption in Yunnan (GoKunming.com, April 26, 2010). A few years after Hu's life sentence verdict, Zao Shiyong, the former party secretary of Malipo county in Wenshan prefecture, was charged with accepting 5 million yuan ($ 0.7 million) in bribes; the largest ever uncovered at the county level in Mainland China at the time.
Since 2010, the geostrategic importance of Yunnan has only grown in Beijing's eyes. The province has been officially assigned a "bridgehead" role as China's link to Southeast and South Asia, it has also assumed an important role in the southern leg of the Belt and Road Initiative (BRI) (PRC Ministry of Commerce, August 25, 2022; Xinhua, September 25, 2010). Still, a few observers view the corruption crackdown in Yunnan, which has been underway since 2014 simply as Xi's attempts to strengthen personal control at the province level. However, the unearthed ecosystem of profiteering and deception created by the senior officials and nurtured by low-level officials, or "flies," were a direct challenge to the CPP authority.
The Natural Resource Curse
The literature on "resource curses" lays out the greater potential for rent-seeking behavior in extractive industries if a government fails to define and enforce property rights properly. In China also, the combination of incentives such as the transfer of "control" and "use" rights of land and mines to local governments with the administrative power to allocate contracts and capital has been the leading cause of crony capitalism among provincial officialdom. Yunnan's reserves of resources, in particular lead, zinc, copper and tin, are among the most extensive in China and have become a central talking point in the anti-corruption drive. The puzzle surrounding the role of minerals in provincial corruption started to unfold with the 2014 arrest and prosecution of former Sichuan Party Secretary and  security chief Zhou Yongkang, who was also a senior member of former leader Jiang Zemin's faction, which remained powerful at that time (China Daily, January 10, 2015). As fraternizing between Zhou and Bai Enpei came into focus concerning the cheap sale of Lanping Zinc Mine to a Sichuan businessman, officials close to the latter fell like dominoes (RFA, October 10, 2016). Bai Enpei was reported by the former vice chairman of the Yunnan Provincial Committee of the Chinese People's Political Consultative Conference for not following market rules for many mineral resources mines, such as the Dongchuan Boka gold mine, the Dahongshan copper and iron ore mine, the Wenshan copper mine, the Dapingzhang copper mine and others (RFI, April 30, 2014).
In addition to the widely discussed case of Bai Enpei, Yunnan vice governor Shen Peiping, former Kunming Municipal Party Secretary Zhang Tianxin, and Qin Guangrong, who succeeded Bai, were also arrested. The former director of Yunnan Provincial Department of Land and Resources, Lin Yunye (Gov.cn, July 24 2015), former head of Yunnan Tin Group Lei Yi (Gokunming.com, October 10, 2013), as well as multiple deputy governors from Wenshan Prefecture (Sina, January 9, 2015), were all linked to restructuring and cheap selling of mines primarily Lanping Zinc Mine and Dulong Tin Mine (China Daily, February 16, 2015). Once a political "rising star" Qin He, former Kunming Municipality Party Secretary, also fell, officially for "serious violations of (party) discipline and law," but in actuality likely for buying and selling official posts (Haozaobao.com, June 23, 2019). Qin was controversial for his boldness and demolition-style urban management, qualities which made him an ideal fit for Bai's official circle. A few articles have also hinted at the local factional power struggle that resulted in the eventual downfall of the corruption circle. Among prominent factions such as Yuxi, Dali, Zhaotong, and Qujing, the "Qujing Gang" growing disagreement with Bai over poaching concerns is seen as a final nail in the coffin (ifeng.com, 2015). Qin Guangrong was broadly understood to have been given up by Bai Enpei's wife herself during the investigation (tw.aboluowang.com,  January 12, 2015).
The official account, at least, maintains that Yunnan has made progress in stemming the problem of corruption. In 2019, the Yunnan provincial commission was commended as an "advanced collective" in the "clearing out the underworld" (扫黑除恶) national special campaign launched in 2018 (Central Commission for Discipline Inspection, January 18, 2021). The initiative is mainly seen as inherently political, in contrast to earlier such campaigns in the region. The concern here is to solidify the Party's lasting power at the lowest levels of government by targeting "Protective Umbrellas" (保护伞), officials that shield organized crime groups. Since September 2020, the Yunnan Provincial Commission for Discipline Inspection and Supervision (CCDI) has directed its rectification campaigns toward the distribution and approval of coal resources. The focus is on three main coal-producing areas, Zhaotong City, Qujing City, Honghe Prefecture, functional departments, and enterprises (The Paper, January 29 2021). The CCDI has noted that officials in the province have used their authority to invest in shares illegally, encourage government-business collusion, solicit bribes and act as an "umbrella" for unscrupulous mine owners (Sina, 2021). As result, it is necessary to implement a Break the Umbrella, Break the Net" (打伞破网) approach to root out these issues.
Conclusion
Yunnan's experience with decentralization has been mixed. While economic progress has occurred, it has been accompanied by political regression and graft. The free hand allowed by the center to provincial leaders during reforms has yielded them increased political clout, not only to leverage their geographical positions for economic development but also to gain the allegiance of people from all walks of life within and across borders. Currently, the provincial party committee is on a mission to eliminate the influence of Bai Enpei, Qin Guangrong and Qin He and to investigate a group of cadres who comprise the remnants of this network. In order to achieve successful reform and opening up in the border province, Yunnan's political ecology must be restored. This requires vigilantly pulling out "rotten trees" (烂树) to address the "source of pollution" (源头污染) (Yunnan Daily,  January 18, 2022). Huang Yi, a contemporary of both Bai and Qin, became the first "tiger" in 2022 to be arrested on suspicion of bribery (ChinaNews.com, September 22, 2022). From a regional lens, Xi's country-wide anti-corruption campaign has brought to light the volatility of the country's watchdog system in remote regions, which have their own unique circumstances and characteristics. It also sheds light on the local factions within provincial party politics who are vying for influence and survival in a progressively centralized PRC.
Naina Singh is a Ph.D. Candidate at Graduate Institute of International Politics, National Chung Hsing University, Taichung, Taiwan. Her research focuses on the sub-national diplomacy of Asian states, international relations of South Asia, and Taiwan's soft power.
Notes
[1] David S.G. Goodman, "The politics of regionalism: economic development, conflict and negotiation", in David S.G.Goodman and Gerald Segal (Eds) China Deconstructs: Politics, Trade and Regionalism (Routledge, 1994).
[2] Steve Hess,"Plunder and Paradiplomacy: The Corruption of China's Decentralized State in Yunnan Province", China @ An International Journal, Vol. 18, No. 2, May 2020, 77-98.
[3] Minxin Pei, China's Crony Capitalism: The Dynamics of Regime Decay (Harvard University Press, 2016).
[4] Deng Yuwen, "Who Are Xi's Enemies?" Foreign Policy, October 15, 2022.