Year 2020 in Review: Kazakhstan Struggling With Structural Reform Amid COVID-19 Crisis
Publication: Eurasia Daily Monitor Volume: 18 Issue: 14
By: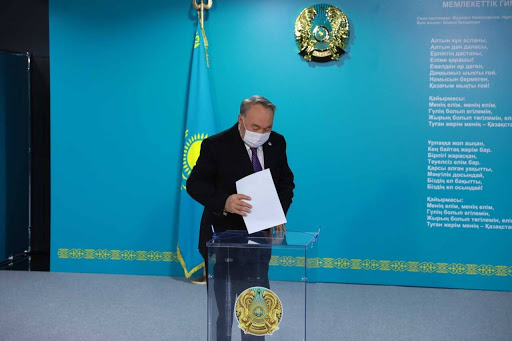 As in much of the rest of the world, the year 2020 in Kazakhstan was dominated by the fight against the COVID-19 pandemic, which to date has claimed the lives of more than 2,300 Kazakhstanis, according to a government-run information portal. Since August 2020, the authorities have been keeping separate records of people who have been sick with severe pneumonia that resembles the novel coronavirus but had nonetheless tested negative for SARS-Cov-2. To date, more than 530 within that category have died. Official Kazakhstani statistics have been regularly subject to speculation regarding their accuracy and objectivity, although this tendency to question government data is certainly not unique to Kazakhstan or even its immediate region (Coronavirus2020.kz, January 17, 2021; Kazinform, August 3, 2020; Radio Azattyk, July 25, 2020).
On March 15, 2020, President Kassym-Zhomart Tokayev decreed a nationwide health emergency, resulting in forced closures of schools, universities, kindergartens, shopping malls and business centers. Four days later, lockdowns were put in place in the former and current capitals, Almaty and Nur-Sultan. In April, the government started allocating one-time unemployment benefits worth 42,500 tenge ($100) to those who had lost their jobs because of COVID-19. Two e-portals operated by the Ministry of Labor crashed on Day One; this led to severe payment delays, whereas some applicants managed to be paid more than once. Technical hiccups also marked the rollout of an electronic platform allowing sick people to book medical appointments online (Tengrinews.kz, April 3, 2020; Informburo.kz, March 19, 2020; Vlast.kz, March 15, 2020).
While a poorly coordinated governmental response to the pandemic was a common cause for discontent across the entire Central Asian region, with Kazakhstan actually performing relatively better than its neighbors, the emergency brought further evidence of the country's fragile economic model (see EDM, August 10, 2020). Central Asia's largest economy remains heavily dependent on crude oil exports. The global oil benchmark Brent traded on the spot market near $60 per barrel in late February; but by mid-March, it dropped to $26 per barrel. The spread between Brent and CPC Blend, the crude grade that Kazakhstan sells abroad, widened by April to an unprecedented $11 per barrel. According to one Kazakh economist's March estimate, every $10 drop in the price of Brent resulted in $20 million worth of lost daily export revenue for Kazakhstan (Argus Media, April 16, 2020; RBC, March 18, 2020; Lsm.kz, March 10, 2020).
Amid new output cuts agreed in April between Russia, Saudi Arabia and other members of the OPEC+ oil exporters' grouping, the Kazakhstan Union of Oilfield Services Contractors said in May that close to half of its members were on the verge of bankruptcy. Several months later, the national oil and natural gas company KazMunayGas reported a 97 percent decline in net profit for the first half of 2020. President Tokayev used his annual address to the nation in early September to announce a host of new measures aimed at raising the country's economic attractiveness and competitiveness, eradicating corruption and alleviating the tax burden on small- and medium-sized businesses. Yet in an unusually forceful statement that day, he predicted the end of a commodities bull cycle, adding, "We ought to develop a technologically diversified economy. This path has no alternatives anymore" (Akorda.kz, Zakon.kz, September 1, 2020; Lsm.kz, May 26, 2020).
As a result of the double hit of the pandemic and the oil price shock, Kazakhstan's GDP contracted by 2.6 percent and the current account switched to a deficit of $5.7 billion in 2020. The National Fund, a sovereign wealth fund accumulating oil revenues, shed a net amount of $2.4 billion due to anti-crisis measures. The government borrowed $4 billion last year by selling treasury bills and plans to borrow as much as $4.5 billion in 2021. Thus, total new borrowing amounts to nearly 5.5 percent of 2020 GDP. The lack of progress on economic diversification and the kind of volatility experienced by Kazakhstan in 2020, as the oil price crashed and severely dented the government's tax receipts, represent the most sizeable structural challenge for the 17-million-strong Central Asian nation. The creation, in October, of the Agency for Strategic Planning and Reform is unlikely to unlock the country's non-oil economic potential as long as political liberalization remains off the table (Nationalbank.kz, January 18, 2021; Forbes.kz, January 12, 18, 2021).
The latter part of the year and early January 2021 showed how far Kazakhstan still stands from taking painful but necessary steps toward liberalizing its political system, which continues to function in the shadow of one man—former president Nursultan Nazarbayev—along with his family and inner circle. In October 2020, parliamentary elections were called for January 10, 2021. Unsurprisingly, the majority of the vote went to the ruling NurOtan party—chaired by Nazarbayev, who, since his resignation in March 2019, has retained the strategic post of National Security Council chairperson, for life. With 71.1 percent of the ballots cast (down from 82.1 percent in 2016), NurOtan obtained 76 out of 107 seats in the lower chamber of parliament. Two pro-regime parties, Ak Zhol (10.95 percent and 12 seats) and the People's Party of Kazakhstan (9.1 percent, 10 seats), made up the rest. Two other smaller factions, also sympathetic to NurOtan and the Tokayev administration, failed to gain any seats; while the Nationwide Social-Democratic Party, which stands in opposition to the ruling regime, boycotted the elections (Kazinform, January 10, 12, 2021; Total.kz, January 11, 2021; Akorda.kz, October 21, 2020).
Although Tokayev's presidency has been focused from the outset on fostering reforms in all spheres, his decision to keep Prime Minister Askar Mamin (appointed by Nazarbayev in February 2019) and almost all cabinet ministers in their jobs after the elections belies the harsh reality. The bench of substitutes is extremely short, new faces are rare, and no major decision impacting any area in which the Nazarbayev family has interests can be made without the former president's consent. Nazarbayev's elder daughter, Dariga, was speaker of the Senate (upper chamber of parliament) and Tokayev's constitutional successor from 2019, until her sudden departure in May 2020. She is now back in politics as a NurOtan parliamentarian in the Mazhilis (lower chamber). Meanwhile, the speakership of the Senate is firmly held by a Nazarbayev confidant, Maulen Ashimbayev. The year 2021 will likely also be difficult for Kazakhstan, as the country struggles to launch a genuine reform process that would signal the arrival of a truly post-Nazarbayev era.