A Year in Review: Georgian Government Struggles With Multiple Crises in 2017, While Cementing Its Grip on Power
Publication: Eurasia Daily Monitor Volume: 15 Issue: 3
By: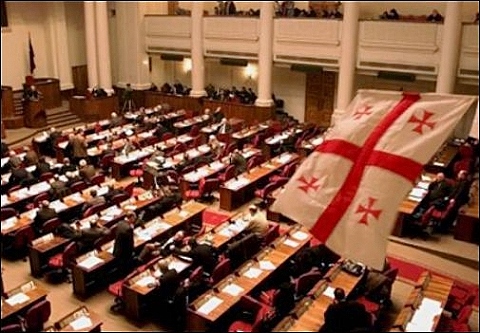 Taking into consideration post-Soviet Georgia's usually dramatic political life, the year 2017 was not particularly spectacular domestically or internationally. And yet, there were certain developments that will likely have strong and lasting effects on the country's future, at least in the medium term.
Last year began with the long-anticipated final disintegration of former president Mikheil Saakashvili's opposition party, United National Movement (UNM). After months of intense infighting, Saakashvili's closest longtime confidantes (for instance, former speaker of parliament David Bakradze, former national security secretary Giga Bokeria, former Tbilisi mayor Gigi Ugulava, and many others) formally split from UNM and formed the political party European Georgia–Movement for Freedom (Radiotavisupleba.ge, January 12, 2017). This split further dashed UNM's hopes to regain political power via elections, as it divided the party's already-diminished popular support between these two factions. This problem was clearly illustrated by the October 2017 local elections, when UNM received 17 percent of the vote nationally, while European Georgia garnered 10.5 percent. The two parties came in a distant second and third, respectively, after the ruling Georgian Dream (GD) (Droa.ge, October 23, 2017).
However, the GD government had its own problems from early on in the year. In March, Georgia's coastal city of Batumi erupted in an unusual bout of violence. Some UNM activists and a large group of locals angered by the local police chief's insulting language, clashed with law enforcement, burned cars and smashed buildings in downtown Batumi. The government barely managed to contain the violence (see EDM, March 15, 2017).
The Batumi riots were a clear manifestation of Georgians' growing anger with the incompetent and, as some data indicates, increasingly corrupt government (Transparency.org, accessed October 5, 2017). The ruling party, and Georgians in general, can only hope that last year's Batumi events will not be a precursor of future unrest against the widely unpopular government. Meanwhile, the Georgian lari is rapidly depreciating, which always means higher commodity prices and deeper poverty for many. The lari started to fall dramatically in October, reaching a record high of 2.76 against the US dollar; although, it somewhat rebounded to the current 2.59 per dollar level a little later (Nbg.gov.ge, January 7). This new phase of massive inflation hit hundreds of thousands of Georgians hard. And there is no certainty that the Georgian currency might not go into free fall again this year.
In November, the government conducted an anti-terrorist operation against an Islamic State–connected terrorist cell in the capital of Tbilisi. The botched action, which unnecessarily claimed the life of one Georgian special forces officer (along with three terrorists), further added to the government's image among many Georgians as incompetent and disorganized, unable to carry out its most basic functions without complications (see EDM, November 29, 2017). At the same time, this operation signaled that an international Islamist terrorist network had finally knocked on Georgia's door. The following year may show if the Tbilisi showdown was an isolated incident or a harbinger of future clashes to come.
The Georgian government faced some other problems as well, which also suggested that the authorities are unprepared to respond to a crisis. For instance, in the summer, massive swarms of the brown marmorated stink bug (in Georgian, parosana, or shield bug, named after their shield-like protective shell) descended on the country's western regions. They devastated crops, vineyards, and plants across huge swathes of the territory. The government's response was painfully slow and insufficient (Fortuna.ge, August 29, 2017; see EDM, October 19, 2017). As the fall and then winter approached and temperatures fell, the bugs went into inactivity. But Georgians fear that they will return in the spring, hitting hard Georgia's already struggling agricultural sector.
Moreover, during the entire month of August, dozens of massive wildfires broke out in different regions of Georgia. The largest blaze occurred in the picturesque Borjomi Gorge. Wildfires, which some blamed on an unusually hot summer, while others on deliberate foreign sabotage, claimed hundreds of acres of pristine forests (Rustavi 2, September 2, 2017). The government, entirely unprepared to tackle this type of natural disaster, finally succeeded in putting them out only after weeks of fighting—and only with the large-scale logistical help of Georgia's neighbors.
Yet, despite all these failures, GD managed to hold on to power and even consolidated its grip, mainly due to the opposition's ineffectiveness and internal divisions. In the October local elections, it trounced all opposition parties, garnering 56 percent of votes nationally and winning almost all mayoral and governorship seats, including the capital Tbilisi (see EDM, October 31, 2017).
The year 2017 also will be remembered for Georgia's adoption of a new constitution, which effectively completed the country's transition to a parliamentary republic. However, the constitution, fraught with multiple contradictions and controversies, has yet to show its eroding potential for Georgian democracy and its political system (see EDM, June 13, 2017; September 28, 2017).
Georgia did have some successes on the international stage, last year. Visa liberalization with the European Union, which granted Georgian citizens visa-free travel to all EU countries, finally went into effect in March (Civil Georgia, March 28, 2017). Its long-term positive effects cannot be denied: as more Georgians are able to travel to Europe freely, the country's exposure to the continent continues to grow. This, in turn, gradually will bring Georgian society culturally and ideologically closer to European societies, thus potentially paving the way for the country's eventual EU membership.
Moreover, last year was characterized by more intensified military cooperation between Georgia and the United States (see EDM, September 18, 2017), culminating in Washington's readiness to finally sell Tbilisi the long-desired, anti-tank FGM-148 Javelin missiles. At this stage, the bilateral agreement is for 72 rocket launching sets and 410 rockets, which will cost $75 million. Although the US Congress still has to approve the deal, it is undoubtedly a highly positive step forward in strengthening US-Georgia military cooperation in general and Georgia's self-defense capabilities in particular (Rustavi 2, November 21, 2017).
As Georgia begins 2018, the upcoming October presidential election looms as the biggest political event at this stage. However, Georgian political life frequently undergoes unexpected twists and turns, so it is difficult to predict what the next 12 months may actually bring.