Eastern Approaches – One Year After the Galwan Clashes: An Update on the Sino-Indian Borderlands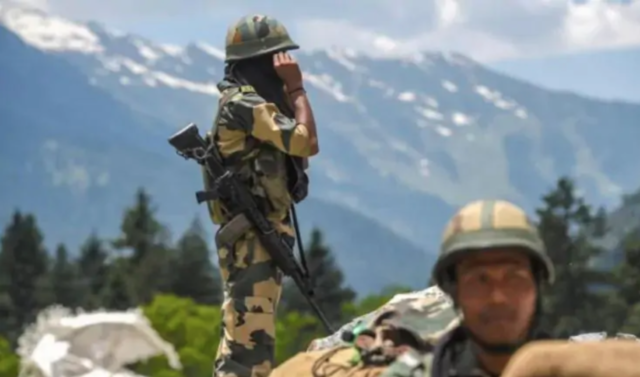 In the latest episode of Eastern Approaches, Jamestown President Glen Howard is joined by noted Indian defense analyst and strategic thinker, Col. (ret.) Ajai Shukla to discuss the state of the ongoing confrontation on the Sino-Indian border, more than one year after fighting in the Galwan Valley killed 20 Indian and at least 4 Chinese soldiers. Despite achieving some progress in disengaging from a single area of the border, the confrontation is locked in a stalemate and tensions remain tense. Mr. Howard and Col. Shukla assess the geography behind the conflict, and evaluate developments in the broader South Asian neighborhood, including in Afghanistan and Myanmar.
The Eastern Approaches video series is named after the book by British diplomat, spy and adventurer, Fitzroy Maclean, and features conversations with renowned experts on the most important geostrategic issues the United States faces in Eurasia, with an eye toward detail typically absent in foreign policy discussions today.
---
Featuring 
Col. (ret.) Ajai Shukla
Strategic Affairs Editor, Business Standard
Interviewed By
Glen Howard
President, The Jamestown Foundation
---
Participant Biographies
Colonel Ajai Shukla (Retired)
is a columnist, commentator and journalist who covers regional security issues in South Asia and the Indo-Pacific, military technology and India's defence economy. He writes primarily for Business Standard, India's most respected business daily, but also for The New York Times, Guardian, BBC, Al Jazeera and South China Morning Post.
Over the past two decades, he has written more than 300 opinion pieces and over 1,500 news analysis reports, all of which are posted and archived on this website. Broadsword is visited daily by thousands of readers from across the world, including analysts and policymakers from multiple governments.
Ajai Shukla is also a commentator on Indian and international news television. He has extensive experience in the medium, having worked earlier as a prime-time news anchor and war correspondent with New Delhi Television (NDTV) from 2001-2008. In that period, he reported the conflicts in Afghanistan, Iraq, Lebanon, Syria as well as India's myriad internal security conflicts.
Ajai Shukla also lectures in various forums and establishments, including military War Colleges, universities and schools and lecture groups.
Before taking up journalism, Ajai served in the military, in a combat arm, for over two decades before opting for voluntary retirement at the rank of colonel. His last assignment was in command of one of India's most storied tank regiments, Hodson's Horse. During his military career from 1979-2001, Ajai served on India's conflicted borders with China and Pakistan, including in the states of Jammu & Kashmir, Nagaland, Manipur, Arunachal Pradesh, Punjab and Rajasthan. He also served for a year with the United Nations Peacekeeping Mission in Mozambique.
Ajai Shukla did his schooling in The Lawrence School, Sanawar near Shimla, in north India. He did his military training in the National Defence Academy, Khadakvasla (55th Course, 1976-1978) and the Indian Military Academy, Dehradun (65 th Course, 1979), from where he was commissioned as an officer into the armoured corps. He did his graduation from the Jawaharlal Nehru University, New Delhi and has post-graduate degrees from Madras University and the Department of War Studies, King's College, London.
***
Glen Howard is the President of the Jamestown Foundation, one of the world's leading research and analysis organizations on Eurasia. Based in Washington, D.C., Mr. Howard has overseen the research and analysis activities of Jamestown for the past 16 years and extensively dealt with Russia and Eurasia in his capacity as Jamestown President, working with the regional leaders and national strategists across Eurasia from the Baltic to Central Asia.
An expert on Eurasia and Russia, Mr. Howard is the co-author with Matt Czekaj of the new book Russia's Military Strategy and Doctrine, a collection of writings on Russian military strategy and doctrine by some of the world's leading defense experts. Mr. Howard is also the editor of the book Volatile Borderland: Russia and the North Caucasus, and other works. He has published articles in the Wall Street Journal, Real Clear Defense, the Hill, and other prominent publications.
Mr. Howard is privileged to have worked for the late Dr. Zbigniew Brzezinski from 2002 to 2008 as the executive director of an advocacy organization seeking a peaceful resolution of the second Russo-Chechen war.  Mr. Howard worked at the U.S. Embassy Moscow from 1984-1986 and is fluent in Russian and proficient in French, Turkish and Azerbaijani.
Mr. Howard received a Master's degree in Soviet and East European Studies from the University of Kansas (1988) and has an undergraduate degree from Oklahoma State University in Business Management (1984).