Al-Hasakah Prison Break Sparks Fear of Islamic State Resurgence in Iraq
Publication: Terrorism Monitor Volume: 20 Issue: 3
By: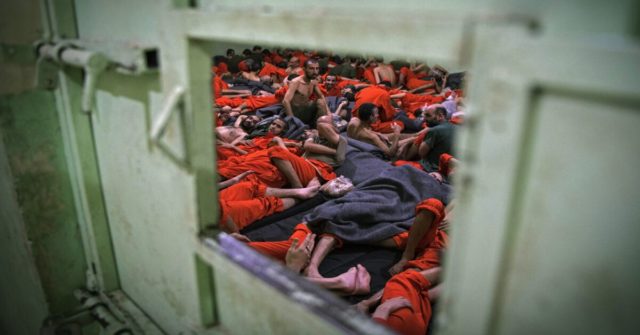 Islamic State (IS)'s territorial control in Iraq after 2014 was preceded by the organization's "Breaking the Walls" campaign of prison breaks in 2012-2013. It is not surprising, therefore, that IS' January 20 assault on al-Sina'a prison in al-Hasakah, Syria, which aimed at freeing thousands of individuals linked to IS, led to concerns of the group's resurgence spilling across the border into neighboring Iraq.
Following the operation, Iraqi Prime Minister Mustafa al-Kadhimi visited the Iraq-Syria border in Nineveh province, and ordered an increase to border security, including $10 million worth of concrete slabs to cover a 50km distance (Rudaw, January 26). In an interview with CNN, one of al-Kadhimi's advisors also called for increased Iraqi Armed Forces intelligence capabilities and underlined the need for technical movement-sensing equipment in border areas (CNN, January 21). Meanwhile, Iraqi President Barham Salih confirmed the importance of uniting Iraq's security forces to enhance domestic security in the face of a possible resurgent IS (Iraqi Presidency, January 22).
Whether IS achieved any strategic advantage following the operation at al-Sina'a prison remains unclear. Some estimates suggest more IS militants died during the subsequent ten-day battle in the prison than escaped after the initial assault (Iraq Security Media Cell, February 3). Nevertheless, the operation did lead to a "we are still here" moment for the group. For Iraq's IS militant cells, such morale boosters are vital. With the militants forced to focus on smaller-scale insurgency tactics, sporadic high-profile operations, even if in neighboring Syria, remind all IS fighters that one day its endgame of re-establishing large-scale territorial control is still conceivable.
IS' Status in Iraq
IS can no longer establish significant territorial control in Iraq. [1] Instead, IS maintains an embedded presence of small militant cells in rural areas of Iraq's al-Anbar, Diyala, Kirkuk, Salahuddin, Baghdad and Nineveh provinces. [2] While IS cells launched over 250 attacks in 2021 in Iraq, most incidents remain localized within rural areas (Rudaw, January 29). Iraqi military sources state that the group's largest operations have been conducted by no more than seven to ten militants (Asharq al-Awsat, January 30). Regardless of their operational limitations, IS still remains a persistent threat, particularly in Diyala and Kirkuk provinces, where the group launches regular assaults, improvised explosive device (IED) attacks, and hit-and-run attacks on security force outposts and villages (Terrorism Monitor, January 14).
Despite IS' highly decentralized nature and its focus on rural areas, the group still has achieved sporadic success in bringing its insurgency to urban Iraq and causing mainstream disruption. In 2021, for example, IS carried out three high-casualty bombings in Baghdad and launched a sustained and coordinated campaign targeting Iraq's electricity infrastructure. [3]
IS' Opportunities in Iraq
While IS' capabilities in Iraq have been significantly degraded since it began losing territorial control in 2017, there remain two opportunities for it to rebuild gradually in 2022. The first factor that could strengthen IS' hand is the withdrawal of U.S. combat troops from Iraq. The U.S. ended its six-year combat troop deployment to Iraq to fight the group on December 31, 2021. While the US military remains in an advisory, training, and intelligence-gathering role in Iraq, there are significant concerns over Iraq's ability to conduct independent anti-IS combat missions. According to a Pentagon report, issued only months before the U.S. withdrawal, Iraqi security forces had made no recent improvement in their ability to carry out military operations independent of U.S .assistance, and communication and coordination between the Iraqi forces remained poor. [4] The professionalism of the Iraqi forces was also dramatically called into question following an IS attack on an army barracks in Diyala province on January 21, which killed 11 Iraqi soldiers. Both al-Khadimi and the Diyala governor attributed the success of the IS attack to military negligence (Rudaw, January 21).
Secondly, the continued presence of several Shia militias embedded within the state security organization, the Popular Mobilization Forces (PMF), in Sunni majority areas will continue to fuel sectarian tensions that IS can exploit. The PMF took a leading role in liberating several northern Sunni regions of Iraq from IS control in 2014-2017. However, since 2017, there have been clear indications of PMF militias pursuing demographic change in several northern Iraqi regions and expelling Sunni residents (Rudaw, May 3 2021). Additionally, IS attacks targeting PMF units have resulted in arbitrary PMF retaliatory massacres of Sunni civilians, such as the PMF attack of Nahr al-Imam in October 2021 (al-Jazeera.net, October 28, 2021). The insecurity caused by sectarian Shia militias in Sunni majority areas could aid IS recruitment drives.
The Iraq-Syria connection
Given the questionable effectiveness of independent counter-IS operations by the Iraqi armed forces and the potential for soldier recruitment in 2022, cutting off supply lines to IS cells in Syria from Iraq will be vital. The group regularly uses border crossings to transit militants and equipment from al-Hasakah, Syria to Nineveh and further inland in Iraq. [5] Without securing these borders, Iraq will remain vulnerable if IS succeeds in neighboring Syria.
Al-Kadhimi's recent border reinforcements are insignificant when security and governance conditions on both sides of the border still remain chaotic due to complex multi-party conflicts. On Iraq's side of the border in Sinjar, the Iraqi authorities have thus far failed to implement the 2020 Sinjar agreement to re-establish direct state control over the area (Daily Sabah, November 21, 2021). This means that potential counter-IS operations in vital border areas remain in the hands of smaller Yazidi militias and the Kurdish militant organization, the Kurdistan Workers Party (PKK), which operate in the region.
However, the failure of the Sinjar agreement has also meant that Turkish military operations targeting the PKK have increased (al-Jazeera.net, February 2). This has indirectly strengthened IS in the area, with both Yazidi militias and the PKK unable to prioritize fighting the organization. The situation on the Syrian side of the border is similar. Turkey's targeting of the Kurdish Syrian Democratic Forces (SDF), which has taken a leading role alongside the U.S. in combating IS, has undermined SDF capabilities and further destabilized the area.
Conclusion                                                                                                                                              
The prison break attempt in al-Hasakah is unlikely to have a significant impact on IS operations in Iraq, and there remains little risk that the group will re-establish territorial control in the country in the coming year. However, the complex and fragmented Iraqi security force structure, coupled with the U.S. withdrawal, could provide the organization with greater breathing room to rebuild its capabilities, including in Syria, as IS waits for the next opportunity to establish its caliphate.
Notes
[1] IS managed to briefly capture Luhaiban village in the disputed territories north of Kirkuk before Iraqi and Peshmerga forces recaptured the village on December 6, 2021 (Al-Arabiya, December 6 2021).
[2] See "Operation Inherent Resolve Quarterly Report July-September 30, 2021" (U.S. Department of Defense, November 2021).
[3] See Michael Knights and Alex Almeida, "The Islamic State at Low Ebb in Iraq: The Insurgent Tide Recedes Again," (Combating Terrorism Center, January 2022).
[4] U.S. Department of Defense, November 2021.
[5] See Knights and Almeida, January 2022.