Cautious Optimism in Azerbaijani-French Relations: The View From Baku
Publication: Eurasia Daily Monitor Volume: 18 Issue: 157
By: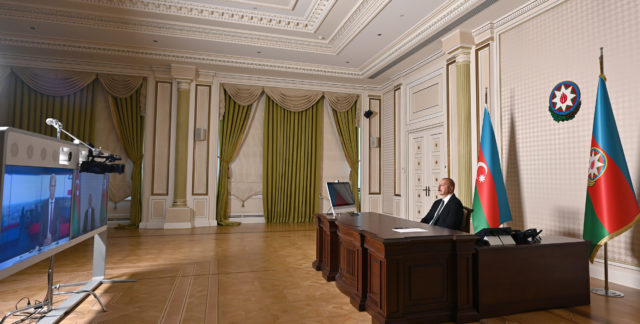 Azerbaijani President Ilham Aliyev's interview with French television channel France 24 late last month (September 28) highlighted both current and future perspectives for bilateral relations between the two countries. At the same time, it sent a signal to Armenia, which has long presumed to have a much closer relationship with France (President.az, September 28).
In fact, Azerbaijani-French relations go back many years and have focused on the Armenian-Azerbaijani conflict as well as multiple other issues. While bilateral economic, trade and infrastructure projects have been ongoing, arguably the most significant work has been achieved in the sphere of culture. Since 2007, with the support of the Heydar Aliyev Foundation, joint efforts have included restoration works of multiple French historical sites, cultural exchanges, and over a dozen brotherhood and friendship agreements between the cities of France and Azerbaijan (Aliyevheritage.az, January 23, 2018).
Elnur Allahverdiyev, a member of Azerbaijan's Parliamentary Committee on Economic Policy, Industry and Entrepreneurship, has noted that his country's above-mentioned contribution to supporting French cultural sites has demonstrated its commitment to upholding the world's material and spiritual wealth as a civilized, peaceful state; and Azerbaijan expects an adequate response in return. However, he bemoaned, Paris stayed moot in the face of the destruction and falsification of the material, cultural and historical heritage in the Azerbaijani territories that had been occupied by Armenia (Trend, October 3, 2020). During a subsequent visit by members of the French National Assembly to the Karabakh city of Agdam, these French lawmakers finally acknowledged that seeming disconnect. Jérôme Lambert said they were shocked to see the liberated territories: "We think that 30 years ago there was life and people lived here. But we hope that the displaced people will be able to return to their homes and that these areas will be fully restored" (Trend, July 23, 2021).
Azerbaijan is certainly cognizant of the lengthy historical ties between France and Armenia, and it understands the strength of the Armenian community living in France, which may influence French decision-makers to some extent (Milli.az, October 2). But in Baku's view, that relatively close Franco-Armenian relationship undermined Paris's responsibility to remain neutral as a co-chair of the Organization for Security and Cooperation in Europe's (OSCE) Minsk Group on resolving the Armenian-Azerbaijani conflict over Karabakh. Rather than upholding an objective stance, France repeatedly demonstrated a one-sided approach, publicly reproaching Azerbaijan in actions and public statements (see EDM, November 25, December 1, 3, 7, 2020).
During last year's 44-day Karabakh war, members of the Azerbaijani parliament, political analysts and civil society institutions fiercely criticized France for demonstrating a pro-Armenian bias, which contradicted Paris's mandate as a neutral arbiter within the OSCE Minsk Group. Moreover, they panned France for not using its position as a permanent member of the United Nations Security Council to more strongly pressure Armenia into ending its occupation of Azerbaijani territories. Azerbaijani parliamentarian Elman Nasirov, who sits on the Committee on International Relations and Interparliamentary Relations, argued that Turkey should replace France as one of the three OSCE Minsk Group co-chairs in the Karabakh settlement process. Alternatively, Pakistan (as a nuclear power like the other Minsk Group co-chairs) could become involved in the process (Trend, September 30, 2021)
Nonetheless, in speaking with France 24, President Aliyev said that Baku had received positive signals from Paris on future relations and would respond positively. Bilateral interactions had been heating up recently at various levels, including contacts between their foreign ministers. And on September 7, the French ambassador to Azerbaijan, Zacharie Gross, wrote on Twitter that in 2021, France sent the International Committee of the Red Cross over half a million euros in charitable donations for its activities in searching for the almost 4,000 Azerbaijanis still unaccounted from the First Karabakh War (1news.az, September 7). A day later, France's diplomat tweeted again, noting that Paris intended to donate 400,000 euros ($465,000) to Azerbaijan to carry out demining work in the Karabakh region (Qafqazinfo.az, September 8).
This cited demining assistance may grow. According to an expected memorandum to be signed between the French National Commission for the Elimination of Anti-Personnel Mines and Azerbaijan's National Agency for Mine Action, the Commission will allocate 500,000 euros ($581,000) in financial aid for the implementation of these measures. The secretary general of the French Commission stressed that, under the Ottawa Convention on the Prohibition of Mine Action, which will be chaired by France in the European Union from 2022, great work will be done to clear mines, and Azerbaijan will be strongly supported in this regard. This cooperation could form a solid basis for opening a new stage in Azerbaijani-French relations (Trend, October 15)
On September 16, 2021, the minister of foreign affairs of Azerbaijan, Jeyhun Bayramov, and a delegation headed by the director of the Continental Europe Department of the French Ministry of Foreign Affairs, Frederic Mondoloni, discussed issues pertaining to regional security, the trilateral (Azerbaijan-Armenia-Russia) agreements that ended last year's Second Karabakh War, as well as collaboration with international organizations. Moreover, they shared ideas for bolstering Azerbaijani-French cooperation. Drawing attention to the illegal visit of some members of the French National Assembly to Azerbaijani territories not under Baku's control, Bayramov cautioned that such steps undermine the existing post-conflict peacekeeping efforts in the region (Report.az, September 16).
In his September 28 France 24 interview, Aliyev declared that when it comes to Armenia, Azerbaijan is looking to the future and has repeatedly stated its readiness to start a dialogue with the government in Yerevan. Azerbaijan does not want a war, yet it will steadfastly oppose any revanchist tendencies in Armenia, the Azerbaijani president stated (President.az, September 28). These political realities in the South Caucasus may finally be galvanizing outside powers to help secure a lasting peace. "France, together with Russia and the United States, is working on a new agreement on Karabakh," Ann Luyo, France's new ambassador to Yerevan, told RFE/RL's Armenian Service earlier this month (Qafqazinfo.az, October 13).
On France 24, Aliyev posited that Azerbaijan wants normal relations with France—one of the leading countries in the world—and has always been open to maintaining cooperation. Thus, the heated emotions surrounding the Second Karabakh War notwithstanding, Baku is unlikely to dwell on the unpleasant rhetoric coming out of Paris during that time. Most important for Azerbaijan is to see evidence that France genuinely wishes peace, stability and security for the South Caucasus region and that it evenhandedly supports continued and fruitful negotiations between Armenia and Azerbaijan. (President.az, September 28).