Czechia and Poland Eye Cooperation on Natural Gas Infrastructure 
Publication: Eurasia Daily Monitor Volume: 20 Issue: 54
By: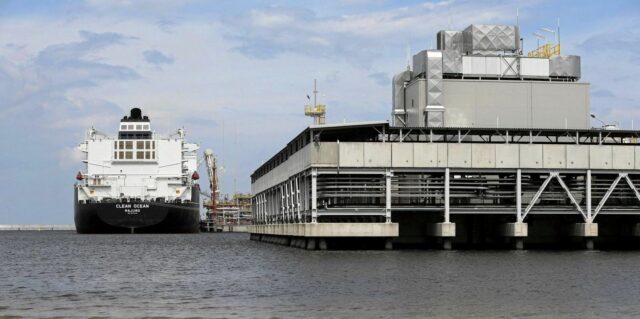 In the second half of February 2023, Czech Minister of Industry and Trade Jozef Síkela (Gov.pl, February 16) and Prime Minister Petr Fiala visited Poland (Gov.pl, February 22; Zahranicni.hn.cz, February 22). The intergovernmental meetings included discussions on two natural gas projects: the construction of an interconnector gas pipeline ("Stork II") between the two countries and possible Czech investment in a planned liquefied natural gas (LNG) import terminal in Gdansk. Both ideas appear likely to come to fruition, as Warsaw and Prague ultimately share the same perception of gas security issues after Russian President Vladimir Putin's reinvasion of Ukraine.
The concept behind the Stork II project is nothing new, as the primary Polish and Czech gas transmission operators (Gaz-System and Net4Gas, respectively) began studying the possibility of such a pipeline interconnector back in 2015 (Gaz-system.pl, June 3, 2015). The plan initially called for commissioning Stork II in 2018; however, the reason why this schedule was not followed ultimately boiled down to differing perceptions regarding gas supply security and the Nord Stream 2 pipeline. Czechia was to become a transit country for Russian gas via Nord Stream 2 as a part of the "Capacity4Gas" project (Net4gas.cz, accessed April 2), whereas Warsaw feared that Nord Stream 2 would open yet another door through which Moscow could enter the Polish market. Now that Nord Stream 2 is effectively dead and Prague has revised its stance on Russian gas imports, the two countries are once again considering Stork II (Radio.cz, February 19). The project was officially endorsed by Polish and Czech officials back in September 2022, with both parties turning to the European Commission for financial support for the proposed pipeline (Gov.pl, September 30, 2022).
Polish interest in Stork II is part of the country's strategy of expanding pipelines with its neighbors; back in 2022, Gaz-System commissioned interconnectors with Lithuania and Slovakia. Prague's goal, on the other hand, is to secure additional sources of natural gas, now that Russia is out of the national market. ČEZ Group, the Czech national utility company, has already gained access to 3 billion cubic meters per year of regasification capacity from the new Dutch LNG terminal in Eemshaven (Cez.cz, September 8, 2022). Furthermore, Czechia is becoming reliant on gas supplies from Norway to fulfill its energy needs (Ekonomickydenik.cz, December 8, 2022). As part of future diversification efforts, Czechia is currently lobbying for the right to invest in a future floating LNG terminal in Gdansk, which is scheduled to be completed in 2028 (LNGPrime, March 14). According to the latest information, Prague would like a portion of Gdansk's LNG capacity in exchange for equity investment.
While there is no question that Putin's war of aggression against Ukraine created a new impetus for Polish-Czech gas cooperation, it should be understood that the energy partnership between the two countries has a solid foundation beyond this. Both countries are expecting significant growth in the demand for natural gas domestically, as their energy sectors transition away from coal (Gaz-system.pl, February 24; Net4gas.cz, December 29, 2022). This makes the construction of Gdansk's new LNG terminal all but necessary.
Polish officials should welcome possible Czech financing of the project, as it could enable the deployment of a second floating storage regasification unit (FSRU), thereby doubling the capacity of the terminal from 6 to 12 billion cubic meters per year—something Warsaw has already expressed interest in.
If successful, gas cooperation between Poland and Czechia will positively contribute to the energy security of Central and Eastern Europe, of course, but it could create additional opportunities for Ukraine too. Kiev has long been interested in access to the LNG terminals in the region. Even if Ukraine's national oil and gas company, Naftogaz, aims at a domestic gas production increase (Interfax.com.ua, February 20), the war still might have a devastating effect on the country's upstream capabilities. It should, then, be taken into account that Ukraine need to import LNG even after Russian aggression is beaten back, and the Gdansk FSRU project would be a perfect fit if a new Polish-Ukrainian gas interconnector was constructed. In such a case, a new import terminal in Poland may serve as a gate for LNG supplies (including the ones from the United States) to the whole of the region.