India's Armed Forces Special Powers Act Comes Under Scrutiny After Nagaland Killings
Publication: Terrorism Monitor Volume: 20 Issue: 2
By: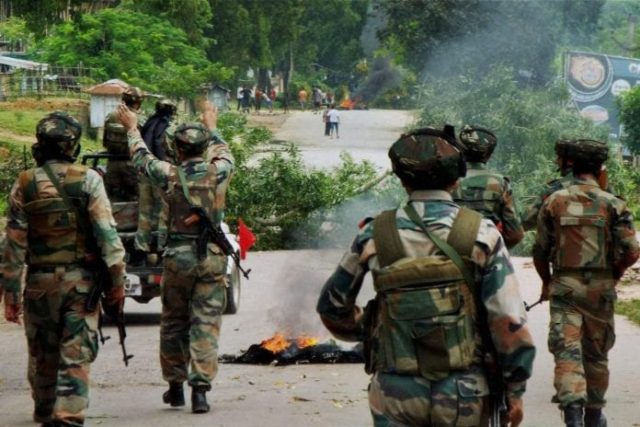 On December 4-5, 2021, an Indian Army Special Forces unit gunned down 14 civilians at Oting village in the northeastern Indian state of Nagaland. Mistaking six coal miners returning home from work for insurgents, the security forces shot them dead. Eight other civilians were killed in clashes that erupted between the forces and local villagers soon after the shooting (Times of India, December 6, 2021).
The incident has ignited angry protests in Nagaland against the Armed Forces Special Powers Act (AFSPA), which vests extraordinary powers in the armed forces deployed in areas deemed "disturbed." This has renewed heated discussion in India, with people in India's conflict zones and rights activists calling for AFSPA's repeal. However, the armed forces underscore the importance of the legal cover this law provides to their functioning in India's insurgency-wracked regions.
So, what is AFSPA and why is it controversial?
AFSPA's Extraordinary Powers
AFSPA grants the armed forces "certain special powers" to maintain public order in "disturbed areas." These include the right to:
"Arrest without warrant" a person who, "on reasonable suspicion," has committed or is "about to commit a cognizable offense";
Raid and destroy any property that is "likely" to be used by insurgents for training or attacks; and
"Fire upon or otherwise use force, even to the causing of death [of] any person who is acting in contravention of any law or order."
Besides conferring extensive powers to the armed forces, AFSPA provides them immunity from prosecution. [1]
As an emergency law that was enacted in 1958 to deal with the Naga insurgency, AFSPA was first imposed on the Naga Hills and was intended to be in force for one year. However, it remains in force to date more than sixty years later. Indeed, in the six decades thereafter, its writ has extended not only to all of Nagaland but also to "disturbed areas" in all of Northeast India's seven states.
The law was further applied to Punjab and Chandigarh from 1983, and in Jammu and Kashmir from 1990. As those insurgencies were quelled, however, AFSPA was withdrawn from Punjab in 1997, Tripura in 2015, and Meghalaya in 2017. Today, it is in force in all of Nagaland, Assam and Manipur (excluding parts of Imphal), parts of Arunachal Pradesh, and in Jammu and Kashmir.
Demands for AFSPA's Repeal
Calls for AFSPA's repeal have grown louder in the weeks since the Oting killings. However, such calls are not new. Opposition to the legislation is, in fact, almost as old as the law itself. This time around, however, the anti-AFSPA sentiment is so high that the Nagaland government was pushed to support the public demand by passing a resolution calling for the legislation's repeal (Times of India, December 20, 2021).
AFSPA's critics point out that it has encouraged the armed forces to act with impunity (The Wire, December 6, 2021). The incident at Oting is not a one-off incident, "an exception or a mistake," but part of, "a general pattern of civilian killings that have been taking place in the Northeast since AFSPA was imposed," they claim (The Hindu, December 15, 2021). According to a Naga human rights activist, the, "sweeping powers and protection," that AFSPA provides the armed forces, "lies behind the countless extra-judicial killings, rapes and incidents of torture," in the Northeast. [2]
AFSPA's critics also argue it is, "a blot on India's democracy," and that it undermines "the established procedures of rule of law and other principles of democratic governance, especially transparency and accountability" (Imphal Free Press, December 12, 2021; Deccan Herald, January 3).
Arguments for AFSPA
Indian Army personnel describe AFSPA as an "enabling legislation" that assists the armed forces to, "function effectively in securing stability," in disturbed areas (Deccan Herald, December 11, 2021). They point out that the armed forces are called in to deal with situations that are, "so out of control," that neither the local police nor the central armed police forces are able to deal with them. In the, "extraordinary," circumstances in which they have to operate, they need, "additional powers." Not enabling the armed forces with these powers to fight well-armed and trained militants, whether in the Northeast or Kashmir, would, according to them, have, "serious consequences" for India's national security (Salute, November 2, 2015).
Armed forces personnel further assert that AFSPA has played a significant role in the, "normalization of the situation in many parts of the country," whether in Mizoram and Tripura, the Cachar Hills of Assam, the Tirap, Changlang and Logding districts of Arunachal Pradesh, or in the areas south of the Pir Panjal range in Jammu and Kashmir. They say the armed forces, "couldn't have done this without the legal provision for their deployment in counter-insurgency areas" (The Hindu, December 17, 2021).
Lt. Gen. (retired) Raj Kadyan, a former vice-chief of army staff, who was involved in counter-insurgency operations in Northeast India for several decades, attributed the ceasefire agreement reached between the Indian government and the National Socialist Council of Nagalim-Isak Muivah (NSCN-IM) on August 1, 1997 to AFSPA. This is because it provided the troops with the, "protective umbrella," that, "brought the rebels to their knees." [3] The ceasefire, which survives to date, has normalized the situation in Nagaland. Whereas there were hundreds of insurgencies in Northeast India and Nagaland previously, now militancy is under control, with virtually no major militant attacks conducted over the last two decades.
Indeed, from the peak in the 1980s and 1990s when multiple insurgencies wracked Northeast India, the security situation in the region has improved remarkably. Except for a small number of insurgent groups, most others have entered into ceasefire or "Suspension of Operation" agreements with the central or state governments or are engaging in talks or have completely disbanded. There has also been a reduction in violent incidents in the region (Manohar Parrikar Institute for Defence Studies and Analyses, July 8, 2020).
The Way Forward for AFSPA
AFSPA's critics remain unconvinced. Pointing to the roughly 32 militant outfits still active in Manipur, they assert that legislation, "has not succeeded in its mission of containing insurgents" (The Hindu, December 17, 2021). Besides this, AFSPA has harmed the Indian state's interests in conflict zones by, "deepening anti-India feelings in the Northeast and Kashmir, rather than mitigating the political problems" the Naga activist said, adding that insurgencies, "have not been resolved." [4] As Kadyan noted, "solving an insurgency in a democracy is not the responsibility of the military." What the armed forces can do in the Indian context, he believes, is, "to keep the insurgency down to a level where the civil administration can carry out its functions. And for that to be achieved AFSPA is essential." [5]
Responding to the loud calls for AFSPA's repeal following the Oting killings, the central government has announced a high-level committee to examine the possibility of withdrawing this legislation in Nagaland. This is not the first time that a committee has been constituted to look into AFSPA. In the wake of the huge protests in Manipur following the 2004 rape and killing of a 32-year-old woman, Thangjam Manorama, the United Progressive Alliance (UPA) government constituted the Justice Jeevan Reddy Committee to review AFSPA.
The committee recommended AFSPA's scrapping and its suggestions aimed at reducing militarization and restoring power to the civilian administration in conflict zones. However, these recommendations were never implemented (Gateway House, January 9, 2013). The committee appointed now by the Bharatiya Janata Party (BJP) is unlikely to go even as far as the UPA did because political solutions to insurgencies and mass grievances have proven to be anathema to the BJP.
However, the BJP government is under pressure. The Naga peace talks, which had hit an impasse long before the Oting killings, are in jeopardy now. The BJP government cannot afford to have these talks collapse. It will, therefore, likely opt for a few cosmetic steps to roll back the protests over the Oting killings and, at most, it could withdraw AFSPA from a few areas. However, it will not repeal or even reform AFSPA. As in the past, the protests will subside but simmering anger with AFSPA and the Indian state will continue. This anger will explode in angry protests when another case of rape or extra-judicial killing by the armed forces inevitable ignites the Northeast again.
Notes
[1] Armed Forces (Special Powers) Act 1958, Act no. 58 of 1958, September 11, 1958.
[2] Author's Interview, Naga human rights activist based in Kohima, Nagaland, India. Interviewed on January 7.
[3] Author's Interview, Lt. Gen. (ret.) Raj Kadyan, former vice-chief of the Indian Army, Interviewed on July 1, 2015.
[4] Naga human rights activist, n. 2.
[5] Lt. Gen. Raj Kadyan, n. 3.