INSURGENTS IN DAGESTAN AND KABARDINO-BALKARIA READY FOR SUMMER CAMPAIGN
Publication: Eurasia Daily Monitor Volume: 2 Issue: 53
By: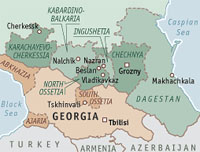 While Russian authorities were celebrating the death of Chechen rebel leader Aslan Maskhadov, insurgents in two other Northern Caucasus regions declared their readiness to conduct "military operations" as part of a coming spring and summer "campaign."
On March 10, Yarmuk, an insurgent group in Kabardino-Balkaria, released a statement announcing that they are ready for war in the republic. Two days later, Kavkazcenter website released another, more detailed statement from Yarmuk, which said that the underground organization had elected a new commander (amir). The statement went on to say that the new commander was a Kabardinian, and the previous one — killed in Nalchik earlier this year — had been a Balkar (see EDM, February 2). The Yarmuk statement called upon "all Muslims of Kabardino-Balkaria who work in local law-enforcement agencies" to leave their jobs and warned traffic policemen against stopping cars carrying rebels. Yarmuk specifically warned tourists, hunters, and foresters not to go to the mountains lest, "They would be regarded as spies if found near the rebels' bases" (Kavkazcenter.com, March 10).
Also on March 10, independent sources reported that special-task police units from Kabardino-Balkaria, supported by additional units from Russia's North Caucasus Military District in Krasnodar Krai, had moved into the Elbrus mountain district of the republic to conduct a large-scale cleanup operation (grani.ru, March 11). Local authorities confirmed this information. Khizir Makitov, head of Elbrus District, said that the special operation was intended to detect suspicious persons and search for illegal arms (regnum, March 10). However, Khachim Shogenov, the Kabardinian Minister of Interior Affairs, declared that Yarmuk had dwindled to only two or three members and no longer merited concern (regnum, March 10).
His words failed to calm anyone in the republic. More then 30,000 people were investigated during the last government sweep, and police and army units combed all mountain areas and Nalchik, the capital (gazeta.ru, March 12). According to Regnum news agency, residents of the swept districts are frightened by the methods used by security officials. "We have no war, but the people are treated as if it were wartime," one worried civilian complained (Regnum.ru, March 14).
The ethnic Russian community is worried more than others. A Russian from Kabardino-Balkaria explained to Jamestown that there are two opinions about Yarmuk among Russians in the republic. Some believe that Yarmuk is just a myth, while others think that "Wahhabis" could really take power in the region. There are rumors circulating in the republic that the Yarmuk group consists of 200 fighters. Some people suggest that 200 insurgents would be more than sufficient to attack Nalchik or other strategic points in Kabardino-Balkaria.
Yarmuk's actual strength is unknown. Last year the group struck several times in the republic but without notable success. In December the rebels ambushed a car carrying the warden of the local prison camp. He was seriously wounded, but managed to survive. In October 2004, Yarmuk fighters tried to assassinate the head of the local police organized crime department. On August 20, a group of ten insurgents were lying in wait in a cornfield ready to ambush the motorcade of the local minister of internal affairs until they were discovered by a police patrol. The operation failed, but the group managed to elude the 200 policemen and Federal Security Service (FSB) spetsnaz troops that had surrounded them. Finally, on December 14, Yarmuk managed to organize a spectacular attack on the local State Drug Control Committee office in Nalchik, seizing dozens of assault rifles and pistols.
But January 2005 brought more setbacks for Yarmuk, and its leader Muslim Ataev, was killed. The insurgents' next step is still unclear.
Recent events in the city of Khasavyurt, Dagestan, have shown that even two gunmen could be a serious problem. On March 14, two rebels barricaded themselves in a three-story apartment block in the center of the city. A battalion of special-police forces — more then 200 men — attacked the building for about 16 hours, but the insurgents eventually escaped (RIA-Novosti, March 14-15).
On March 15, a Dagestani rebel group known as Sharia Jamaat declared, "The Islamic Military Council of Dagestan, Sharia, as well as all the rest of the units headed by the Commander-in-Chief of Dagestan, Rabbani Khalilov, pledge their allegiance to the new Amir of the Caucasus and of all Muslims of Russia, Sheikh Abdul-Khalim Sadulaev." Following Mashkhadov's death, Sadulaev has been designated the new leader of the Chechen separatists.
The statement continued, "All further combat operations of Jamaat will continue unchanged in accordance with the plan of war operations adopted in 2005" (Kavkazcenter.com, March 15).
According to Moskovsky komsomolets sources in Dagestan, people in the region take such declarations very seriously. When the Sharia group warned civilians against hunting in the mountain woods near Makhachkala, Dagestan's capital, people stopped going there almost completely (Moskovsky komsomolets, March 10).
The entire North Caucasus is anticipating a long, hot summer.