Tajikistan's Transportation Challenge: Ending Dependency On Uzbek Transit Routes
Publication: Eurasia Daily Monitor Volume: 8 Issue: 207
By: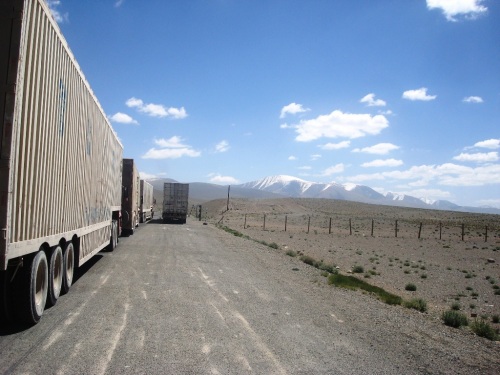 As relations between Dushanbe and Tashkent have become increasingly strained due to multiple factors, including water resources and energy supplies, Tajikistan is trying to end its reliance on Uzbekistan's highways and railroads. Tashkent has closed most of the Soviet-era highways linking the countries, and Tajikistan's cargo transit through Uzbek railroads has suffered frequent interruptions since 2009 (www.news.kob.tj August 10, 2010; Ruzgor.tj March 19, 2010).
The government in Dushanbe repeatedly highlights that it requires decent and modern domestic transportation networks and reliable transit routes to the outside world in order to truly develop its economy and trade, and strengthen its independence (www.mfa.tj). The Tajik government states that improving its transport links is one of its top priorities. But the landlocked country has few alternative options. Dushanbe mainly focuses on three potential routes to the outside world – through China, Kyrgyzstan and Afghanistan, all countries with which Tajikistan shares a common border (www.jomea.tj July 31, 2010).
The first attempt to find an alternative overland route was the completion in 2004 of the Kulma-Karakorum road, which connects Tajikistan's eastern Murghob district to the Karakorum Highway (KKH) in China. The KKH, a joint project by China and Pakistan, provided Tajikistan with its closest existing link to the open sea through the two countries. Since its official opening in May 2004, the Kulma-Karakorum road has been widely used by Tajik merchants importing goods from China, as well as by the growing number of Chinese companies operating in Tajikistan.
Nevertheless, the Kulma-Karakorum road is not a transportation route, which Tajikistan can rely upon. Located some 4,600 meters above sea level in the mountainous Badakhshon province, the area is remote and isolated for most of the fall and winter months. The country still lacks decent roads connecting Badakhshon to the capital and the rest of country. Due to heavy snowfalls and avalanches, the existing roads to Badakhshon are largely closed from October through to May.
The remoteness of the area and its difficult mountainous terrain has prompted Dushanbe to invest in an alternative route to China and other neighboring countries. This past summer the heavily renovated Dushanbe-Rasht-Jirgatol highway was officially opened. The 350 kilometer (km) road links Tajikistan to China and Kazakhstan via neighboring Kyrgyzstan. The six-year-long renovation project was largely financed by the Asian Development Bank (www.ozodagon.com August 26).
The country has undertaken a number of projects, including rebuilding the Dushanbe-Tursunzoda road in the west, and the Kulob-Kalai Khumb highway in the south-east. Modernization works are currently underway in both routes. One of Tajikistan's major achievements in the transportation sector in recent years has been the renovation of the Dushanbe-Khujand-Buston highway, which links the capital to the northern Sughd province and from there to neighboring Uzbekistan; rebuilt by Chinese companies, it is Tajikistan's first and so far only toll-road.
The highway includes two tunnels completed with Iranian and Chinese investments. The Istiqlol tunnel in the Anzob Pass, some 80 kilometers northwest of the capital, was officially opened in July 2006. Construction work on the tunnel initially began in 1989, but was halted due to the collapse of the Soviet Union and Tajikistan's civil war in the 1990s. Reportedly, drivers frequently complain about water leakages inside the tunnel which in turn dramatically slows down the traffic. Moreover, a lack of electricity lines inside the 5 km tunnel leaves drivers in total darkness (www.ozodi.org August 15).
Meanwhile, the Chinese-built tunnel alongside the same highway does not have any problems with water leakage or a lack of electricity, according to Tajik media reports. The 1 km tunnel is located in the Maikhura area, not far from the Anzob Pass. In 2010, Tajikistan, Afghanistan and Iran agreed to build a railway that would connect Tajikistan to Iranian railroads via Afghanistan. Tehran pledged to invest in the project, which includes building modern railways from Dushanbe to the Afghan cities of Mazar-e-Sharif and Hirat before connecting to Iran's rail network (www.jumhuriyat.tj October 28, 2010).
This would be Tajikistan's first ever railroad to the outside world that would avoid Uzbek territory. However, the lack of security and stability in Afghanistan raises questions about the feasibility of the project, and construction work has not yet started. Dushanbe intents to complete its ambitious plan to create a modern transportation network by 2025 in order to ultimately end its dependency on Uzbekistan. Meanwhile, the relationship between the two neighbors has further deteriorated, mostly due to Tajikistan's plans to build the Rogun hydro-power plant, a project Tashkent strongly opposes, alleging that it would leave downstream Uzbekistan facing significant water-shortages.
The timescale set by the Tajik government to develop its transportation infrastructure seems to be lengthy, and during this period the country to a great extent will remain vulnerable to pressure from Uzbekistan as well as to any political developments in Tashkent. Uzbekistan can continue to use transit routes as leverage to leave Tajikistan in a virtual economic blockade. Tashkent could, for instance, once again obstruct Tajik-bound cargo freight, which carry Rogun-destined excavators and other heavy equipment and construction material. Similar stoppages occurred in May 2010, during which time Tajikistan's already cash-strapped economy suffered some $100 million in damages.
Even if Tajikistan successfully implements its ambitious plan by 2025, the country – due to its landlocked position – would always depend on its neighbors' goodwill to allow Tajikistan to use their transit routes. However, diversifying its transportation links would at least enable Tajikistan to avoid dependence on any individual neighbor.