A Chain of Poor Choices Leads Putin Into a Serious Blunder
Publication: Eurasia Daily Monitor Volume: 17 Issue: 122
By: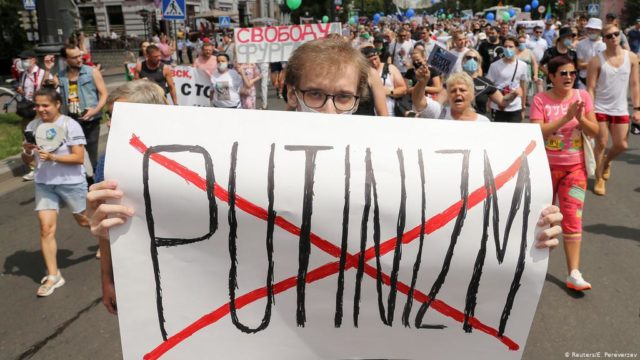 Russia traditionally returns to normal work, after a summer break, on September 1. This year, however, although schools reopened as usual, broader public and political life persisted on its earlier course of disarray and downturn. In his televised address to schoolchildren, President Vladimir Putin spoke at length about the memory of the great Soviet triumph over Nazi Germany but only obliquely referred to the ongoing COVID-19 pandemic (Ezhednevny Zhurnal, September 2). It was the severe explosion of coronavirus infections in April that spoiled his carefully prepared celebrations of the 75th anniversary of the Soviet Union's victory in the Great Patriotic War; and since then, nothing has gone quite right in the Kremlin's plans for regime consolidation.
In early June, Putin announced that the disease outbreak had reached a "plateau"; since then, the official daily number of new infections has remained around the 5,000 mark, making the total figure today around 1,000,000 Russian coronavirus cases (RBC, September 5). Yet, multiple expert investigations show distortions in the data in many regions, meaning that the real trajectory of Putin's "plateau" could be significantly higher (The Insider, September 1). Moscow Mayor Sergei Sobyanin proudly claims on his website that his initiatives on enforcing a lockdown have helped minimize the damage; but still, some 650 cases are registered in the capital every day (Moscow Echo, September 4). Officials point to the low mortality rate. However, vital statistics conspicuously demonstrate a record-high decline in the Russian population over the past several months: in the first half of 2020, Russia lost 265,500 people (from all causes), about as much as during the whole of 2019 (Rosbalt, September 1).
In July, the tightly controlled public vote on the package of amendments to the constitution, designed to ensure Putin's continuing grasp on power through the next decade, had to be crudely falsified in order to show strong support. Despite an official turnout of 78 percent, with 68 percent voting for the constitutional reforms (mathematically an absolute majority of the electorate), in reality only an estimated 60 percent bothered to partake, and 60 percent of them voted "as ordered" (Levada.ru, August 7). A week after the vote, the arrest of popular Far Eastern governor Sergei Furgal triggered mass protests in Khabarovsk; and Putin's decision to appoint an obscure politician from Moscow as the oblast's new head turned out to be a mistake, causing even greater public outrage. The start of September saw more rallies, and this coming weekend will hardly be any different (Svoboda.org, September 3).
The irritation in the Kremlin about the persistence of the protests mixed with anxiety about the outcome of this month's upcoming regional elections has focused on the person of Alexei Navalny, the anti-corruption blogger–turned–politician who has sought to mobilize every source of discontent into producing a strong protest vote in these elections (Republic, September 2). The story of Navalny's poisoning, on August 20, remains murky. Conspiracy theories abound; but taken together, the timing, method, organization and subsequent government cover-up leave only one plausible conclusion—a centrally planned and sanctioned on the highest level operation of special services that went wrong, as in many other previous such cases (Carnegie.ru, August 25). In recent days, German Chancellor Angela Merkel publicly established the fact of the use of the Novichok weaponized nerve agent, and the North Atlantic Treaty Organization's (NATO) Secretary General Jens Stoltenberg has demanded answers from Moscow. As such, the Kremlin realizes the usual denials will not work, but Putin's courtiers cannot find another way to minimize the mounting damage (Kommersant, September 2).
The unfolding drama of the attempted murder of a Russian opposition leader interplays with the ongoing revolution in neighboring Belarus. Putin has already made the mistake of openly congratulating Alyaksandr Lukashenka on winning the apparently blatantly falsified August 9 presidential elections. And the Russian leader now looks set to commit the even greater blunder of providing support in suppressing the Belarusian protests (Fontanka, September 4). Russian media are providing remarkably broad coverage of these protests; but the tone of the official propaganda changed following the September 3 visit to Minsk of Russian Prime Minister Mikhail Mushustin (Rossiiskaya Gazeta, September 3). A desperate Lukashenka informed him about an alleged intercept of conversation between Polish and German special services that proved Navalny's poisoning was a provocation. This bizarre fabrication instantly received traction in the Russian tabloids (Izvestiya, September 6).
Putin invited Lukashenka to travel to Moscow on an emergency visit. This upcoming meeting could become a crucial inflection point in the close but highly ambivalent relations between the two states (Novaya Gazeta, September 4). For years, Lukashenka portrayed himself as an upholder of Belarusian sovereignty, and the key message of his reelection campaign was resistance to Russian pressure. But now, to some at least, he looks prepared to sacrifice every foundation of Belarusian statehood in order to preserve his own hold on power (Nezavisimoe Voennoe Obozrenie, September 3). Belarus's Defense Minister Victor Khrenin informed his counterparts from the Collective Security Treaty and Shanghai Cooperation organizations (CSTO, SCO) that external powers had attempted a regime change in Belarus but Russian support would ensure a restoration of stability (Kommersant, September 5).
Russian public opinion is divided in sympathy or scorn toward Lukashenka, who has behaved erratically in the course of this crisis but clearly seeks to avoid any "hybrid" interventions (Rosbalt, September 4). The hundreds of thousands of Belarusians who have kept the protests going for a month and again came out in force in Minsk and every other major city last Sunday (September 6) have so far not expressed any anti-Russian feelings. But Putin's embrace of the autocrat they are rising up against could alter this attitude and convince them that freedom can be gained only by breaking from the format of ever-closer integration with their "fraternal" eastern neighbor (Newsru.com, September 4).
By prioritizing solidarity with Lukashenka and forcing him to accept the status of a "protectorate," Putin risks destroying the great value of human ties between Russia and Belarus—much the same as happened with Ukraine since 2014. And by (tacitly or otherwise) expressing his desire to eliminate all "troublemakers" from the irrepressible Russian opposition, he accepts responsibility for crimes unacceptable even for those in the West who are inclined to "understand" Putin's motives and maintain relations with Russia "as it is." Much like Lukashenka is unable to comprehend that Belarus has voted him out, Putin cannot seem to understand the gravity of his own mistakes. The Russian president is planning to virtually address the United Nations General Assembly, even though such grandstanding will only bring into sharper focus his crimes of aggression, violation of human rights and freedoms, and poisonings of political opponents (Russiancouncil.ru, September 3). It nonetheless may be a useful reminder that authoritarians-in-distress can be simultaneously feeble and dangerous.