Armenia Pushes to Reinvigorate Its Relationship With NATO
Publication: Eurasia Daily Monitor Volume: 14 Issue: 33
By: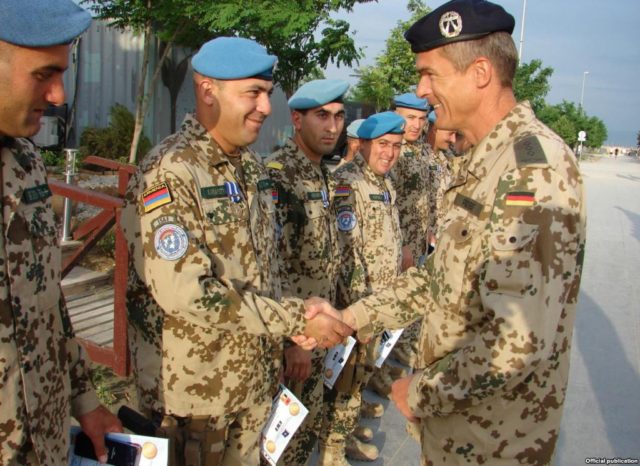 Armenia—Russia's closest ally in the South Caucasus—appears intent on revitalizing its partnership with the North Atlantic Treaty Organization (NATO). This agenda turned explicit on February 27–28, when Armenian President Serzh Sargsyan paid a visit to Brussels. Besides holding several important meetings with high-level European Union officials, including EU President Donald Tusk and High Representative Federica Mogherini, Sargsyan spoke in person with the North Atlantic Alliance's Secretary General Jens Stoltenberg (Aravot.am, March 8).
During his joint press conference with Stoltenberg, President Sargsyan reaffirmed Armenia's commitment to set a positive agenda with the Alliance. Moreover, he emphasized the necessity to preserve the current degree of political dialogue and continue their practical partnership (Armenpress, February 27). In turn, after commending Armenia's contribution to NATO missions in Kosovo and Afghanistan, Stoltenberg highlighted the importance of making headway in approving the fifth stage of Armenia's Individual Partnership Action Plan (IPAP) for 2017–2020 and tailoring it to Yerevan's requirements (Nato.int, February 27).
Perhaps the most interesting part of the meeting at NATO headquarters was Sargsyan's invitation to Stoltenberg to visit Armenia this year. This offer can be interpreted as Yerevan's intention to restore some sense of equilibrium to Armenian relations with NATO and Russia, aimed at lessening the latter's tightening grip on Armenia since 2013—even if that appears largely unrealistic at this stage.
Armenia has a 25-year history of deeply rooted cooperation with the North Atlantic Alliance. The relationship launched in 1994, when Armenia joined the Partnership for Peace (PfP) program. Yerevan expanded its PfP package in 2002 by taking on a Planning and Review Process (PARP). Prioritizing a Euro-integrationist agenda and the building of democratic governance, the PARP platform has been broadly applied by Yerevan to address the institutional aspects of domestic defense reforms. This, in turn, has been underpinned by Armenia's participation in the NATO Partnership Action Plan for Defense Institution Building (PAP-DIB) coupled with the Alliance's Building Integrity program, designed to tackle corruption in the participating countries' armed forces (see EDM February 4, 2015).
Nevertheless, real changes became most apparent after Armenia adopted the IPAP in 2005. This led to the consequent enlargement of Yerevan's participation in PARP (in 2005–2011), allowing it to undertake more serious security-sector reforms. Since then, Armenian authorities have expended considerable efforts on Western-style structural modernization of the Armed Forces, along with improvements to personnel education, civilian control of the military, civilian personnel involvement in the Ministry of Defense, and so forth.
Armenia's traditional active involvement in NATO-led peacekeeping operations is also worth pointing out: the country's ground forces garnered significant peacekeeping experience after deploying to Kosovo under Greek command, and under the command of the United States since 2012. In early 2010, Armenia dispatched a peacekeeping contingent with a German battalion to Afghanistan as part of the International Security Assistance Force (ISAF). As of 2015, a company of 130 Armenian soldiers continues to serve under NATO's Resolute Support operation in Afghanistan (Mediamax.am July 9, 2016).
The government's consistent investment in the Armenia Armed Forces' modernization—through the roughly 170 programs derived from the PfP, IPAP and PAP-DIB programs—has resulted in the establishment of a centrally subordinated three-battalion-strong peacekeeping brigade with about 1,200 personnel. Importantly, the Alliance, with European and US assistance, funds the training of this Armenian peacekeeping unit with the goal of it adopting NATO tactics, weapon systems and modern warfare procedures to enhance operational interoperability with NATO forces. The brigade was evaluated according to NATO standards and earned combat readiness certification in 2015 (Aravot.am August 5, 2016).
The development of the evidently fertile Armenia-NATO partnership was inherently endangered several years ago, after Armenia shifted away from its long-held national agenda of European integration and democratization, choosing instead to join the Russia-led Eurasian Economic Union in 2014. But now, in an apparent bid to reinvigorate Yerevan's ambivalent relations with NATO, President Sargsyan has reasserted his country's goal of pursuing closer cooperation with the Alliance: there are "no contradictions in being Russia's fellow ally, while simultaneously benefiting from a deep partnership with NATO," he declared in Brussels (Tert.am, March 3). This notion is widely attributed to the policy of "Armenian Complementarianism," actively promoted and pursued by Yerevan prior to Russia's much more overt assertiveness vis-à-vis its neighbors. Likewise, Armenia's National Security Strategy, adopted in 2007, and which is formally still in effect, clearly formulates the "intensification of cooperation with NATO" as an integral component of the country's foreign policy (Mfa.am, January 26, 2007). This implies that Yerevan should continue to pursue balanced multi-vector foreign and security policies—that is, the ability to forge multiple international politico-military linkages and, hence, better security guarantees for Armenia.
Considering Armenia's profound present dependence on Russia across several key spheres, ranging from security and foreign policy to economics, Yerevan's opportunities to pursue real Complementarity are exceedingly limited, at least for the foreseeable future. Moreover, as the recent US State Department's annual Human Rights Report indicates, the Armenian government has been progressively taking on more authoritarian-leaning tendencies. Democratic institution building has been regressing, while corruption is on the rise (News.am March 4; State.gov March 3). Finally, it bears pointing out that the country that poses the greatest threat to European security from the east also happens to be Armenia's full-fledged ally—Yerevan's and NATO's interests thus necessarily diverge on this point.
As a result, the scope for political dialogue with NATO is narrowing. Indeed, despite Serzh Sargsyan's resolve to renew relations with NATO, Yerevan remains compelled to serve Moscow's strategic interests in the region, as exemplified by the establishment of a joint air defense system and joint land force, which reinforce Russia's regional dominance in the South Caucasus (see EDM, September 26, 2016; November 30, 2016). Later, in line with its allies in the Collective Security Treaty Organization (CSTO), Armenia concurred that NATO's shared missile defense system presented a challenge to the Moscow-led bloc (Odkb-scto.org October 14, 2016).
In this light, Armenia's ongoing moves toward the North Atlantic Alliance can be explained in one of two ways. Possibly, it is merely window dressing—meant for domestic consumption ahead of the parliamentary elections, scheduled for April 2—to show that Yerevan allegedly continues to pursue complementarity in its foreign relations. Alternatively, Yerevan might be truly mulling the possibility of renewing its relations with NATO to balance its menacing overdependence on Russia. If the latter is the case, Jens Stoltenberg's potential visit to Armenia amidst the ongoing NATO-Russia standoff might cultivate a willingness in Brussels to support greater independent decision-making in Yerevan.