Armenian Revolution Aided by Restraint of Military, Security Services
Publication: Eurasia Daily Monitor Volume: 15 Issue: 69
By: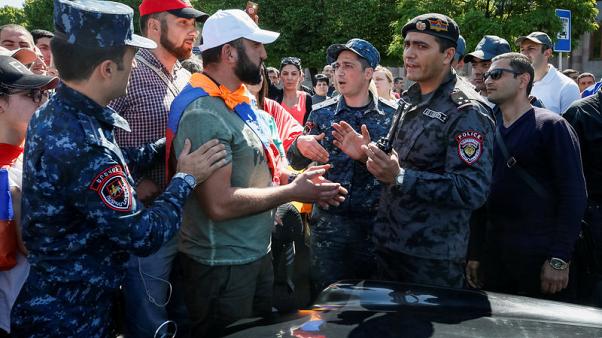 The protest movement in Armenia, which forced former president and recently appointed prime minister Serzh Sargsyan to resign on April 23 (see EDM, April 23, 24, May 3), has been particularly remarkable for the fact that, unlike during preceding mass street protests, this time Armenia's law enforcement and security agencies showed considerable restraint. In 2015, for instance, the police promptly used water cannons and tear gas and beat a number of protesters, even though those demonstrations were sparked by an arbitrary increase in domestic electricity prices and the participants made no explicit political demands. The incident prompted heavy criticism from the international community for the police's excessive use of force (see EDM, June 29, 2015). Before that, in 2008, ongoing protests against electoral fraud were brutally suppressed with the use of firearms, resulting in ten deaths.
This time, the police blocked some streets near the parliament and prime minister's residence with barriers and barbed wire, and used tear gas grenades during the initial stage of protests. Then, hundreds of protesters, including members of parliament and other known persons, were detained until April 23, when Sargsyan stepped down (see EDM, April 23). Yet, it seems the authorities never gave an order to launch a massive offensive, possibly because it may have caused a split within the police forces. On April 25, the chief of police, Vladimir Gasparyan, issued a statement asking police personnel not to support any political ideology (168.am, April 25). Moreover, he ordered the traffic police to cancel all fines issued between April 13 and April 25 for participation in road-blocking actions (News.am, April 26).
Remarkably, the involvement of the National Security Service (NSS) was relatively restrained as well, although there were some attempts to intimidate protesters through threatening statements. A day before Sargsyan's resignation, the NSS noted that, during the protests, some actions against the constitutional order were committed and further extremist actions could be expected (Lragir.am, April 22). But as the regime imploded the following day, the NSS abstained from further actions. According to some observers, warnings issued by some Western governments might have influenced the situation, persuading the authorities to abstain from the use of force (Scannews.am, May 4).
Armenian military personnel also generally refrained from involvement in the recent weeks' events, with the exception of a few dozen soldiers from an elite peacekeeping brigade stationed in Yerevan, who left their barracks and joined a demonstration hours before Sargsyan's resignation. Protest leaders soon reiterated that the military should continue fulfilling its duties and not become involved in the ongoing events. Although the military in general stood aside, Minister of Defense Vigen Sargsyan held a press conference earlier that day, criticizing the protest leaders, particularly for organizing mass actions instead of working through parliamentary institutions. He also complained that younger citizens stopped watching TV and have come to rely on the Internet for information, leaving the state unable to transmit any convincing messages to them (Araratnews.am, April 23).
Amidst the street protests, concerns mounted regarding Moscow's potential reaction due to the continued existence of the 102nd Russian military base (in Gyumri) as well as several Russian Federal Security Service (FSB) units inside Armenia. The FSB maintains a heavy presence in certain parts of the South Caucasus country's territory, mainly near the borders with Iran and Turkey. But the Russian security service has been known in the past to engage in local activities entirely unrelated to border protection, once even harassing a parliamentary member as she campaigned for reelection (Epress.am, September 30, 2013). While the Russian military did not make any move, some speculation about possible Russian involvement has continued—probably because of ambiguous hints to that effect coming from Moscow. Similar to Moscow's reaction a few months earlier, when Yerevan signed a Comprehensive and Enhanced Partnership Agreement with the European Union (see EDM, December 4, 2017), Russian officials stated that the current political turmoil was Armenia's internal affair, but Russian television simultaneously launched a mix of threats and insults (see EDM, May 3, 2018).
Speculation continued when, on April 25, an Ilyushin-96 plane from the Russian Special Flight Squadron, which serves top officials, arrived in Yerevan and departed back to Moscow 40 minutes later. The visitors from Russia were never named, but some sources suggested that the head of the Russian presidential administration, Anton Vaino, was on board (Panarmenian.net, April 25).
The next day, Armenia's acting Deputy Prime Minister Armen Gevorgyan and Minister of Foreign Affairs Eduard Nalbandyan traveled to Moscow and met with several top Russian officials (Azatutyun.am, April 26). Then, on April 27, a group of representatives from both chambers of the Russian Federal Assembly (parliament) held meetings in Yerevan, attempting to intimidate protest leader Nikol Pashinyan (Aravot.am, April 27). Apparently, the mutual visits were part of acting Prime Minister Karen Karapetyan's unsuccessful bid to retain power (see EDM, May 3).
While Russian President Vladimir Putin's press secretary Dmitry Peskov has again expressed hope that the crisis in Armenia would be solved with respect to constitutional norms and procedures and that relations between the two states will remain friendly (RIA Novosti, May 3), some Russian media outlets sustained their threats against Armenia. Moreover, a vice president of the state-owned oil company Rosneft, Mikhail Leontyev, used racist slurs on a talk show and suggested Russia should send "a couple of regiments" and forcibly end the Armenian revolution once and for all (YouTube, May 3). This and other aggressive statements caused strong outrage in Armenia. Consequently, the Russian embassy in Yerevan was compelled to issue a new statement reconfirming that Russia considers the events in Armenia an internal affair, and asserting that Russian policy is reflected only in official statements made by Peskov and foreign ministry spokesperson Maria Zakharova (Embassyru.am, May 5)
In an interview with RFE/RL, the chairman of the North Atlantic Treaty Organization's (NATO) Military Committee, General Petr Pavel, expressed his surprise at the fact that, so far, there has been no visible Russian interference in the Armenian crisis—particularly in light of Russia's military presence there and Moscow's stringent perception of so-called "colored revolutions" as a major security challenge (RFE/RL, May 4). Yet, the possibility of future involvement cannot be totally excluded. The National Assembly of Armenia will again attempt to elect a new prime minister on May 8, and if it fails, it may be dissolved, requiring snap elections. Any of these developments could encourage interference from internal or external forces interested in restoring the old regime or in a general destabilization of the situation.