Belarus and Azerbaijan Enhance Their Strategic Military Partnership
Publication: Eurasia Daily Monitor Volume: 15 Issue: 172
By: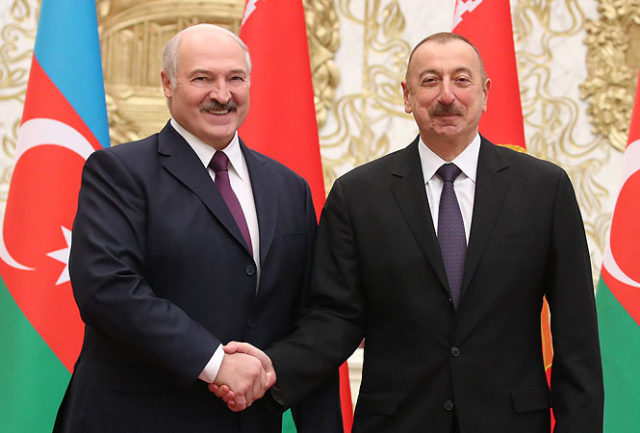 On November 19, Azerbaijani President Ilham Aliyev paid a long-awaited official visit to Belarus, where he met with his counterpart, President Alyaksandr Lukashenka. On this occasion, the Belarusian and Azerbaijani state news agencies praised the level of bilateral strategic cooperation, widely citing Lukashenka's words to Aliyev: "Belarus has been waiting for you" (Belta, November 19).
The Azerbaijani president's trip to Minsk coincided with "growing frictions" between Belarus and Armenia, two formal allies within the Russia-led Collective Security Treaty Organization (CSTO). The latest diplomatic row was sparked by Lukashenka's recent meeting with Azerbaijani ambassador to Belarus, Latif Gandilov. During their talks, the Belarusian leader ended up revealing the content of confidential conversations among CSTO member countries (Azerbaijan is not a member of the alliance) regarding the choice of the organization's next secretary general (Turan.az, November 12). These revelations infuriated the authorities in Yerevan (see EDM, November 29). "It is strange that Belarus reveals closed-door conversations to [Armenia's] adversary, Azerbaijan," Armenian Prime Minister Nikol Pashinyan angrily stated (News.am, November 20).
The Azerbaijani authorities have long worked to cultivate bilateral relations with Belarus, particularly given the latter's political weight within the former Soviet space. In turn, Belarus has shown solidarity with Azerbaijan on a number of issues, including the one most important to Baku—its decades-long conflict with Yerevan over Karabakh (Belarus Digest, September 28, 2011). Pointedly, Belarus declined to openly assist Armenia in April 2016—during the so-called "Four Day War"—when the latter was engaged in heavy hostilities with Azerbaijan on the Line of Contact in Karabakh (see EDM, April 6, 2016). Moreover, Minsk pushed back against the CSTO becoming involved or providing any military support to its member Yerevan (see EDM, October 1, 2018). Indeed, this attitude has contributed to an increasingly confrontational relationship between Belarus and Armenia over the past few years (see EDM, February 13, 15, 2017).
In this regard, among the important accomplishments of Aliyev's visit to Minsk last month, the new joint declaration by Azerbaijan and Belarus regarding the importance of finding a peaceful settlement in the Karabakh conflict is worth emphasizing (AzerTag, November 19). Undoubtedly, Minsk's position on the matter and its agreement to put out a joint statement with Baku regarding Karabakh will further undermine Belarus and Armenia's deteriorating relations.
In contrast, Azerbaijan's partnership with Belarus has been gaining in strength over the last ten years, particularly after Azerbaijan increased the volume of weapons it has been importing from Belarus. As a part of this partnership, Azerbaijan's defense minister, Colonel General Zakir Hasanov, visited Belarus in 2017 to discuss military-technical cooperation and to sign a new military contract on importing ten modern Belarusian-made Polonez multiple-launch rocket systems (MLRS) (see EDM, October 30, 2017; December 12, 2017). The visit came on the heels of Armenia receiving Russian-made Iskander-E tactical ballistic missile complexes, which accelerated its arms race with Azerbaijan (Belarus Digest, October 18, 2017).
Speaking to journalists after his meeting with Lukashenka in Minsk, President Aliyev said that Azerbaijan is looking to extend its existing military contracts with Belarus as well as import additional Belarusian weaponry (CBC, November 19, 2018). The most recent shipment of Polonez MLRS batteries was delivered to Azerbaijan in September 2018 and openly showcased on media outlets affiliated with the Ministry of Defense (Modern.az, September 27). In addition to the Polonez, to date Azerbaijan has purchased from Belarus 153 battle tanks, 60 armored vehicles (BTR-70), and 11 Su-25 aircraft (Naviny.by, October 10, 2017).
Belarus values Azerbaijan not only as a valuable partner in military-technical and political fields, but also as a reliable energy partner. Unlike the West, Azerbaijan has always refrained from adopting any kind of critical rhetoric toward Belarus and its current political regime. And regarding bilateral cooperation in the energy sphere, Belarus has long been seeking an alternative oil supplier in order to reduce its dependence on Russia. In 2010, the Belarusian government tried to replace Russian oil with deliveries from Venezuela. Specifically, Minsk and Caracas signed a contract to supply four million tons of Venezuelan oil per year, which would be gradually increased to 10 million tons per annum. However, the project was canceled in 2012 because of its economic non-viability. Instead, the government of Belarus developed options to import oil from Azerbaijan (Reuters, December 10, 2010; Eadaily.com, January 23, 2017).
In light of the internal disagreements within the CSTO and Belarus's ongoing tensions with Russia as well as Armenia, cultivating a strategic partnership with Azerbaijan is extremely important for Minsk. Moscow will certainly express concern over the growing military cooperation between Baku and Minsk. But as long as Russia is able to maintain an unchallenged leading position in weapons exports to Azerbaijan, the latter's new military agreements with third countries, including Belarus, will not pose a de facto serious threat to Moscow. For Azerbaijan, meanwhile, a strategic partnership with Belarus allows Baku to strengthen its own political position within the wider former Soviet space. The Azerbaijani-Belarusian bond is, thus, likely to continue to intensify and deepen.