Belarus Reaching Out For Azerbaijani Oil Via Odessa-Brody Pipeline
Publication: Eurasia Daily Monitor Volume: 8 Issue: 133
By: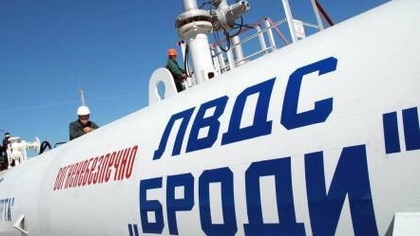 President Alyaksandr Lukashenka is "caught in a vice, which will only continue to tighten," between democratically motivated Western pressures and Russia's "interest in acquiring attractive Belarusian assets from a vulnerable Lukashenka," according to David Kramer and Wess Mitchell (www.charter97.org, July 9). If so, Western sanctions exacerbating that vulnerability can only pave the way for Russian state-controlled corporations to take over the economy of Belarus. It is not simply the head of state, but the country's economy and the Belarusian state as such which is caught in that tightening vice. The sanctions are not linked with any Western strategy and look like a substitute for one. Russia, however, pursues a strategy of capturing Belarus economically in a first stage and politically thereafter. The oil and gas sector is a priority target for Russia in Belarus.
Belarus is reacting as any government would to avoid Russian capture, seeking alternative suppliers of energy and credits. By mid-July, the Mozyr refinery in Belarus is scheduled to start processing significant volumes of oil from Azerbaijan on a regular basis. Test shipments of Azerbaijani oil have been ongoing since February through Ukraine's Odessa-Brody pipeline and the Brody-Mozyr section of the Druzhba pipeline (www.news.az, Trend, July 8; Belta, July 12).
For the first time since its completion in 2002, the Odessa-Brody line is being used as originally intended, in the south-north direction, to deliver Caspian oil to Central Europe. This had been a rhetorical policy objective of Brussels and Washington for some years, with a view to reducing dependence on Russian oil supplies in the region. Moscow blocked this solution by having that pipeline used in reverse for Russian oil exports, north-south to Odessa, until the end of 2009. Azerbaijan, Ukraine, and Belarus are now finally achieving the original purpose on their own, through trilateral cooperation (instead of isolating Belarus).
Apart from the volumes going to Mozyr, Azerbaijan also delivers oil to two refineries in western Ukraine from the Brody pumping station. Each of the three countries involved pursues specific interests with the Odessa-Brody route. Azerbaijan's motivation is strictly commercial, avoiding any political connotations. As a supplier country, Azerbaijan can clearly separate the business from the politics. With Ukraine and Belarus, economic and political strategies overlap. For Minsk in particular, reducing its dependence on Russian oil is a vital national-political objective, one shared with many countries in Belarus' direct and wider neighborhood.
While the Odessa-Brody pipeline is reconfigured from reverse to averse use, the Mozyr (Belarus)-Brody (Ukraine) line is now being used in reverse for Azerbaijani oil. That line is a section of the east-west Druzhba pipeline which carries Russian oil to Central Europe via Belarus and Ukraine. With Russia gradually reducing the volumes delivered through that pipeline, spare capacity now exists in one of the two parallel lines on the Mozyr-Brody section. That capacity can presently accommodate Azerbaijani oil deliveries to Belarus at a minimum rate of 4 million tons per year, reverse-using the Druzhba line on that section. Azerbaijan's State Oil Company (SOCAR) is delivering the high-quality Azeri light brand to be mixed with the Russian Urals blend for refining in Belarus.
On July 8 in Baku, Belarus Prime Minister Mikhail Myasnikovych solicited an increase in the volume of oil supplies, as well as a currency-stabilization loan from Azerbaijan. Received by President Ilham Aliyev and other Azerbaijani officials, Myasnikovych discussed possibilities of stabilizing oil deliveries at up to 4 million tons per year via Odessa-Brody-Mozyr. According to Azerbaijan's Industry and Energy Minister, Natig Aliyev, that and even higher supply volumes are possible, subject to commercial negotiations between SOCAR and the Balarus Oil Company. The Azerbaijani side also expects reliable, long-term transportation through the Odessa-Brody-Mozyr pipelines. Baku rules out any political criteria from the commercial negotiations.
Apparently, Baku seeks direct access to the retail market for oil products in Belarus through joint enterprises, on the model it recently introduced in Ukraine. There, SOCAR Energy Ukraine is rapidly developing a network of gasoline supply stations, marketing products refined from Azerbaijani crude. On July 8 it inaugurated the eleventh station in this growing network (1news.az, July 8; Belta, July 4, 12).
In Baku, Myasnikovych also offered one of the Belarusian banks for full or partial sale to Azerbaijan. The bank, and the amount of the hoped-for loan, is not publicly specified (Interfax, July 8). Azerbaijan had loaned $200 million to Minsk last year (2010) to enable Belarus to pay the bill for Russian natural gas. That loan had a repayment term of only 12 days, which Belarus was able to meet on time. At present, Belarus is eligible for a $3 billion loan from Russia, ostensibly via the Eurasian Economic Community's (EurAsEc) Anti-Crisis Fund. A first tranche of $800 million has been authorized for Belarus in May. However, Minsk is trying hard to limit its indebtedness to Moscow and to diversify its debt portfolio. Minsk is concerned that Moscow would demand to take over industrial enterprises and infrastructure in Belarus as repayment for Russian loans, if Western credits remain frozen.