Bulgaria: Transatlantic Parties Have a Historic Opportunity
Publication: Eurasia Daily Monitor Volume: 20 Issue: 57
By: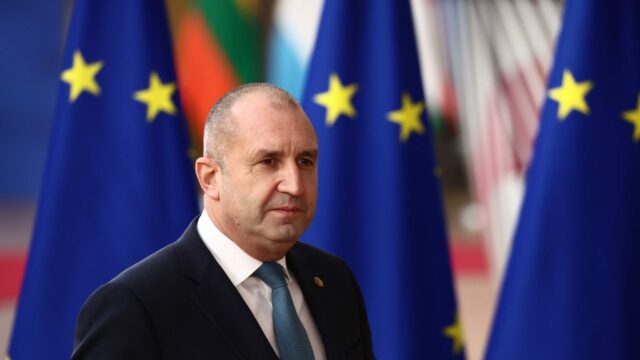 The Bulgarian parliamentary elections on April 2 produced another fragmented parliament, split between six parties with none having a majority. Negotiations to form a government broke down the next day, when the runner-up, reformist "Change Continues" (PP) party announced that it would not participate in a government with the leading center-right GERB party (Dnevnik.bg, April 3). Such a development will likely prolong Bulgaria's political stalemate through 2023 and will have a detrimental effect not only on immediate domestic priorities but also on Bulgaria's foreign and defense policy, support for Ukraine and standing within the European Union and North Atlantic Treaty Organization.
This was Bulgaria's fifth election in two years, after several parliaments had failed to form regular governments, save for the short-lived cabinet of Kiril Petkov from December 2021 to August 2022. For most of the past two years, caretaker governments appointed by President Rumen Radev have ruled the country, making him the most powerful figure in a parliamentary democracy where the president's constitutional role is meant to be mostly ceremonial during peacetime.
Radev's openly pro-Russian statements since Moscow annexed Crimea in 2014 and his vehement opposition to providing Ukraine with military assistance have not only undermined Bulgaria's position in NATO and the EU but have also opened up more space for Kremlin propaganda to spread throughout the country.
Although two center-right coalitions with pro-European and transatlantic agendas will control the new parliament (55 percent of seats), their leaders appear unable to reach a compromise on how to govern together. The GERB-SDS coalition (Citizens for European Development of Bulgaria and Union of Democratic Forces), led by former Prime Minister Boyko Borisov, gained 69 of the 240 seats in parliament (28.7 percent)—followed by the PP-DA coalition (Change Continues and Democratic Bulgaria), led by former Prime Minister Kiril Petkov, which secured 64 seats (26.7 percent) (bTV; Dnevnik.bg, April 6).
In a major setback for Bulgaria's Western leanings, the Russophile party, Revival, rose to third, gaining 37 members in parliament (15.4 percent) and winning 10 seats more than in October 2022 (Novinite.com, April 5). This party first entered the Bulgarian National Assembly in 2017 with only 13 members of parliament but has increased its presence almost three-fold in five years. Its political ascent will ensure a boost to Moscow's influence in Bulgaria and potentially increase calls for a "peace settlement" in Ukraine, favoring the Kremlin-desired partition of the country.
However, the rise of this Russophile party may also serve as the most effective incentive for the GERB-SDS and PP-DA coalitions to work harder on a potential power-sharing agreement. GERB leader Borisov, who served as prime minister of Bulgaria for over a decade, has already stated his preference to form a cabinet with those formations that support Ukraine and Bulgaria's path to the Schengen Area and Eurozone (Sofia Globe, April 5). The former premier, however, has been accused of corrupt governance and opposed by a significant part of society; thus, his direct involvement in coalition talks is potentially negative. Whether the GERB-SDS coalition will be able to demonstrate sufficient political maturity to avoid further polarization remains to be seen; however, Borisov taking charge of his coalition's negotiation team does not auger well for a successful outcome.
Bulgaria's prolonged internal political instability in the past two years has had a damaging effect on the country's regional policy and the way in which Sofia views and addresses national security threats, especially after Russia launched its full-scale invasion of Ukraine in February 2022. Radev's pro-Russian policy and frequent voicing of Kremlin talking points has emboldened Russian intelligence in conducting political subversion operations in Bulgaria and has allowed Moscow's strategic corruption to flourish (Ecfr.eu, February 8).
Two regional security problems stand out against the backdrop of this ongoing domestic political crisis. First, Sofia appears unable to take a decisive and active role in Black Sea security. Second, Bulgaria's relations with North Macedonia have deteriorated, instead of fulfilling the promises of their 2017 friendship agreement (Balkan Insight, August 1, 2017).
The perpetual political crisis has further affected Sofia-Skopje relations and, by extension, the Western Balkans and EU (see EDM, July 8, 2022; July 28, 2022). Bulgaria lifted its veto on North Macedonia's EU accession in June 2022, after the French Presidency of the Council of the EU facilitated a compromise between the two countries. This allowed North Macedonia and Albania to formally start EU accession talks in July 2022. But the process of Skopje's EU accession is conditioned on pending constitutional changes and maintaining good relations with Bulgaria at every step—relations that are often undermined by nationalist politicians on both sides. Only a stable government can help resolve the hostile relations between the two countries.
Russian propaganda and corrupt influence have undercut Bulgaria's political will to deepen engagement with NATO on Black Sea security, modernize its naval fleet and strengthen coastal defenses (see "Bulgaria's Black Sea Dilemma," Black Sea Battleground, January 13, 2022). Moreover, caretaker governments appointed by the president are unable or unwilling to recognize that Russia is a direct threat to Bulgarian security. Although Russia has turned the Black Sea into a theater of war over the past year, the Bulgarian president and the governments he controls are still resistant to providing state military aid to Ukraine.
During Petkov's government in 2022, Bulgaria began selling ammunition to third parties for delivery to Ukraine, paid for by the United States and the United Kingdom. Some came from old Soviet stocks; others were newly produced ammunition for Soviet-type artillery (Radio Bulgaria, January 18). These supplies have been crucial for Ukraine, as Western munition stocks are being depleted rapidly. Moreover, these sales did not stop after Petkov's government was ousted in August 2022.
It was only in November 2022 that the Bulgarian parliament finally decided with an overwhelming majority to grant state military aid to Ukraine, including lethal weapons and ammunitions (Glasove.com, November 3, 2022). The Bulgarian Socialist Party and Revival are currently contesting this decision before the Constitutional Court (Actualno.com, December 23, 2022). The interim cabinet in turn announced that aid to Ukraine will be "conservative." For his part, Radev called the parliamentarians who voted in favor of providing military aid to Kyiv "warmongers" and claimed, along with the Socialist Party, that such actions will lead to Bulgaria's involvement in the war (bTV, December 23, 2022).
Overall, Bulgaria increasingly appears to be a passive observer or neutral actor in a region completely shaken by war—and not an active NATO member with a significant coastline in close proximity to the warzone. Only a stable long-term government can return Radev's role back to its constitutional limitations. And only a government with a transatlantic platform can restore the country's position as a reliable NATO ally and EU member. Thus, the election winners have a historic mission to fulfill in preventing Bulgaria from falling back into Russia's orbit.