Chechen Special Battalions Sent to Syria as Reinforcements
Publication: Eurasia Daily Monitor Volume: 13 Issue: 193
By: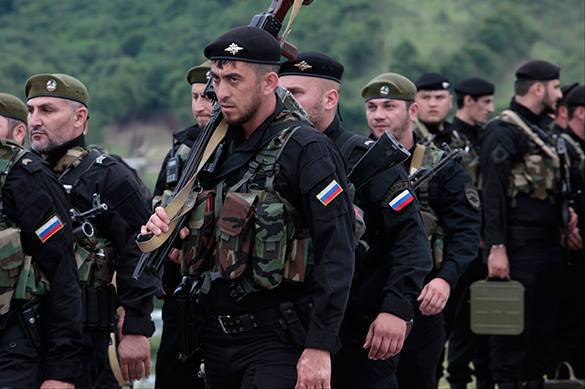 The press and government officials in Moscow are applauding the seemingly imminent and total defeat of Syrian opposition fighters in eastern Aleppo. Forces loyal to Syrian president Bashar al-Assad, together with Iranian-led and financed Shia militias from Iran, Iraq, Afghanistan and the Lebanese Hezbollah, have been rapidly advancing in Aleppo, taking one neighborhood after another. Tens of thousands of civilian refugees are desperately trying to get out of harm's way of advancing troops, retreating rebels, and the constant heavy bombardment. By December 8, over 70 percent of eastern Aleppo (under rebel control since 2012) has been taken over by pro-Assad forces. The remaining rebel forces are in disarray, apparently unable to hold deeply entrenched positions that have seemed impregnable for over four years (Interfax, December 7).
A triumphant al-Assad announced the fall of rebel-held Aleppo to be a turning point in the war and a decisive defeat of "Western schemes." According to al-Assad, "plans to liberate all of Syria are being implemented" (RIA Novosti, December 7). Russian foreign minister Sergei Lavrov has continued contacts with US Secretary of State John Kerry on Syria and the plight of Aleppo, but Moscow does not seem ready for any serious compromises. Western calls for an urgent humanitarian ceasefire have been rejected and the opposition has been given an ultimatum to surrender weapons and leave or else. According to Lavrov: "The fighters that are still left in Aleppo must leave, or they will be wiped out" (Interfax, December 6). According to Lavrov's deputy Sergei Ryabkov, "The West is demonstrating political impotency by threatening additional sanctions to punish Russia for its actions in Syria—this is a cowardly threat Russia will ignore." Ryabkov accused UN aid agencies and the EU of being partisan in assessing the humanitarian situation in Syria and deliberately assisting the opposition (TASS, December 8).
On December 5, a mortar shell in Aleppo hit a group of Russian military medics when they were reportedly preparing to provide medical assistance to the local population. Two female military nurses from the East Military District of Russia were killed and a doctor seriously wounded. The Russian defense ministry accused the Syrian opposition of deliberately attacking and killing Russian medics and the West of being primarily responsible. The US and other Western nations have been accused of "ordering the attack," of providing the opposition with armaments and coordinates of the Russian medics to facilitate a direct hit (Interfax, December 5). The defense ministry also accused the International Committee of the Red Cross (ICRC) of taking a neutral stand in condemning attacks in Syria on all medical personnel by all sides and in effect supporting terrorists. Lavrov in turn accused the "foreign sponsors" of terrorists of "perpetrating the attack on the Russian medics" (Interfax, December 6).
These latest propaganda salvos aimed at the US, the West, the ICRC and the UN over Syria may signal a further hardening of positions that will make any attempt to find an amicable diplomatic solution of Syria's problems much more problematic. Powerful vested interests in Moscow seem to be ready to use any allegation to whip up anti-Western and anti-American sentiment to prevent any possible detente in the foreseeable future.
The Russian military success in Aleppo came with a cost: a high-ranking officer, Colonel Ruslan Galitsky, was reportedly hit by shellfire in Aleppo and died of his wounds on December 6. According to the Russian defense minister, Galitsky was previously the commander of the 5th Guards Tank Brigade based in Ulan-Ude in the Republic of Buryatia. Elements of the 5th tank brigade reportedly took part in the battle of Debaltsevo in Donbas in February 2015 that ended with a crushing defeat of the Ukrainian military. Galitsky, a tactician and operational commander, was reportedly planning and coordinating the Russian-led Donbas separatist assault on Debaltsevo (Korrespondent.net, December 7). Galitsky was making a stellar military career: he graduated from Russia's top military school—the General staff academy that trains colonels into top generals—with a gold medal and was scheduled to become general on December 12. In Syria, Galitsky served as an adviser, "helping to organize and train local soldiers in the use of weapons" (RIA Novosti, December 8).
Russian military advisers have reportedly planned and prepared the present highly successful assault on eastern Aleppo (Expert.ru, December 7). Galitsky was apparently deeply involved in this operation, possibly using his combat tactical and organizational experience in Debaltsevo—the massing of heavy guns and MRLS and effective use of armor to rout well-entrenched and motivated enemy infantry. It is possible that Russian heavy MRLS flamethrowers—the TOS-1A Sunburn Russia had shipped to Syria—were also used, as is the Russian military custom tactic in similar circumstances, to rout a determined entrenched foe. The use of superior Russian weapons and tactics by pro-Assad forces could explain the relatively swift collapse of opposition defenses in Aleppo.
It has been confirmed in Moscow that Russia will be further reinforcing its military contingent in Syria with two Chechen special force battalions, "West" and "East." These two infamous special battalions were formed in 2003, manned by former Chechen separatists, who switched sides to fight under the Russian flag. Battalion "East" in August 2008 spearheaded the Russian military invasion of Georgia. According to military sources, the two battalions have been reformed as military police (MP) battalions in preparation for their deployment to Syria to (officially) "guard Russian bases and troops." It is evidently believed in Moscow that the fearsome reputation of the Chechen fighters may help fend off Syrian opposition attacks. The fact that most of the soldiers are Sunni Muslims will be a PR bonus, making the locals more friendly (Izvestia, December 8). Of course, the Chechen pro-Russian fighters do not know much Arabic and their specific Sufi Muslim faith could be seen by many in the Middle East as heresy. But regardless of whether these reinforcements are seen as occupiers or friends, they could substantially increase Russia's ground capabilities in Syria at a time when casualties seem to be rising. Importantly, the majority of Russians do not really consider Chechnya or the Chechens as truly Russian, so potential Chechen casualties in Syria will not cause unwanted alarm or tension among the general population.