EU Set to Green-Light Suspension of Import Duties for Ukrainian Exports, Though Tough Council Debate Looms (Part One)
Publication: Eurasia Daily Monitor Volume: 20 Issue: 78
By: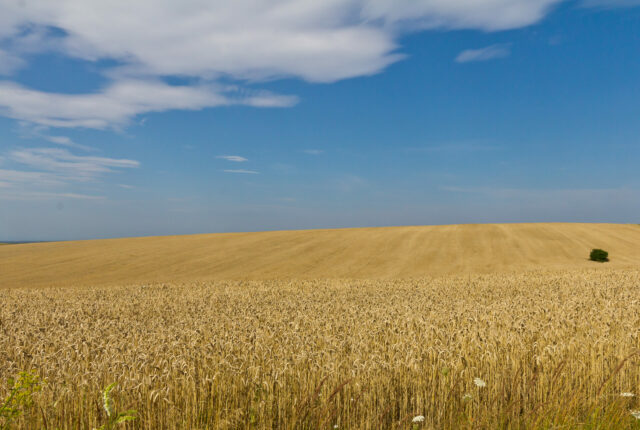 On May 9, the European Parliament, with 537 votes, overwhelmingly approved the European Commission's (EC) proposal to suspend import duties, anti-dumping duties and safeguards on Ukrainian exports to the European Union for another year (Europarl.europa.eu, May 9). The liberalization of trade, which previously was unanimously accepted by all EU member states, became a subject of hot political debate as of late, with five Central and Eastern European members claiming that Ukrainian agricultural products were putting their domestic production at risk. In late March 2023, in a joint letter to EC President Ursula von der Leyen, the five prime ministers of Bulgaria, Hungary, Poland, Romania and Slovakia proclaimed, "A substantial increase in the supply of Ukrainian products [has] led … to problems in the agricultural EU markets. The most severe disturbances are experienced in countries that border Ukraine or are in close proximity to it" (Gov.pl, March 31). The European Commission proposal still needs to be approved by the Council of the EU, and, given the most recent developments, one should not exclude difficulties in reaching a consensus or even slight modifications to the EC's original proposal.
The EU remains a consistent contributor of external assistance to war-torn Ukraine, including indirect military support under the umbrella of the EU Military Assistance Mission and the European Peace Facility instrument—the latter especially should not be underestimated. Due to its specificity, however, the EU's role is more decisive in the economic domain. In 2016, the Deep and Comprehensive Free Trade Area Agreement between the EU and Ukraine came into force (Trade.ec.europa.eu, accessed May 15). Its purpose was to establish a free trade area between the parties, though the agreement was still subject to transition periods and tariff rate quotas (TRQs).
Russia's large-scale invasion of Ukraine in February 2022, however, has caused a spectacular intensification of bilateral cooperation. On May 24, 2022, the Council of the EU unanimously approved (Data.consilium.europa.eu, May 24, 2022) the EC's proposal to suspend, for one year, all duties on imports from Ukraine, including natural and processed agricultural products, which used to be subject to TRQs (Eur-lex.europa.eu, May 30, 2022).
Last year, the lifting of tariffs on Ukrainian goods was of enormous importance. The full opening of a new market enabled Kyiv to diversify export destinations and redirect part of them to rich, stable and geographically close economies. The latter factor has become crucial since Ukraine is troubled by a potential blockade of its Black Sea trade routes, which are operational only on the basis of the fragile grain agreement signed as late as July 2022 (see EDM, September 13, 2022; November 3, 2022). Moreover, the uninterrupted process of exports guarantees crucial revenues for the Ukrainian government, which are required for continuing war efforts. In truth, after February 24, 2022, Ukraine suffered a major decline in its foreign trade (see Ukrstrat.gov.ua, April 8). In 2022, the total value of Ukrainian exports shrank by more than 30 percent in comparison to what the country had exported in 2021 (see Ukrstrat.gov.ua, January 2).
The dramatic macroeconomic indicators are relevant, first and foremost, for agricultural production, which, in 2021, accounted for 20 percent of Ukraine's gross domestic product and more than 50 percent of the value for overall exports (Minagro.gov.ua, accessed May 15). The large-scale war has also caused massive crop losses, with a drop of almost 40 percent for some products (Kse.ua, November 10, 2022). Even so, regardless of these difficulties, the nominal value of Ukraine's export of agricultural products in 2022 declined by only 15.5 percent.
Here, the EU's suspension of duties and TRQs for all Ukrainian goods was one of the most decisive factors. In 2021, the EU imported almost 27.7 percent of all Ukrainian agricultural products; while in 2022, the value almost doubled and accounted for an enormous 55.2 percent (Minagro.gov.ua, accessed May 15). The massive influx of Ukrainian agricultural products was absorbed mainly by Ukraine's EU neighbors, with Poland and Romania becoming the largest importers of Ukrainian products not only in Europe but also worldwide.
The full liberalization of trade with Ukraine's agricultural products has become, however, a sort of double-edged sword. An enormous change in the structure of origins of goods caused unrest among local producers who were unable to compete with their Ukrainian counterparts who were offering cheaper products or were unwilling to sell their products for a certain price. One should bear in mind that dropping grain and oilseed prices are not, however, a purely EU phenomenon, but rather a global trend. In the past two years, food markets have experienced massive turbulence, with a three-fold increase in prices caused mostly by the COVID-19 pandemic (Igc.int, accessed May 15). Nevertheless, 2023 has already seen a dramatic and deepening drop at the annual level of around 30 percent in both global and EU markets (Agriculture.ec.europa.eu, April 26). And all this coincided with Ukrainian agricultural products "flooding" EU markets.
As early as September 2022, Romanian farmers were already alarmed that the influx of Ukrainian grain was negatively affecting their situation. Yet, the EC, the institution largely responsible for administering the strategically important Common Agricultural Policy, restrained from any interventions (Euractiv, September 27, 2022). In this, the problem extended beyond the grain sector. In December 2022, Romanian beekeepers—Romania is the second-largest producer of honey in the EU (Agriculture.ec.europa.eu, October 20, 2022)—signaled that Ukrainian competitors could cause instability in that sector as well (Radio Free Europe/Radio Liberty, December 11, 2022). Most recently, this problem erupted with the Romanian National Association of Beekeepers first asking for their share in the compensation grant provided by the EC for Romanian farmers (Aca.org.ro, February 22) and eventually requesting a ban on imports of Ukrainian honey (Agerpress.ro, April 23).
Ultimately, the EU has sought to balance between liberalization of trade with Ukraine, which Kyiv relies heavily on, and commitments to producers within its member states. And finding this balance will be critical to maintaining the 27-member bloc's war-time support and assistance to Ukraine.