Former Maldivian President Mohamed Nasheed Narrowly Avoids Assassination: A Political Conspiracy or Islamic State Plot?
Publication: Terrorism Monitor Volume: 19 Issue: 10
By: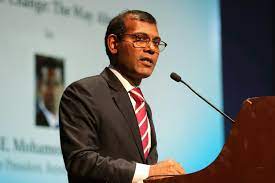 On May 6, Maldives' Speaker of Parliament and former President Mohamed Nasheed was seriously injured in an assassination attempt outside his home in the capital, Male. The improvised explosive device (IED) blast also wounded members of his security team and bystanders, including a foreign national. Although jihadists elements remain the primary suspect for the attempt on Nasheed's life, no group has claimed responsibility for the attack.
Maldivian security agencies have not made any statements on the matter, but indicated that the attack was possibly the work of Islamist extremists (Hindustan Times,  May 9). Three suspects identified were Mujaaz Ahmed, Thahumeen Ahmed, and Ahmed Adhuham from the Male and Hulhumale areas. They were arrested during initial security operations based on closed circuit television footage from the blast site and were taken into custody. They have since denied involvement in the attack on Nasheed (One Online, May 9). On May 19, another suspect, Ahmed Fathih, was arrested from Dharavandhoo in connection with the explosion. According to police, he parked the IED-laden vehicle that targeted Nasheed, and forensic evidence collected from the site suggested his involvement in the blast. (Times of Addu, May 20).
The Commissioner of Police, Mohamed Hameed, has indicated that more people may be behind the assassination conspiracy (One Online, May 9; The Press, May 9). In addition, on May 15, a special counter-terrorism operation was conducted in Addu, where seven individuals linked with Islamic State (IS) were arrested (Raajje, May 15). Another ideologue, Abdullah Ali Manik, from Himandhoo was arrested on May 19. Manik, who has been engaged in spreading jihadist ideology in the country for several years, is accused of planning a major terrorist attack (Sun, May 19). All of these arrests and operations may have a direct link to the investigations of the May 6 assassination, given their temporal proximity. However, the Maldives Police Service has been tight-lipped about the countrywide crackdown on Islamist networks.
An Islamist Assassination Plot?
As a vocal critic of rising extremism in the Maldives, an assassination attempt on Nasheed's life is not entirely surprising. He has raised concerns about youth radicalization, gang violence, and the criminal-extremist nexus in the Maldives. Radical gang members with political patronage have carried out several acts of targeted violence in the past decade (Terrorism Monitor, November 21, 2014). In October 2013, the Defense Ministry and National Security Intelligence, for example, received a complaint of criminal conspiracy to assassinate Nasheed, who was then the president and leader of the ruling Maldivian Democratic Party (MDP). The complaint suggested two pro-al-Qaeda extremists in Male were tasked to assassinate Nasheed (Minivan News Archive October 26, 2013). He even received death threats on his personal mobile phone while visiting the United Kingdom in October 2014. The threatening messages came after attacks on the headquarters of the MDP and on his home in Male (Minivan News Archive, October 5, 2014).
In the Maldives, jihadist groups, including al-Qaeda and IS, have garnered support through their media campaigns in the past several years. In early September 2019, the Presidential Commission on Investigation of Murders and Enforced Disappearances under Husnu al-Suood, for example, found that both groups were active in the Maldives and had been recruiting fighters for the Syria and Afghanistan conflicts. The Commission's interim report also identified leaders and recruiters of the IS and al-Qaeda factions in the country. Irrespective of their ideological orientations, both groups' supporters attended the al-Furqan and al-Noor mosques in Male (Maldives Independent, September 01, 2019).
IS claimed its first attack in the Maldives when local supporters used incendiary weapons to set fire to government-owned boats, including a sea ambulance and police patrolling vessel in Mahibadhoo harbour in Alifu Dhaalu Atoll in mid-April 2020 (One Online, April 15, 2020). An IS statement claimed that the boats belonged to the "apostate government of the Maldives and its loyalists." Before these arson attacks, in early February 2020, an IS supporter's stabbing spree injured three foreign nationals. Although IS did not claim the stabbing attacks, it praised the incident in the pro-IS magazine Sawt al-Hind (Voice of India). IS exclaimed "oh Lions of Khilafah in the Maldives" and urged Muslims of neighboring countries to follow the example of the stabbings (Sawt al-Hind, No. 3, April 2020). Now in its sixteenth issue, Sawt-al-Hind has a regular column under a dedicated section called "From the Brothers in the Maldives" that incites IS supporters to stage attacks in the Maldives (Sawt al Hind, May 16, 2021).
Vendetta Politics in the Maldives
Political vendettas leading to assassination attempts on rivals is not new in the Maldives. The former vice president, Ahmed Adheeb, for example, was arrested for a September 28, 2015 explosion on the presidential yacht, attempting to kill then-President Abdulla Yameen. Adheeb, too was accused of a bombing conspiracy during a historic anti-government protest on May 1, 2015 (Maldives Independent, November 1, 2015; Maldives Independent February 25, 2016).
While the investigation into the May 6 assassination attempt on Nasheed continues, a larger political conspiracy to eliminate Nasheed, who was the first democratically elected President and the most powerful politician in the country, cannot be ruled out. Nasheed himself was imprisoned on controversial terrorism charges in the past by a rival government and was barred to run for the presidency (Maldives Independent, June 4, 2018). In August 2018, a Progressive Party of the Maldives (PPM) supporter then brazenly called for Nasheed's decapitation (MDP, August 26, 2018).
In the present context, Nasheed's ambition to bring a parliamentary system to the Maldives where he can serve as Prime Minister in the future rather than be sidelined as a speaker under the existing political arrangements have drawn criticism from several political camps in the country. He received criticism from former president, Dr. Mohamed Waheed Hassan Manik, of PPM, who opined that the governing system of the "country should not be changed because someone has to sit in the political sidelines" (Times of Addu, April 19). Nasheed's MDP colleague and current Maldives President, Ibrahim Mohamed Solih, has noted that Maldivian citizens have chosen a system of governance, and it would change only with their will (Times of Addu, April 19).
Conclusion
Nasheed has often dominated the domestic and international political limelight by spearheading anti-Chinese and anti-Islamism campaigns, while embracing criticism from political rivals for criticizing Chinese investments, debt traps, and associated corruption issues under former president Abdulla Yameen (Edition, December 14, 2020). He has nurtured no small number of powerful enemies who may have conspired to assassinate him. President Ibrahim Mohamed Solih, meanwhile, termed the May 6 incident as an act of terror targeted against democracy and the Maldives' thriving tourism economy. The government has accordingly ordered high-level investigations into the blast and experts from the Australian Federal Police (AFP) have been invited to join the investigations (Sun.mv, May 7). President Solih also appointed a British Special Envoy, Abbas Faiz, to monitor the investigation, prosecution, and trial of Nasheed's attackers. While Nasheed is presently recuperating in Berlin, the ongoing investigation in the Maldives should unearth the deep-rooted political or Islamist conspiracy behind the assassination attempt.