General's Spy Comments Reveal More Than Just Espionage
Publication: China Brief Volume: 11 Issue: 16
By: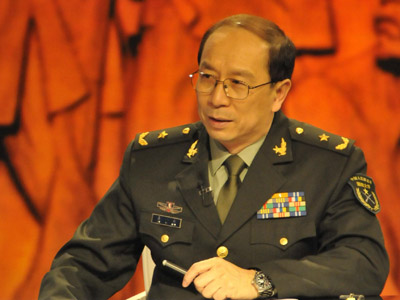 Remarks made by Major General Jin Yi'nan of China's National Defense University at a conference earlier this year provide new insights into Beijing's reaction to foreign espionage, which Jin believes showed moral degeneracy within China. Jin's lengthy speech originally appeared on and was later removed from the video-streaming site Tudou, but can still be accessed in segments on YouTube (for the spy remarks in Chinese, see, https://www.youtube.com/watch?v=loQFL8z9-zk&feature=related) Most of the espionage cases already had filtered back into the mainland blogosphere, bulletin boards and news analysis through Hong Kong and Taiwanese media—a point leading Chinese media to pan Western coverage as "stale" (Global Times, September 1). Of the eight cases mentioned, only China National Nuclear Corporation Party Secretary Kang Rixin, defense attaché Wang Qingjian and Air Force Magazine Vice President Jia Shiqing were new. Despite the lack of novelty in the specifics, Jin's commentary about espionage in China offers new insights into evaluating this under-examined topic from open sources and suggests Beijing has good reason to be paranoid about security.
Three points stand out in Jin's remarks. Most importantly, Jin's frank discussion of espionage in the context of China's rise indicates a sea change has occurred in Chinese vulnerability to foreign intelligence efforts. Prior to reform and opening, a number of sources, including the so-called "Mitrokhin Archive" and intelligence officers' memoirs, indicate China was an almost impregnable target, which explains why the United States encouraged Taiwan to fly U-2 flights over China long after the Soviets proved the SA-2 could bring down the spy plane [1]. The creation of the Ministry of State Security and its publicized early successes in counterespionage demonstrate the heady days of post-Maoist reforms and political expression in the 1980s offered new opportunities for foreign intelligence services to collect information on China (Central News Agency [Taiwan], June 10, 1983; Xinhua, August 23, 1986; Xinhua, January 10, 1987; Ming Pao, September 18, 1989). The 1990s however showed a decline in coverage, if not in reality, of Chinese spies as the Chinese economy boomed and nationalism replaced ideology as a pillar of communist rule. In the last decade, Jin's short list fails to include a number of other potentially serious espionage cases in the Chinese military, political and research establishments. To name but a few, a more substantial list would include Wei Pingyuan, Wo Weihan, Guo Wanjun, Tong Taiping, Fu Hongzhang and Li Suolin (Global Times, February 14; China Post, April 7, 2004; Guangzhou Daily, January 15, 2004).
Second, Jin described the damage from some of these spies as severe, but it is not clear how Jin can judge some of the damage. Jin claimed Ambassador Li Bin, who served in South Korea as ambassador, compromised Chinese negotiating positions to South Korea during the Six Party Talks. If Li's imprisonment and interrogation in China offers a clear way for Jin to know what happened, Senior Colonel Xu Junping's alleged leaks of "personalities of [Chinese] leaders and their decision-making habits and processes" requires a different kind of knowledge, given Xu's absence from China. Western equivalents of the Hong Kong rumor mills have suggested Xu cooperated with U.S. officialdom; however, the only official statement or reliable reporting was that Xu was in the United States and in good health (New York Times, March 24, 2001). If Jin's comments can be taken at face value—which depends on how we judge the deliberateness of the publicity of Jin's remarks—they suggest inappropriate leaks from the China-focused U.S. intelligence or policy communities.
Finally, Beijing has shielded espionage cases from public view by charging spies with corruption and other economic crimes. Although there is no way independently confirm the general's charges against Kang and Ambassador Li apart from the premature ending of their careers, other Chinese spy cases have shown a similar pattern of revelation. General Liu Guangzhi, President of the PLA Air Force Command Academy, was relieved of his position in December 2004 for unspecified "economic crimes" and Chinese officials specifically denied he sold secrets to Taiwan (China Post, February 4, 2005; Xinhua, December 29, 2004). Only later, possibly this year, did Chinese official media acknowledge Liu's treachery along with others at the Command Academy (Global Times, February 14). However, like the other cases, Liu's spying entered Chinese discourse through the Hong Kong and Taiwanese press (Wen Wei Po, April 15, 2004; United Morning News, May 28, 2004). Jin complained this practice is to avoid embarrassment and found an odd supporter in the state-controlled press, which suggested espionage should not be treated so sensitively and convictions should be publicized (Global Times, September 1).
The specifics of Jin's presentation are less interesting than how the general's remarks provide insight into developments in the last year. In his presentation, Jin noted the discovery of Kang's espionage startled the civilian leadership in Beijing, leading Hu Jintao to launch a round of security investigations. Although Jin claims no one was spared, the information available does not suggest counter-espionage officials uncovered any additional spies. This information however fills in the gaps behind heightened concerns earlier this year and why Hu issued new security regulations in March, paralleling China's last spy scare in 2006 ("Hu Signs New Regulations Safeguarding Military Secrets," China Brief, April 8, 2011; New Century Weekly, August 21, 2006). The case of Chinese military attaché, Wang Qingjian, who reportedly planted remote surveillance equipment in the Chinese embassy in Tokyo, explains the concern with communications intelligence collection that PLA bulletins accompanying Hu's security directive ("Growth Imperative Challenges Even Chinese Security Regulations," China Brief, July 29). Lastly, Jin's description of espionage signifying "moral degeneracy" and rhetorical question about what country has its ambassadors commit treason offers another clue into evaluating speeches by senior Chinese officials. Spiritual or moral problems, depending on the context, also could be a sign of leadership concern with security and major espionage cases, especially in a military or political-legal system context.
A final point of interest is that this appears to mark the first time a Chinese official specifically has acknowledged non-Taiwan-related espionage against China. Searching for these cases in official media outlets reveals little if any information. In addition to Senior Colonel Xu and Ambassador Li who allegedly provided classified information to the United States and South Korea, respectively, Jin also stated Beijing's senior liaison official in Hong Kong, Cai Xiaohong, dismissed in 2003 and well-reported in Hong Kong at the time, spied for the British. Chinese Academy of Social Sciences scholar Lu Jianhua, in Jin's words, sold information to whoever had money—reportedly including four other countries apart from his previously stated espionage for Taiwan. Although it is not clear that Jin or the Chinese government intended these remarks to be public, they do end all doubt that Beijing knows who is spying on China.
Notes:
See, for example, Christopher Andrew and Vasili Mitrokhin, The World Was Going Our Way: The KGB and the Battle for the Third World, New York: Basic Books, 2005, pp. 270–294, and James Lilley with Jeffrey Lilley, China Hands: Nine Decades of Adventure, Espionage, and Diplomacy in Asia, New York: Public Affairs, 2004. For the U-2 flights, see Kenneth Allen and Jana Allen's contribution to this issue.