Grozny's Support for Ethnic Chechens in Dagestan Destabilizing North Caucasus
Publication: Eurasia Daily Monitor Volume: 20 Issue: 35
By: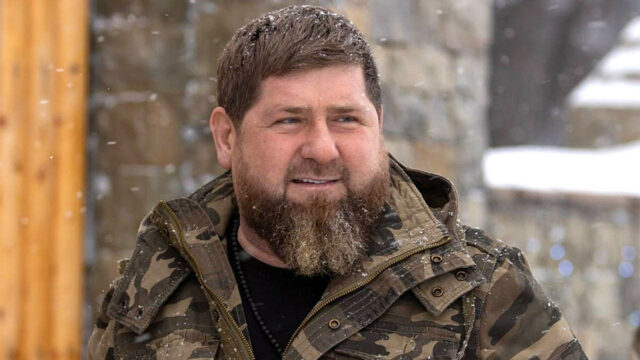 In September 2019, Chechen leader Ramzan Kadyrov forced Ingushetia's Yunus-Bek Yevkurov to hand over 10 percent of the land of the smallest federal subject in the North Caucasus to Chechnya. That action provoked protests among the Ingush, which continue to echo in the streets and courtrooms of the North Caucasus to this day. (The appeal of the sentence against the "Ingush Seven," who the authorities accuse of organizing the largest of these protests, is going on now.) (Fortanga.org, February 21). Now, Grozny is advancing equally explosive claims on another neighbor, Dagestan, demanding that Makhachkala restore those Chechen districts disbanded in 1944, when the Chechens were deported from the region, and forcibly remove the non-Chechens who have moved into these areas since that time. Such actions would open the way to the realization of Grozny's long-standing goal to absorb this region into its borders (Doshdu.com, accessed February 28).
Neither Makhachkala nor Moscow is happy about this development, with the former opposed to any such changes and the latter still maintaining troops in the area to keep the two republics apart. But the Russian government has a long history of allowing Kadyrov to take actions it would oppose if taken by anyone else; earlier, the Kremlin had allocated funds to restore the Chechen district in Dagestan, but Makhachkala refused to spend them (Window on Eurasia, April 9, 2020). And so, it is an entirely reasonable suspicion that the Chechen leader's latest moves will not lead the Kremlin to rein him in but rather spur on at least some of the changes he wants, thereby triggering instability across the region—first in Dagestan and then across the North Caucasus.
The issue of the Chechens in Dagestan came to a head, as it often has in the past, on the anniversary of Stalin's deportation of the Chechens and Ingush, which took place on February 23, 1944. This year, due to the war in Ukraine, both Grozny and Makhachkala sought to keep these memorial sessions relatively quiet. But Magomed Daudov, the speaker of the Chechen parliament and often a mouthpiece for Kadyrov, violated that calm by putting out an online statement urging ethnic Chechens in Dagestan to demand not only the restoration of the Chechen Aukhov district, which had existed there before the deportation, but also the return of housing and land to those Chechens who were deported or to their descendants. As that would require expelling ethnic Laks from what is now Novolak district, Makhachkala has pointedly refused; and Moscow experts are dismissing Daudov's proposals as impossible to fulfill. They suggest that Grozny is simply striking an extreme position in the hopes that Moscow and Makhachkala will do something to prevent the situation from spiraling out of control (Kavkaz-uzel, February 24, 27).
That might be an entirely reasonable conclusion if one were talking about almost anyone except Kadyrov. Over the past several years, Grozny's leader has shown contempt for the border between Chechnya and Dagestan. On several occasions, Kadyrov sent in his siloviki to seize ethnic Chechens who had fled there and supported as many as 10,000 Chechen demonstrators in displaying their loyalty to a Chechen leader from Dagestan (Kavkaz-uzel, February 21, 2021; Newizv.ru, October 24, 2021). Some of these actions have led to small clashes, but many Dagestanis believe these moves are a prelude to some larger action. Thus, they are concerned about Daudov's words and the possibility that Kadyrov may decide that, with Moscow focused on Ukraine, he can try for portions of that neighboring republic, an action that would be resisted and would roil the waters across the North Caucasus. This is quite clear from the comments posted on the Kavkaz-Uzel portal in reaction to its reports on Daudov's speech (Kavkaz-uzel, February 27).
The Vladimir Putin regime very much hopes that the issue of borders among the federal subjects of Russia would simply vanish, with all of them agreeing to the administrative borders that existed in Soviet times. But those borders were drawn for political reasons, and changes were frequent, often when peoples were deported or when economic conditions appeared to dictate such steps (Window on Eurasia, July 19, 2018). Beginning in 2008, the Kremlin pushed for all regions and republics to enter into negotiations about their borders; then in 2019, it ordered all who had not yet done so to complete such talks by the end of 2021. Most met that deadline, but Chechnya and Dagestan have not. Makhachkala in particular is dragging its feet for fear that concessions would lead to a loss of its control over Dagestan (Mk.ru, June 7, 2020). In contrast, because he feels he has the backing of the Kremlin, Kadyrov has only been encouraged to make ever-more expansive claims, probing with force to test his limits. (On his tactical approach the last time the border issue flared up, see Window on Eurasia, June 14, 2019; August 26, 2019; Kommersant, June 18, 2019; Dailystorm.ru, July 4, 2019.)
Daudov's remarks this past week reflect his own conviction that the problems of the ethnic Chechens in Dagestan are the result of Moscow's failure to implement the law on repressed peoples and of shortcomings in that law, which make it virtually impossible to fulfill. As a result, all nations deported in Stalin's time and later will focus on the Chechen speaker's words, as they, too, have complaints about that law and the failure of the Russian government to enforce it.
Consequently, what some might dismiss as a small border issue between Chechnya and Ingushetia has the potential to escalate into something much larger, especially if Kadyrov decides to take more forceful steps. But even if he does not, Daudov's appeal is certain to trigger the kind of discussion about the Stalinist past that Putin certainly does not want—one that can only deepen the divide between the victims of the Soviet dictator and a Russian state that portrays him in an overwhelmingly positive light.
One can only hope that the rising tensions on the Chechen-Dagestani border will lead the Kremlin leader to conclude that all border changes are potentially explosive, regardless of whether he or someone else sponsors them, and to recognize that the more he seeks to redraw borders in Ukraine, the more others within the existing borders of the Russian Federation will be inclined to do the same.