Iran-Armenia Railway Project Remains Controversial
Publication: Eurasia Daily Monitor Volume: 12 Issue: 118
By: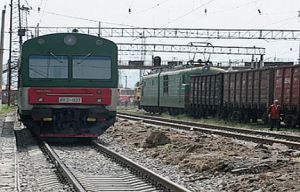 Discussions surrounding the proposed Iran-Armenia railway project have intensified in early June, after a statement made by Russian Railways' CEO, Vladimir Yakunin, who said that the project would not be expedient: "It is like opening a window to nowhere, to the wall of a neighboring building" (Arminfo.info, June 8). Armenian officials had hoped that Russian investment would help to accomplish the project (the estimated cost of building the Armenian section of the railroad is about $3.2 billion). Thus, Yakunin's statement caused some frustration. Previously, Armenia's Ministry of Foreign Affairs had expected that the Export-Import Bank of China could provide a loan for about 60 percent of the construction costs, but supposedly Russian investment would also make up a large share. However, the representatives of Russian Railways had not confirmed a commitment to secure any investment amount. Victor Rebets, the manager of the South Caucasus Railroad Stock Company (Russian company operating Armenia's existing railroads), announced in late December 2014 that the company would operate the Iran-Armenia link as well, supposedly from 2022, but had not indicated whether the Russian side had planned to invest in the construction (see EDM, February 2).
A few days after Yakunin's June 8 remarks, a statement published on the Russian Railways website noted:
As said earlier, the Russian Railways company thinks that the project has a high geopolitical importance for Armenia in terms of integration into the Eurasian and global transportation network […] the high costs and the long term needed for investment return in such large-scale projects make them less attractive for investors, so project implementation without state support is complicated… [but] …as experience shows, state support of strategic infrastructure projects creates a multiplier effect for the industry and is important for steady economic development (
Rzd.ru
, June 12).
As suggested by Yuri Roks, a political analyst from Nezavisimaya Gazeta, Russian Railways might be ready to participate in the project if a state subsidy becomes available. He further noted that the yearly amount of transported cargo might reach 15–18 million metric tons, making the railway project cost-effective (Nezavisimaya Gazeta, June 19).
Last year, Russian Railways received 80 billion rubles (about $1.5 billion) in state subsidies, and it is expected that, in 2015, VTB Bank (having a majority of its shares owned by the state) will buy Russian Railways bonds worth 100 billion rubles ($1.87 billion). In addition, the company plans for another 70 billion–75 billion rubles ($1.3–1.4 billion) in subsidies in 2016, in order to cover the company's losses (Rbc.ru, May 8).
Armenian officials have avoided making any statements addressing Yakunin's assertions. So far, they have continued presenting plans for the railway's construction. Minister of Transport and Communications Gagik Beglaryan said, during a parliamentary hearing, that the Armenia-Iran railway project fits into China's infrastructure plans connecting Asia to Europe (News.am, June 10). Armenian Ambassador to Iran Artashes Tumanyan told the Iranian Fars agency that Armenia could connect Iran with the Eurasian Economic Union (EEU), and that Tehran agreed to build a 60-kilometer section of the railway leading to the Armenian border; but the sanctions imposed on Iran cause difficulties (Panorama.am, June 15). Nonetheless, in December 2014, Beglaryan already indicated that an agreement, according to which Iran would invest $400 million in the construction of a railroad link to the Armenian border, had been signed (see EDM, February 2).
The potential benefits from the Iran-Armenia railway will be limited as long as the transit corridor lacks a direct connection with Russia. Furthermore, Azerbaijan and Turkey are opposed to Armenia's rail network being allowed to link up with the coming Baku-Tbilisi-Kars railroad, so Armenian rail lines may only end up reaching Georgian sea ports. As already noted, Russia's possible contribution toward the construction of the Iran-Armenia railway will almost certainly be subordinated to Russian geopolitical interests (see EDM, February 2). Yakunin's recent statement that the Iran-Armenia railway would be more meaningful if Georgia agrees to repair and restore the use of the defunct north-south railway through the breakaway territory of Abkhazia (Nezavisimaya Gazeta, June 19) confirms that assumption. However, the Georgian government's agreement to such a proposal is highly unlikely at this stage.
The low probability of restoring use of the Abkhazian railway likely reduces Russia's interest in investing in Armenia's signature rail project. It is also noteworthy that Russia' own railroad connection with Iran is possible by alternative routes: in particular, Russia is interested in joining a Turkish-Azerbaijani project to connect the railway from Kars to Igdir (Turkey) and then proceed to Julfa, an Azerbaijani town on the Iranian border. Additionally, Russia may modernize the railway between Derbent (Dagestan) and Astara (Azerbaijan). Russia's recent active attempts to expand security, energy and transport cooperation with Azerbaijan and Turkey may extend to more active involvement in the above-cited projects. It should also be noted that the falling oil price and the depreciation of the ruble, growing military spending, as well as investment in Crimea and in the occupied parts of eastern Ukraine have reduced Russia's financial assets available for financing other large infrastructure projects. Thus, Russia's leadership may likely assume that while Armenia will remain loyal in any case, expanding cooperation with Azerbaijan and Turkey may be more promising for Russia, both from a geopolitical and an economic point of view.