Iran-Armenia Railway Project and Russian Geopolitics
Publication: Eurasia Daily Monitor Volume: 12 Issue: 20
By: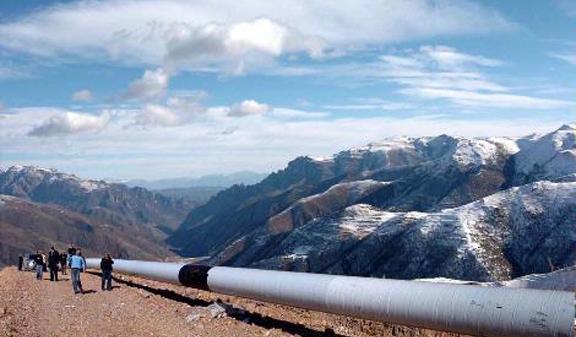 During a press conference in Yerevan on January 27, Iranian Minister of Foreign Affairs Mohammad Javad Zarif said that various opportunities for bilateral economic cooperation could potentially be beneficial, and Armenia's membership in the Eurasian Economic Union (EEU) could represent one such opportunity. He noted that trilateral discussions (apparently, with the participation of Russian representatives) concerning the construction of a railroad connecting Armenia and Iran had been successful, and that negotiations concerning cooperation on energy and gas supplies may also prove fruitful. Foreign Minister Zarif also noted Iran's readiness to complete the hydroelectric plant project on the Arax River, while financial issues related to the other projects could soon be resolved by the Armenian government (Aravot.am, January 27).
The construction of a railroad connecting Armenia with Iran was first promised by Armenian President Serzh Sargsyan in an address to the National Assembly (parliament) in October 2008. Financing the construction, however, was a problematic issue: while Iranian officials confirmed the commitment to build a link connecting Iran's existing railroad network to the Armenian border, a considerably larger investment would be required to carry out the construction on the Armenian side. The estimated cost of building the Armenian section of the railroad is about $3.2 billion, which does not include the costs of land acquisition and customs duties on equipment. The project's entire cost is on a level comparable to Armenia's annual budget.
On August 7, 2014, the Armenian government approved an initial project. A memorandum prepared by the Ministry of Foreign Affairs suggested that the Export-Import Bank of China could provide a loan for about 60 percent of the construction costs, with a 3.5-percent annual interest rate (News.am, August 8, 2014). Later, in October 2014, Armenian Prime Minister Hovik Abrahamyan replied to a parliamentary inquiry that the government was still looking for investors, and no specific decision had been made yet (Tert.am, October 22, 2014). Then, Minister of Transport and Communications Gagik Beglaryan indicated that negotiations with some prospective investors were going on, although without concrete results so far. He added, an agreement signed during Deputy Transport Minister Arthur Arakelyan's visit to Tehran provided that Iran would invest $400 million in the construction of a railroad link to the Armenian border (Azatutyun.am, December 11, 2014). In turn, Victor Rebets, the manager of the Russian company operating Armenia's existing railroads, the South Caucasus Railroad Stock Company, announced that his firm plans to operate the Iran-Armenia link as well, supposedly from 2022, when construction work is expected to be finished. However, he did not indicate whether the Russian side had planned to make an investment in order to accomplish the construction works (Arka.am, December 22, 2014).
On the other hand, it will be difficult to realize Minister Zarif's recently specified Armenian-Iranian project on natural gas supply cooperation, even though it is estimated to cost much less than the aforementioned railroad's construction. While Iran has consistently shown interest in the possibility of exporting gas to Europe via Armenia and Georgia, Moscow has consistently used its leverage on Yerevan to prevent Iran's development in that direction. The Armenian section of the Armenian-Iranian pipeline launched in 2007 is 28-inch wide, instead 56 inches, as initially planned, while the Iranian section built specially for this connection is 56 inches wide. The Armenian government had decided to reduce its pipeline section's diameter under Russian pressure, and then sold its share to ArmRosgazprom—the company operating Armenian gas distribution networks with 80 percent of its shares owned by Russia's Gazprom. In December 2013, Russia persuaded Armenia to sell the remaining 20 percent of its shares as well, and a new bilateral agreement guarantees Gazprom's monopoly for a further 30 years. It may also be noted that while the deal signed in December 2013 was being discussed, Iran's ambassador to Armenia, Mohammad Reyisi, announced that Iran was ready to provide cheaper gas supplies than Russia (Lragir.am, December 6, 2013). However, the Armenian government did not consider that opportunity, choosing instead to fulfill Moscow's demands.
Russia has consistently stood in the way of Iranian gas transit via Armenia, considering such an outcome a threat primarily to Russia's geopolitical interests. After all, as a transit country, Armenia would obtain some more room for maneuver and become less dependent on Russia. Contrarily, Moscow does not object to the proposed Armenian-Iranian railroad, although it is not yet clear whether Russia plans to invest in this transportation project directly. Russian representatives have been saying that Armenia's EEU membership should provide an additional pretext for persuading Georgia to provide transport corridors to connect Russia with Armenia, which would increase the strategic potential of the Russian military base in Armenia. Moscow also intends to take control of the customs service on the Armenian-Iranian border, replacing the Armenian custom inspectors with a "Eurasian customs service." Additionally, Russian sources have openly indicated that Armenia's EEU membership, as well as Russia's recent agreement with Abkhazia and the planned agreement with South Ossetia, should help to prevent the North Atlantic Treaty Organization (NATO) from establishing military infrastructure in Georgia—not to mention block Georgia's deeper economic integration with the European Union (see EDM, December 11, 2014).
In summary, the possible construction of an Armenian-Iranian railroad is primarily an economic issue for Armenia, although the potential benefits will be limited without having a direct connection with Russia, as the landlocked country's border with Turkey remains closed. At the same time, though Russia is interested in having a railroad connection with Iran, it has an opportunity to use a route across Azerbaijan as an alternative. Russia's possible contribution toward the construction of the Iranian-Armenian railroad is bound to be connected to Russian geopolitical interests, as Moscow plans to strengthen its grasp on the South Caucasus.