The Lapshin Case: A Red Line in Azerbaijan's Foreign Policy
Publication: Eurasia Daily Monitor Volume: 14 Issue: 17
By: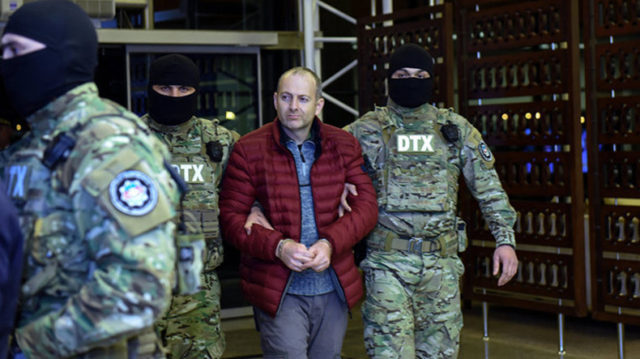 The arrest of a travel-blogger Alexander Lapshin, a citizen of Russia, Israel and Ukraine, by Belarusian authorities and his extradition to Azerbaijan (1news.az, February 7) is an interesting case for a number of reasons, and particularly in the context of the unresolved Karabakh conflict. His arrest mobilized influential Armenian expatriate communities around the world in support of him (Greekherald.com, February 7; Europa-news.biz, January 26). Moreover, it has renewed tensions between Azerbaijan and Armenia (1news.az, February 9), following last year's bloody outbreak of skirmishes in April 2016 (see EDM, April 6, 2016). Fears abound in Armenia that the Lapshin case may serve as a precedent for the future and prevent others from visiting the Yerevan-backed separatist Azerbaijani territory of Karabakh (Newsarmenia.am, January 20).
Lapshin was added to Azerbaijan's list of personae non gratae by the Ministry of Foreign Affairs because of his visits to the occupied Azerbaijani territory in 2011 and 2012. This blacklist of individuals who traveled to Karabakh without Baku's explicit permission was first drawn up in 2013. And since then, as many as 623 persons have been included on the list: among them are members of parliaments, government officials, journalists and researchers from countries like Russia, the United States, France, Turkey and others (Mfa.gov.az, December 7, 2016). The government has not always been consistent in its reprimands against the individuals on the Karabakh blacklist. Indeed, in some cases, the Azerbaijani authorities offered the transgressor a second chance and took him or her off the list after receiving a letter from this person asking to be removed (Azernews.az, December 1, 2016). Several times, Baku even allowed foreign journalists to enter Karabakh and report on the situation there (Azernews.az, April 9, 2015).
The recent extradition of Alexander Lapshin has caused some notable rifts in Azerbaijan's relations with a number of its neighbors. Notably, Russian Foreign Minister Lavrov said, "Russia is against the criminalization of visits of any persons to any territories and opposes the extradition of Russian citizens by any state to third countries" (Sputnik.by, January 17). Lavrov's statement came on the heels of earlier remarks he made that had stirred heated criticism among the public and officials in Azerbaijan: specifically, the Russian foreign ministry alleged that "Nagorno-Karabakh is not solely a matter of Azerbaijan's internal affairs" (Novosti.az, January 17). Later, on February 9, Azerbaijani President Ilham Aliyev restated that following the April 2016 fighting in Karabakh, "Armenia did its best to present [the skirmish] as a matter of international affairs, but Nagorno-Karabakh remains an integral part of Azerbaijan, and tensions along the frontline are a matter of our internal affairs" (1news.az, February 9). Surprisingly, on February 13, Russian the foreign ministry retreated from its hard position on Lapshin, and Russia's ambassador to Belarus even declared that Lapshin's arrest in fact was legal, and that the blogger had acted inappropriately by boasting in social networks and sharing anti-Azerbaijani posts (APA, February 13).
Following a meeting with Russia's ambassador to Baku, Azerbaijani Foreign Minister Elmar Mammadyarov said he was surprised and agitated about the over-politicization of Lapshin's arrest (RIA Novosti, February 8). While Russia's envoy to Belarus, Ambassador Alexander Surikov, stated that Moscow would continue its efforts to free the arrested blogger (RIA Novosti, February 8). Late last year, the Israeli Ministry of Foreign Affairs had also officially asked Belarus not to extradite Lapshin (Report.az, December 19, 2016), whose arrest occurred just after Prime Minister Benjamin Netanyahu's important visit to Baku. Last month (January 2017), the outgoing US State Department spokesperson John Kirby (APA, January 18) and the Organization for Security and Cooperation in Europe's (OSCE) representative on freedom of the media, Dunja Mijatović, both described the Lapshin case through the lens of the need to protect freedom of speech (Asbarez.com, January 27). Baku responded that a "violation of Azerbaijani laws can't be called freedom of speech" (Trend.az, January 18).
Considering the pressures from multiple fronts on this issue, why has Baku ascribed so much importance to the arrest of Alexander Lapshin—even at the expense of possibly spoiling relations with some of Azerbaijan's most important neighbors and partners? What made Lapshin special compared to the 622 other people on the Karabakh blacklist? It appears that the Azerbaijani authorities' anger toward Lapshin stemmed not from his secret unauthorized trips per se, but rather that after being declared persona non grata, the travel blogger later still managed to somehow visit Baku illegally. Furthermore, he publicly called for the recognition of the independence of Karabakh. Finally, in his blogs which were later deleted, Lapshin regularly jeered and mocked Azerbaijan and its government, proudly stating that he could and would violate the country's laws without punishment (Trend.az, February 8). He is currently in an Azerbaijani jail awaiting trial. In case of a guilty verdict, he will have to serve from 5 to 8 years.
Lapshin's arrest is an interesting case study in Azerbaijan's effective foreign policy toward other countries of the post-Soviet space. Baku is not a member of either the Eurasian Economic Union (EEU) or the Collective Security Treaty Organization (CSTO). And yet, Azerbaijan has been able to build productive bilateral relations with several member states of both of these Moscow-led blocs, thus undermining hopes in Yerevan that Armenia could expect tangible support from its CSTO and/or EEU allies in this case. Belarus's extradition of Lapshin to Azerbaijan (Belta.by, February 9) was not the first time Armenia was disappointed by the failure of other EEU and CSTO members to come to its support against Azerbaijan. Yerevan was publicly "humiliated" by EEU member state Kazakhstan even as Armenia was finalizing its entry negotiations in mid-2014. During a May EEU summit in Astana, President Nursultan Nazarbayev read out a letter from Azerbaijan's President Aliyev addressed to the other members, and then the Kazakhstani head of state underlined that Armenia would join the organization only within its internationally defined boundaries—that is, without Karabakh (Azattyq.org, November 5, 2014). Then, in a significant blow, which almost shook the foundations of these Eurasian institutions, EEU and CSTO members Kazakhstan and Belarus both declared their support for the principle of territorial integrity, rather than siding with their ally Armenia during the April 2016 fighting along the frontline in Karabakh. This caused public outrage in Armenia (Apostrophe.ua, February 10) and may partially explain why Russia has been paying so much attention to Lapshin's case.
Additionally, the Lapshin case highlights the red lines in Azerbaijan's foreign policy, which government officials routinely declare is independent and connected solely to the country's core national interests. For the past 25 years of independence, Azerbaijan's policies on various issues have not always looked consistent or straightforward—especially for Western media and experts, who tend to divide the policies of the states of the post-Soviet space strictly into simplistic categories of either "pro-Russian" or "pro-Western." In fact, Baku's seemingly inconsistent and fluctuating policies perfectly reflect Azerbaijan's foreign policy red lines, which are designed to maximize the security and national interests of a geopolitically constrained state.