Latvia and the Baltic States Seek Closer Coordination on Relations with China
Publication: China Brief Volume: 19 Issue: 12
By: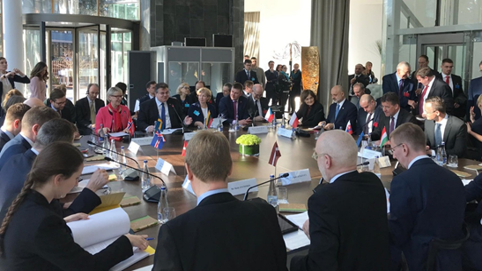 Introduction—Nordic and Baltic Governments Seek Common Positions for Relations with China
On April 1, 2019, a meeting was held between the foreign ministers of the Baltic States and Nordic Countries (Estonia, Latvia, Lithuania, Sweden, Finland, Norway, Denmark and Iceland), or NB8; and of the Visegrád Group countries (Poland, Czechia, Slovakia, and Hungary), or V4. This combined group has met annually since 2013, with this year's meeting convened in Palanga, Lithuania. The NB8 and V4 foreign ministers met to coordinate common positions on a variety of issues, to include "sharing of views on current European Union issues and security policy, including the EU's Multiannual Financial Framework, relations with Ukraine and Eastern Partnership countries, the transatlantic link, and preparations for the upcoming NATO Foreign Ministers Meeting" (Foreign Ministry of Latvia, March 29).
One of the most striking aspects of the meeting was that, amidst this range of European concerns, the character of relations with the People's Republic of China (PRC) emerged as a prominent priority in the agenda. Following the meeting, Latvian Foreign Minister Edgars Rinkēvičs commented on "the rapid growth of China's political, economic and military weight [which] triggers geopolitical change not only in Asia… but also globally," and accordingly called for the PRC "to demonstrate responsibility that corresponds to its influence and benefits [and] to invest accordingly in… the international system and to engage constructively in resolving global challenges." Rinkēvičs further stated that European countries should avoid a "black-and-white perspective" of China as "a threat or an opportunity, a competitor or an ally," but instead should "find the real balance in the relationship with China so that we could protect our interests vis-a-vis China, whilst remaining true to European values" (Baltic Times, April 2).
Although less publicized than the meeting at the ministerial level, Baltic foreign ministries have also held working level meetings regarding Asia that put China policy at the top of the agenda. In a meeting held in Riga on May 12 and 13, the NB8 Foreign Ministries' Directors for Asia met to discuss bilateral and multilateral cooperation with Asian countries, including cooperation efforts between the European Union (EU) and the Association of Southeast Asian Nations (ASEAN) (Latvian MFA, May 14, 2019).
Economic Motives for the Baltic States to Seek Closer Engagement with China
There are many reasons why Latvia and other Baltic states would seek closer (and coordinated) ties with China, but the most important of these reasons lie in the realm of trade. Recent years have seen a drop in economic activity with Russia, traditionally the largest market for several categories of goods from the Baltic states. Disputes between the Baltic states and Russia over issues such as the status of historical monuments (DW, August 10, 2012; Newsweek, September 27, 2016), and broader Euro-Atlantic opposition to Russian aggression against Ukraine, have revived political obstacles to trade in a manner reminiscent of the disruptions caused by Russian debt default in 1998.
Since 2013, Latvian exports to Russia have decreased. Exports dropped by 28% in 2014; they rose slowly after that, but exports to Russia are less than they used to be—both in absolute numbers, and also as a part of total national exports. Having learned from past experiences about the consequences of over-reliance on the Russian market, Baltic businesses have tried to redirect their products towards other markets. One example of an impacted sector in Latvia is the fishing industry, with 20 major enterprises and 5000 employees (representing 1% of all employed Latvians aged 15-64). Latvian fishermen have found themselves facing decreased demand from their traditional Russian and Commonwealth of Independent States (CIS) markets, as well as an inability to switch to most Western markets due to different tastes and traditions (Latvian Television, April 14, 2014). As fish and other seafood products are staple foods in Asia, this has led Latvian exporters to seek greater access to markets in China.
Another example is the Baltic region rail transit sector, which is looking for additional cargoes at a time when Russia has voiced its conscious intent to divert its exports to rail and port facilities in other countries—even if it costs more to Russian exporters to do so. Latvian Railway is the single largest employer in Latvia, employing 1% of all workers in the country. Due in part to friction with Russia, the Baltic states have developed a greater interest in cooperating with Chinese infrastructure and transportation projects in Europe: for example, Latvia played host in 2016 to the annual summit of the PRC-led "16+1" framework, where the agenda reportedly included discussions on Latvian transportation infrastructure (Baltic News Network, November 4, 2016).
China's domestic market is ten times larger than that of Russia, and Chinese railway cargo would provide an alternative to Russian cargo that has proven to be more dependent on political good will than on economic considerations (even if these shipments have to cross Russian territory). Latvia and Lithuania are both looking (and competing) to provide rail transit and port capacities from the East in a westward direction to Europe—services that would provide a complement to Chinese-Belorussian logistics infrastructure already developed. The Estonian government is working to present itself as a transit window to Scandinavia, particularly in light of possible Chinese backing for a Tallinn-Helsinki railway tunnel project (Eurasia Daily Monitor, March 12).
In 2013, four percent of third country citizens obtaining a EU residency permit through investment in Latvia were Chinese (jelgavniekiem.lv, April 3, 2013). Latvia is the leading Baltic state in students learning Chinese, while Beijing International Studies University teaches Latvian among other "16+1" country languages to students as young as 17 for up to seven years (Latvian Television, September 22, 2016). In addition to a Confucius Institute created at the University of Latvia in 2011, in 2015 the China-Latvia Academic Cooperation Center was established at the Political Science Department of the Faculty of Social Sciences as part of the Belt and Road Initiative (University of Latvia, September 21, 2015).
Reasons for Skepticism About Sino-Baltic Relations
These efforts at outreach have borne some fruit: by way of contrast with exports to Russia, Latvian exports to the PRC have grown by over 40% since 2013 (Latvian MFA, 2019). Latvia also maintains several economic representatives in the PRC. However, all is not well in the relationship, and the new Latvian Minister of Economics, Ralfs Nemiro, has raised questions about the nature of economic cooperation with China. Although Latvian exports to the PRC have increased, Chinese exports to Latvia in the same period have been five times larger (Latvian MFA, 2019). Some representatives of the fishing industry have also rolled back their enthusiasm, seeing "ten times" more success in the smaller market of Japan than in the PRC (Latvian Television, March 9, 2019). The original owners of Stenders Bath and Bodycare Company, which emerged as the most successful Latvian company in the PRC with hundred of shops across the country, ended up selling their share of business to their Chinese partners due to an alleged dispute over trademark registration that put into question the viability of the whole business (LETA, October 26, 2017).
The Baltic security services have also raised concerns about relations with the PRC. The PRC is among three nations or groups—alongside Russia and "certain CIS countries"—named by the Latvian State Security Service (VDD) as sources of concern regarding their activities in Latvia (VDD, 2019). Furthermore, the Latvian Constitutional Defense Bureau (SAB) has made note of the economic espionage of the PRC (SAB, April 2019). The Latvian State Security Service has also noted the legal requirement that Chinese companies cooperate with PRC security officials—the first time that the PRC has been named in the public documents of the Latvian services (Skaties.lv, May 2019). The Estonian Security Police have also called out increasing attempts by Chinese security services to recruit EU citizens via the internet: it has noted the attention that Chinese entities have shown towards civil servants that may work with classified information, offering such persons lucrative job offers and paid foreign travel (Delfi.lv, April 12, 2019).
The European Parliament has enacted a resolution that calls for addressing potential threats resulting from Chinese technology (such as the privacy and data security of EU citizens), while also voicing European concerns about PRC legislation that compels Chinese companies to cooperate with the authorities (DIENA, March 12, 2019). The Baltic security services have reflected these concerns regarding certain aspects of PRC technology: the heads of the Latvian and Lithuanian State Security Services have raised warnings about using Huawei products (South China Morning Post, February 9, 2019). It is not clear, however, how much of this relates to local incidents or perceived national threats, or whether it is a reflection of broader EU and NATO statements.
Conclusions
Although the dominant model of PRC-European relationships has thus far been mostly one of bilateral relations, a common European voice beyond general statements and common tariffs has started to take shape. This is occurring not only in Brussels, but also among the regional groups within the European Union. The Nordic and Baltic foreign ministers, as well as their Visegrád colleagues, appear to be seeking a common regional policy regarding their relations with China. This is being done not only to have a stronger position in bilateral interactions with Beijing, but also for the purpose of having a larger voice in forming common EU positions in Brussels.
This development could evolve in one of two ways. On the one hand, China policy may prove to be one of the most important vehicles yet for galvanizing further European integration through another element of common foreign and security policy. This could happen if Western, Central, and Eastern European countries all find a common approach that supports the status of the EU as a significant global market that needs to keep up its growth despite a shrinking workforce and decreased productivity, while also respecting European human rights concerns.
If the EU member states fail to coordinate their China policies, the development of several strongly divergent opinion blocks about China may drive a wedge between them, thereby giving Beijing leverage on a list of issues that could influence future European unity. This is especially relevant when differences between European central institutions and certain Central and Southern European governments are being openly hammered out—a development that has placed European integration on pause while looking for the right set of solutions. The call for a balanced and coordinated approach, as discussed above, reflects a cautious optimism that can work for Europeans if they play with the same cards, and play them correctly.
Otto Tabuns is the director of the Baltic Security Foundation. He is a lecturer at the Riga Graduate School of Law and most recently has co-edited "Baltic Security Strategy Report" on regional military, social, and economic security. He is a member of the Association for Advancement of Baltic Studies, as well as the Latvian Political Science Association.