Moscow Steps up Intimidation Campaign in Black Sea Region
Publication: Eurasia Daily Monitor Volume: 18 Issue: 105
By: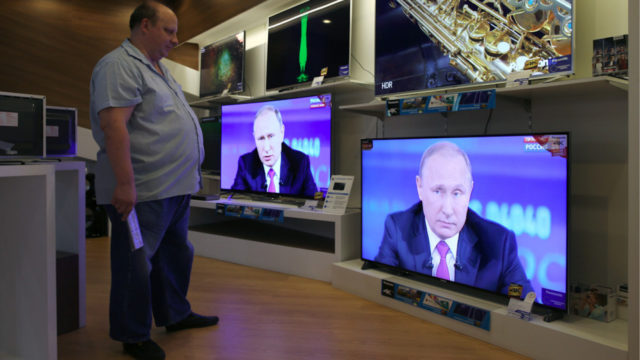 During his annual televised national call-in show, on June 30, 2021, Russian President Vladimir Putin mostly talked about the COVID-19 pandemic, as the novel coronavirus is once again sweeping through Moscow and the provinces. Implicitly (but deliberately) embodying the image of the "good tsar" versus the "bad boyars," Putin listened to appeals from selected subjects who complained of being harassed by ruthless and corrupt Russian bureaucrats, and he promised to help. However, the Russian leader appeared genuinely bored by this public relations exercise, even as lines of communication were suddenly interrupted and operators complained of a possible denial-of-service attack. On a couple of occasions, Putin turned to defense and foreign policy questions about Ukraine and the standoff with the West in the Black Sea. Ukraine, the United States and its allies are currently running the annual Sea Breeze 2021 military exercise, which Moscow has deemed provocative (Kremlin.ru, June 30).
This year's Sea Breeze maneuvers began on June 28, and they are planned to last for about two weeks. Before that, on June 23, the United Kingdom's destroyer HMS Defender sailed from Odesa, Ukraine, to Batumi, Georgia. Passing the Crimean Cape Fiolent, close to Sevastopol (the main Russian naval base in the region), HMS Defender cut a corner by entering and then leaving the 12-mile territorial zone around occupied Crimea, in what is known as "innocent passage" under the 1982 United Nations Law of the Sea Convention (UNCLOS). Since 2014, Moscow considers Crimean territorial waters to be Russian, but the international community recognizes them as Ukrainian. The Brits had a number of journalists onboard, and the decision to spook the Russians by a freedom of navigation operation was taken by the UK Cabinet. Two Russian Federal Security Service (FSB) Border Guard patrol boats and naval jet bombers intercepted the Defender. The Russians warned the British vessel to leave the area and eventually fired some warning shots—out of range and not directly aimed at the Defender. Both sides garnered lots of PR material, but the incident concluded without any injuries or damage (see EDM, June 24).
During the phone-in, Putin was asked about the HMS Defender: "Could the incident spook a world war?" He reassured his audience, "The threat was not real. This was a US and UK joint [sic] provocation to make us [the Russian military] open up while the Americans would be recording our response. We fed them [the Americans] false intel… But even if we would have sunk that ship [HMS Defender], this would not have provoked a world war, because the other side knows they cannot win such a war" (Kremlin.ru, June 30).
In March and April 2021, in a nation-wide mass mobilization of forces under the pretext of a "test of battle readiness," over 300,000 soldiers and immense amounts of heavy weaponry were deployed in the field—at least half of them close to the Ukrainian border. The Russian military demonstrated its ability to fight and win a large conventional regional war (with Ukraine) while prepared to take on the US and its allies in a global (nuclear) conflict in case of an uncontrolled escalation (Militarynews.ru, April 29). According to Putin, the Russian exercises caused distress in the West: "I ordered the defense ministry to slowly curtail the exercise and withdraw from Ukraine. But now, they reply by coming to our borders with Sea Breeze 2021" (Kremlin.ru, June 30).
Of course, not all the Russian forces were actually withdrawn (see EDM, May 12, June 30). According to the press service of the Northern Fleet, two large land-assault ships, which had sailed from the Kola Peninsula in March 2021 to take part in a simulated large sea/air assault on Crimean beaches (an exercise involving over 10,000 men), are still deployed in the Black Sea as of July 1. Kondopoga and Alexander Otrakovsky sailed all around Europe, across the Mediterranean and through the Turkish Straits to reach Crimea. They cannot be swiftly redeployed if sent back to their base in Severomorsk. Apparently, the vessels, their crews and marines are under orders to wait as events develop in the Black Sea (Militarynews.ru, July 1).
Responding to questions from callers, Putin once again repeated the notion that Russians, Ukrainians and Belarusians are one folk ("narod"), but outside forces split up this super-Russian nation and want to aggravate the divisions. The Kremlin leader promised to write and publish an article about his dream of Russia integrating with its two Eastern Slavic neighbors. The Ukrainian people, according to Putin, are friends, but the Ukrainian leadership and President Volodymyr Zelenskyy are enemies, who have sold out Ukraine to the Americans. Ukraine is, today, under "outside governance," he claimed, asserting that military infrastructure of the North Atlantic Treaty Organization (NATO) is being deployed to Ukraine under the guise of training missions and exercises like Sea Breeze 2021. This is a direct security threat and impedes Russia's vital interests. According to Putin, the Russian language and people are under attack and under threat of elimination in Ukraine. It makes little sense to meet with Zelensky, Putin announced, while Washington controls everything happening in Kyiv (Kremlin.ru, June 30).
Kremlin spokesperson Dmitry Peskov commented that the alleged "outside governance" of Ukraine and its subsequent desire to solve its problems by joining NATO—"an anti-Russian military alliance"—constitutes a "red line." Putin, according to Peskov, understands the potential threat emanating from Ukraine, and the Russian leadership is "prepared to take measures to secure our borders and maintain the balance [parity] in Europe." According to Peskov, Russia will take all security measures "to deal with Ukrainian provocations" (Interfax, July 1).
Zelenskyy replied to Putin that Ukraine is a separate nation, though indeed close to Russia, but definitely not odin narod (RBC, July 1). Retired and active-service Russian military personnel are clamoring in Moscow for a firmer response to Western (US) provocations than Russia showed in the case of HMS Defender. They proposed, for instance, to use force and electronic warfare (EW) means to disable a US ship—say the guided missile destroyer USS Ross (DDG-71), taking part in Sea Breeze 2021—take it prisoner together with the crew, and then disclose its military/espionage secrets (Life.ru, June 28). Another option being floated is to have Kilo submarines block the Bosporus and trap the US and NATO ships in the Black Sea (Life.ru, June 30). In any case, if the Kremlin is talking in terms of a "red line" crossed, it may feel close to a casus belli situation. And if the Russian leadership perceives the US and its allies as too weak to take Russia head on militarily in the Black Sea region, Moscow may view using force as a manageable risk.