New Year, New Battles: China Does Not Plan to Give up Motor Sich?
Publication: Eurasia Daily Monitor Volume: 18 Issue: 19
By: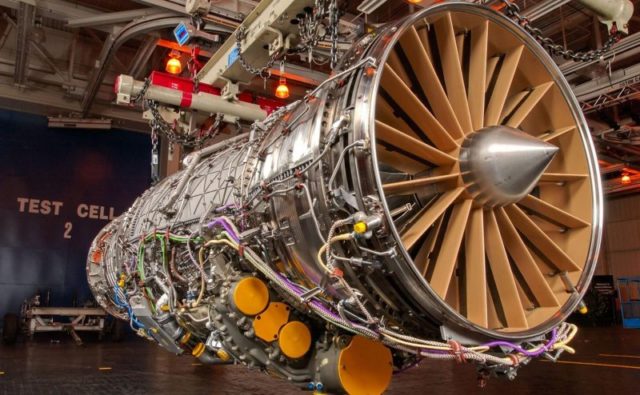 For the Ukrainian company JSC Motor Sich, one of the world's largest manufacturers of engines for missiles, helicopters and jets, the year started with new battles over ownership. Chinese investors have reinitiated their earlier efforts to take over Ukraine's top defense producer, and Kyiv is mobilizing its efforts to prevent this strategically important firm from slipping away.
On January 29, Ukrainian President Volodymyr Zelenskyy signed a decree that put into effect the decision of the National Security and Defense Council (NSDC) to impose three-year-long restrictive measures on several Chinese individuals and their affiliated businesses. Those sanctions cover Chinese citizens Wang Jing, Du Tao and Chen Hoyshen, as well as the companies Beijing Xinwei Technology Group Co., Ltd; Beijing Skyrizon Aviation Industry Investment Co., Ltd; and Skyrizon Aircraft Holdings Limited along with its parent company, Hong Kong Skyrizon Holdings Limited. Among other consequences, the adopted policies block the targeted entities' assets inside Ukraine, restrict trade operations, prevent their withdrawal of capital from Ukraine, completely ban any transactions involving securities of which they are issuers, as well as prohibit their purchase of enterprises in Ukraine (President.gov.ua, January 29, 2021).
Moreover, on January 20, the Cabinet of Ministers of Ukraine permitted the Ministry of Justice to hire lawyers to protect the state's interests in international arbitration cases initiated earlier by Chinese investors. According to Chinese shareholders of Motor Sich, since the Security Service of Ukraine (SSU) opened a criminal case into the purchase of these shares back in 2017 and the court secured the arrest of 41 percent of the stock in the company, they have not been able to manage their assets. They also stated that Kyiv expropriated their property, thus violating its international obligations under the 1992 Agreement between the government of Ukraine and the government of the People's Republic of China (PRC); they now claim $3.5 billion in compensation from Ukraine (Epravda.com.ua, January 20). Chinese stakeholders hired three leading law firms—Wilmer Hale, DLA Piper (Douglas Emhoff, the husband of United States Vice President Kamala Harris, was a partner at this firm but left prior to Inauguration Day 2021 to avoid possible conflicts of interest) and Bird & Bird—to defend their interests (Nv.ua, November 17, 2020).
China made the first move toward acquiring Motor Sich in 2009. And since then, various Chinese companies have repeatedly expressed interest in buying up shares of the Zaporizhzhia-based aerospace defense manufacturer in order to gain access to strategically important dual-use technologies critical for the Chinese military (Cepa.org, November 20, 2020). In 2016, Chinese entities bought from Vyacheslav Boguslayev (chairperson of the Board of Directors and honorary president of Motor Sich) 56 percent of the shares in the Ukrainian company. According to sources in the Ukrainian government, about 75 percent of Motor Sich's shares are presently held under Chinese ownership (Interfax, December 12, 2020). For several years, the ownership situation was placed under forced limbo by the Ukrainian authorities; but in 2020, Chinese investors began to more actively put pressure on Ukraine's financial and industrial groups. In its battle for Motor Sich, Chinese Skyrizon allied with Oleksandr Yaroslavsky, the owner of DCH Group and one of Ukraine's wealthiest men.
With support from Yaroslavsky—proficient as he is in doing business in Ukraine—the pressure on Kyiv has increased significantly (Icg.biz.ua, January 13). After several unsuccessful joint applications to the Antimonopoly Committee of Ukraine (AMCU) to purchase stakes in Ukraine's aerospace giant (DCH Group wanted to buy more than 25 percent of Motor Sich's shares), Skyrizon and Yaroslavsky went on the offensive. They launched an information campaign in Ukraine to lobby for the deal (Cepa.org, November 20, 2020). Also, in November, Yaroslavsky penned an open letter to President Zelenskyy in which he stated that the Chinese investors of Motor Sich are determined to seek justice in international arbitration and warned that (presumably without Chinese support) Motor Sich would go bankrupt soon due to lack of international sales and large-scale investment (Dch.ua, November 26, 2020).
Despite the fact that in 2020, Ukrainian-Chinese interstate relations developed noticeably more dynamically than in previous years and China remains Ukraine's number one trading partner, Chinese investors have still not gained access to Motor Sich (Silkbridge.info, January 12). In January 2021, the Shevchenkivskyi District Court of Kyiv refused to unfreeze the Chinese-owned shares in Motor Sich (Oligarh.media, January 12). But the trouble for Chinese investors did not end there. On January 19–22, Yaroslavsky was summoned by the Central Investigation Department of the SSU for questioning as a witness in a criminal case involving Motor Sich (the charges in the case include article 14 "Criminal Offense Preparation," article 111 "High Treason" and article 113 "Subversive Activity" of the Criminal Code of Ukraine) (Biz.liga.net, January 18). Moreover, Boguslayev—the long-time leader and former owner of Motor Sich who invited the original Chinese investors to Zaporizhzhia—unexpectedly came out to oppose their tandem with Yaroslavsky. In turn, the United States, which seeks to prevent China from acquiring dual-use technologies owned by Motor Sich (see EDM, September 6, 2019), recently added the Chinese firm Skyrizon to its Military End-User (MEU) restrictive list for "its capability to develop, produce, or maintain military items, such as military aircraft engines" (Unn.com.ua, January 16, 2021).
But Yaroslavsky and his Chinese partners are unlikely to give up. They have decided to totally upend the top management of Motor Sich and announced plans to fill more than ten high-level corporate vacancies (Mc-osa.com.ua, accessed January 22). Apart from this, they tried to hold an extraordinary shareholders' meeting on January 31, but that initiative was scuppered by the SSU's investigative actions (Ukrinform.ua, January 31).
Recent events highlight that the struggle for Motor Sich is far from over. For Ukraine, the threat of paying $3.5 billion in fines to China is frightening. But the possible transfers of the aerospace manufacturer's ownership and proprietary dual-use technologies to Beijing pose an even a larger threat. The strategic and technical potential of Motor Sich is vital to Ukraine's national security. The company produces 28 different types of engines, which are installed on Mi- (Mil Mi-2, Mil Mi-8/17 and variants, Mil Mi-24, Mi-28) and Ka-series (Ka-27/32, Ka-52) military helicopters as well as Antonov An-26, An-72, An-74, An-124 Ruslan and An-225 (Mriya) planes. Although the Chinese market may look lucrative to Motor Sich, the negative side of such a deal should not be overlooked.