Nigerian al-Qaeda Affiliate Resumes Propaganda Campaign
Publication: Terrorism Monitor Volume: 20 Issue: 10
By: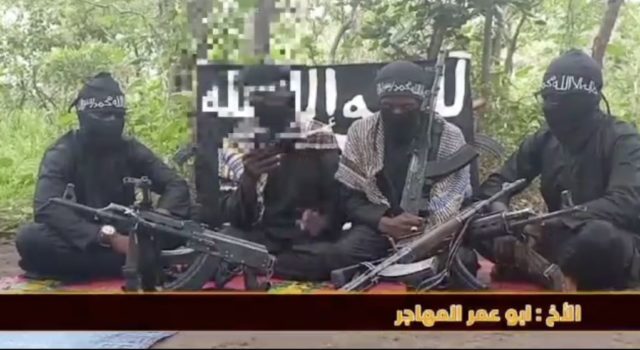 Jama'at al-Ansar al-Muslimeen fi Bilad al-Sudan (Ansaru) is a Nigerian jihadist group affiliated with al-Qaeda that operates in northwestern Nigeria. The group was formed between November 2011 and January 2012 by Boko Haram defectors and with the approval of al-Qaeda in the Islamic Maghreb (AQIM). After about a year of activity, Ansaru ceased activities entirely around January 2013 and became a clandestine and dormant group. In January 2020, Ansaru resumed its armed operations and then continued military activities, including most prominently attacks in Kaduna and Yobe states in February and in Kaduna State in August (Vanguard Nigeria, August 8, 2020; DailyPost Nigeria, February 5, 2020).
As for propaganda activities, between May 2019 and August 2020, Ansaru created its official media wing, al-Yaqout Media, and established channels on Telegram and Rocket Chat – claiming several operations through pro-al-Qaeda media channels. [2] Since then, however, the group's media mostly became inactive until the end of 2021. In 2022, Ansaru has continued recruiting, resumed military operations — in particular against bandits, and approached communities in the areas where it operates while also confirming its ties with al-Qaeda.
Ansaru's Propaganda Revival
After a hiatus of more than a year, on November 29, 2021, a 22-minute al-Yaqout Media video appeared on local media channels, although it was probably released in error because it referred to a message for the Eid al-Fitr six months into the future in May 2022 (Telegram, November 29, 2021). In the video, the speaker mentioned several prominent al-Qaeda leaders, including Osama bin Laden, Ayman al-Zawahiri, Abu Yahya al-Libi, Ibrahim al-Qosi, Abdelmalek Droukdel, and Abu Musab al-Zarqawi, and showed images of ideologues, such as Anwar al-Awlaki, Abdullah al-Azzam, and Mohammad al-Maqdisi. These citations and the message transmitted indicated that the group is strongly tied to al-Qaeda, while strong condemnations against Boko Haram revealed the group's distance from its parent group.
On December 18, 2021, Ansaru, through al-Yaqut Media, returned to publishing with a four minute video in which the group congratulated the Taliban on their victory in Afghanistan (Telegram, December 18, 2021).  In addition, images of training and military operations were shown. Subsequently, on December 31, 2021, al-Yaqout Media Center released an official statement in which it recounted its origins and announced that it swore allegiance to AQIM in 2020. The statement noted that Ansaru's fighters were previously part of Boko Haram but abandoned the group due to the extremism and deviance of its leader, Abubakar Shekau. Finally, Ansaru stated that the group is committed to "defence and jihad by fighting the hateful disbelievers and renegade apostates."
On January 14, Ansaru's media activity continued with an announcement that al-Yaqout Media will become part of al-Qaeda's global media network and will be managed by the Global Islamic Media Front (GIMF) (Twitter/Daniele Garofalo, January 14). The announcement not only placed Ansaru's propaganda within al-Qaeda's global propaganda machine, but also raised its quality and expanded its circulation insofar as it would be published thereafter in both Arabic and English, and later also translated into French. Two days later, on January 16, al-Yaqout Media through GIMF released a claim and photo set for the first time, showing Ansaru announcing a military operation in Kaduna State against local bandits, who they killed (Twitter/Daniele Garofalo, January 16). Then, on January 21, Ansaru, again via GIMF, released a new statement with a photo set of a military operation conducted a few days earlier, again in Kaduna State, in which the group announced that it had killed 15 burglars belonging to a group of local bandits and seized their motorbikes and weapons (Twitter/Daniele Garofalo, January 21).
Another new publication was released on March 30, when al-Yaqout Media via GIMF issued a long statement announcing the start of a periodic bulletin (Twitter/Daniele Garofalo, March 30). The first issue, released exclusively in Arabic, was titled "Why to Join Jama'at Ansar al-Muslimeen fi Bilad al-Sudan" and was intended to be continued in May. Ansaru stated that people should join Ansaru because it learned from the mistakes of the 1990s-era Armed Islamic Group (GIA) in Algeria and Shekau in Nigeria and was now following a more correct path. The publication mentioned the importance of al-Qaeda's decentralization, which provides affiliates with general objectives to follow. Ansaru, therefore, proudly showed itself as an al-Qaeda group in Nigeria and was trying to recruit accordingly.
On April 9, Ansaru returned to publishing claims in Arabic and English and disseminating photo sets. On April 7, two large operations against bandits in the Birnin Gwari and Tun Sado areas of Kaduna and Zamfara states, northern Nigeria, were respectively published. It then showed photos of several bandits the group killed and announced that it had also killed the bandits' leader and seized the bandits' weapons, ammunition, and motorbikes (Twitter/Daniele Garofalo, April 9, 2022).
On May 4, Ansaru published the first issue of its periodic bulletin "Sawt al-Qara'a al-Samra'a" ("The Voice of the Dark Continent [Africa])," which was translated into English and consisted of 10 pages, including two editorials. The first was titled "Why join Ansaru?" and the second was about the importance and advantages of decentralizing al-Qaeda (these editorials were already seen in the late March publication, but now translated into English). The first editorial critiqued Shekau's theology and Boko Haram, which was useful for recruiting that group's defectors who do not want to join Islamic State in West Africa Province (ISWAP). The second editorial on "The Decentralization of al-Qaeda," which was a translation from the English publication of March 30, underscored that affiliates follow the line dictated by al-Qaeda Central, but have operational autonomy. In this way, any errors committed by affiliates are not attributable to the mother organization or the responsibility of the al-Qaeda's own leaders.
Conclusion
Ansaru claims to be "the vanguard for the protection of Muslims in black Africa" and promises to restore the "dignity of Muslims" in that area, which broadly refers to the pre-colonial Sokoto Caliphate in present-day Nigeria. The group also criticizes the indiscriminate killing of civilians committed by Boko Haram and maintains a very strong link with al-Qaeda, and has conducted a low-profile media strategy primarily focused on the several operations it has conducted. Although in the past Ansaru has been described as possibly coexisting with militants in northern Nigeria, Ansaru's operations have proved otherwise because it has attacked militants. Moreover, although Ansaru has actually been accused of conducting attacks, robberies, and kidnappings for extortion, it is possible these operations were not committed by Ansaru, but by the various militant groups present in northwestern Nigeria and wrongly attributed to Ansaru (Premium Times Nigeria, April 7; Daily Nigerian, April 6).
Ansaru's connection to al-Qaeda Central and the entry of Ansaru's media into the global al-Qaeda publication ecosystem will shape Ansaru's future operations. A continued increase in publications and claims, with photos of the group's operations in states where it is active against bandits and criminal groups is likely in the coming months. It is also probable that in the medium term, should Ansaru succeed in recruiting new members and finding local support, Ansaru itself will expand its operations and follow the guidelines provided by al-Qaeda Central and AQIM.
Notes
[1] To view all claims from the period cited see Global Islamic Media Front (GIMF) – Ansaru Photos (and subsequent claims) – October 27, 2019, onward:
https://unmaskingbokoharam.com/2019/12/15/global-islamic-media-front-gimf-ansaru-photos-october-27-2019/