Pakistan Braces for U.S. Withdrawal from Afghanistan through Extra-Regional Partnerships
Publication: Terrorism Monitor Volume: 19 Issue: 14
By: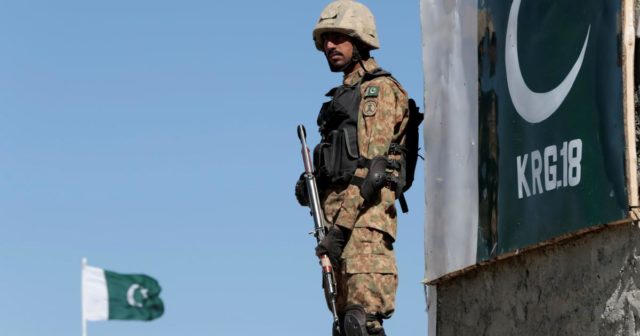 While the United States is expected to withdraw its forces from Afghanistan well before its September 11 deadline, the countries bordering the violence-plagued nation are enhancing their capacity to combat a potential new wave of terrorism. The chaos emanating from Afghanistan poses a large security challenge to Pakistan, since a complete collapse of the country could provide further safe haven to Tehreek-e-Taliban Pakistan (TTP) and Islamic State Khorasan Province (IS-K) (Dawn , July 26, 2020). The TTP's attacks inside Pakistan have surged since May 1 when U.S and NATO forces commenced their withdrawal from Afghanistan. For example, on May 5, four Pakistani soldiers were killed and six were injured on the Pakistan-Afghanistan border in the Baluchistan region when TTP militants opened fire from Afghan territory (Dawn, May 5).
The TTP leadership had been on the run since 2014 when Pakistan launched the Zarb-e-Azb operation across Pakistan, including its border areas with Afghanistan. The operation dismantled TTP networks in Pakistan, resulting in it breaking into different factions. The TTP's leadership along with several local commanders then took refuge in Afghanistan (Dawn, April 23). Without U.S. forces in Afghanistan, terrorist groups like the TTP will experience fewer checks on their operations and the instability in the country will likely act as a catalyst for their militant activities.
 Pakistani Foreign Policy's Major Shift from the U.S. to Russia 
In the wake of the U.S. withdrawal, Pakistan's foreign policy has undergone a major shift vis-a-vis Afghanistan. Islamabad has categorically refused to host any American bases on its territory for CIA counter-terrorism operations inside Afghanistan (Dawn, June 19). Pakistan is reluctant to fight a U.S. proxy war in the country, with officials often citing the 70,000 Pakistani deaths that have come in the past two decades of war. Islamabad has declared that Pakistan will be a "partner in peace, but not in conflict" (Express Tribune, July 1).
While distancing itself from Washington, Islamabad has been growing its ties to Moscow. Russia has pledged to strengthen Pakistan's counterterrorism capacity by supplying it with military equipment (The News, April 8). Relations between Pakistan and Russia have witnessed a slow but steady improvement since 2011, when U.S-Pakistan ties reached their nadir following the killing of Osama Bin Laden in a U.S. raid inside Pakistan. Afterwards, Pakistan began looking toward Russia to diversify its foreign policy options. The two countries gradually became closer after finding common grounds for mutual cooperation and joint ventures. In 2016, for example, Moscow for the first time sent troops to Pakistan to hold joint exercises with Pakistani forces (Express Tribune, April 11).
Afghanistan was also on top of the agenda in Moscow-Islamabad talks during a two-day visit to Pakistan on April 7-8 by Russian Foreign Minister Sergey Lavrov. The Russian foreign ministry stated, "Today Pakistan is an important foreign policy partner of our country….The cooperation between Moscow and Islamabad is based on the similarity of positions on most of the problems of the world community, including issues of strategic stability and countering terrorism" (Dawn, April 7). Accordingly, the Russia-Pakistan relationship is likely to strengthen following the U.S. withdrawal from Afghanistan.
Pakistani's Defense Cooperation with Turkey, Saudi Arabia, UAE, Qatar, Tajikistan and Azerbaijan 
Pakistan is also looking toward other countries outside its own region to strengthen defense ties and extend cooperation in counterterrorism. The country's army chief, General Qamar Javed Bajwa, is playing a particularly proactive role in strengthening regional cooperation. In 2019, Prime Minister Imran Khan decided to extend the tenure of General Bajwa for another three years in view of his performance and the regional security environment (Dawn, August 19, 2019).
In June, Tajikistan President Emomali Rahmon signed a defense deal with Pakistan during a visit to Islamabad. Under the deal, Tajikistan agreed to buy Pakistani weapons to bolster strategic cooperation. Prime Minister Imran Khan stressed the need to enhance cooperation in counterterrorism between the two countries, which both border Afghanistan, in the wake of the U.S. military withdrawal from the country. Khan stated, "Peace in Afghanistan is important for both trade and connectivity. Both countries would suffer if the withdrawal of U.S. forces leads to anarchy" (Dawn, June 3).
Pakistan has also trained military officers from Tajikistan and has offered to train more Tajikistani officers and assist in growing the country's military capabilities. Both countries are working on a number of projects, including the $1.6 billion electricity transmission Central Asia-South Asia 1000 (CASA 1000) project and the Trilateral Transit Trade Agreement for Tajikistan, Afghanistan, and Pakistan (Dawn, March 31). Stability in Afghanistan is, therefore, a shared interest of Tajikistan and Pakistan.
Pakistan and Saudi Arabia have also traditionally been strong military allies. Islamabad has always been open to military cooperation with the Saudis. Even Riyadh chose Pakistan's former army chief, General Raheel Sharif, as Commander of the 41-country, Saudi-led coalition, Islamic Military Counter Terrorism Coalition (IMCTC) (Arab News , February 11, 2019). More recently, in May, Pakistan's army chief, General Bajwa, visited Saudi Arabia and held a meeting with the Chief of Staff of the Saudi Armed Forces, General Fayyadh Bin Hamed al-Ruwaili, in Riyadh. The two military leaders agreed to further enhance military-to-military cooperation and also discussed "matters of mutual interest, the regional security situation including Afghan Peace Process, defense and security, and military-to-military cooperation" (The News, May 5). Pakistan has also been providing training to Saudi soldiers and pilots, while Saudi Arabia was the largest importer of arms and ammunition from Pakistan in 2016, when it purchased small and medium conventional weaponry worth millions of dollars (Dawn, February 18, 2019). The relationship, however, was tested in August 2020, when Islamabad publicly criticized the Saudi-led Organization of Islamic Cooperation (OIC) for failing to take action against India's decision to strip the state of Jammu and Kashmir of special constitutional status. In retaliation, Saudi Arabia demanded the early repayment of $3 billion in loans. Pakistani officials later walked back the statement and relations appear to now be at an even keel (Aljazeera.com, August 28, 2020).
Furthermore, Pakistan has a time-tested military relationship with the UAE, which has one of the most advanced defense industries in the Arab world. Pakistan's key role in training and equipping the UAE military, including its fighter pilots, has provided a strong basis for their bilateral military ties. In 2018, the UAE military for the first time participated in the Pakistan National Day parade in Islamabad (Khaleej Times, March 25, 2018). In 2020, however, bilateral ties were strained by geopolitical developments. The UAE's recognition of Israel and Pakistan's stance against the country created misunderstandings, which were ultimately resolved by diplomatic efforts from both sides. Islamabad considers its relations with UAE quite important, as the UAE is home to 1.5 million overseas Pakistani workers (Dawn, December 22, 2020).
Turkey, meanwhile, is expected to deliver 30 Turkish-made T129 ATAK helicopters to Pakistan this year. The $1.5 billion helicopter deal, which is the largest ever Turkish-Pakistani defense contract, was originally signed in July 2018. In March, Islamabad provided Ankara a six-month extension for delivering the helicopters. However, it was delayed because the United States refused to issue export licenses for engines and other parts made in the U.S. (Dawn, March 17). The T129 helicopters, which have been effectively used by the Turkish army in operations against Kurdish rebels in Turkey, Iraq, and Syria would further strengthen and enhance Pakistan's counterterrorism potential. Turkey has also further upgraded 41 F-16 fighter jets for the Pakistani Air Force (Daily Sabah, July 4, 2019).
Pakistan and Qatar also enjoy cordial military ties. Pakistan has offered to train the Qatari Armed Forces to strengthen military ties. General Bajwa visited Qatar in January and discussed bilateral cooperation in defense during a meeting with the highest levels of the Qatari leadership (The News, March 3). Qatar hosts the official offices of Taliban leaders and was the venue for U.S.-Taliban talks that began in July 2018. As Qatar maintains a friendly relationship with the Taliban, it played a role as a mediator during peace negotiations between the Taliban and the U.S. The Taliban trust the Qatari authorities and are known to listen to their advice (Geo TV, May 14, 2019).
Lastly, during his two-day visit to Azerbaijan in June, General Bajwa held meetings with senior military leaders. Bajwa stated, "The emerging geo-strategic paradigm in the region necessitates our close cooperation and collective response against common challenges" (Express Tribune, June 23). In October 2020, Armenian Prime Minister Nikol Pashinyan claimed that Pakistani special forces were fighting alongside the Azerbaijani army against Armenia in their conflict over the disputed Nagorno-Karabakh region. Islamabad, however, rejected the claim as "baseless and unwarranted" and supported Azerbaijan's right to self-defense (Dawn, October 17, 2020). Some analysts in India wrote that Pakistan might have extended some support to Azerbaijan in the hope that Turkey would likewise support Islamabad's position on the Kashmir issue (Times Now News, September 29, 2020).
Conclusion 
Pakistan's foreign policy has undergone a major shift as the U.S. withdraws from Afghanistan. Rapidly changing geopolitical realities and shifting alliances in the region have brought Cold War rivals, such as Russia and Pakistan, together. Similarly, Pakistan's policy of strengthening counterterrorism cooperation with other extra-regional countries may pay long-term dividends in combating Afghanistan-based terrorist groups, such as the TTP, which is rapidly expanding its influence and operations across the region. Along with its closest ally, China, Pakistan will also be backed by Russia in its counterterrorism strategy for post-U.S. Afghanistan.