PLA Navy Expands Recruitment Drive to Enhance Operational Capability
Publication: China Brief Volume: 11 Issue: 9
By: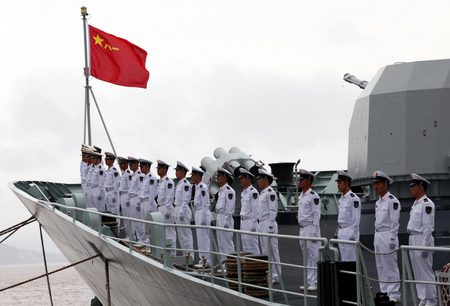 China's expanding maritime interests require a navy capable of executing a diverse range of missions at greater distances from Chinese territorial waters. While the PLA Navy (PLAN) has made significant progress in modernizing its forces in terms of developing new platforms and weapon systems, these assets require a highly educated and capable corps of personnel to operate and turn into an effective force. This is a shortcoming that even senior Chinese military officers have acknowledged. The point was not lost in the PLA Navy's reforms, which appears to be stepping up its efforts to recruit new talents and educate personnel to operate its impressive array of new vessels and weapon systems. At a recent military conference, a senior Chinese naval officer highlighted the progress that the PLAN has made in recruiting and educating its personnel over the past five years under the 11th Five-Year Plan (2005-2010), and outlined a set of ambitious benchmarks for the five years ahead. The strategic development in education and recruitment of navy personnel appears to be a major thrust of PLA Navy modernization, which will enhance the PLAN's long-term operational capabilities (Wen Wei Po [Hong Kong], May 10; Global Times; May 11).
At the conference on talent development, Xia Ping, head of the Navy Personnel Department, stated that the PLA Navy is seeking to recruit more than 2,000 Ph.D. degree holders in the next five years. Without identifying specific types of vessels or responsibilities, Xia revealed that between 2005 and 2010 the PLA Navy had cultivated "more than 1,000 commanders and technical personnel to develop and operate new batches of marine weaponry," which reportedly include "large surface combat ships, nuclear submarines and new warplanes." A researcher at the Chinese Naval Research Institute, Li Jie, cited by Global Times, explained that a large-scale naval surface force could refer to heavy-tonnage vessels including cruisers, amphibious assault ships, destroyers and aircraft carriers. Xia lamented that back in 2001, the Chinese navy had only one commander with a Ph.D. degree, but during the 11th Five-Year Plan, the Navy cultivated about 100 commanders with Ph.D.s and Masters degrees, who have enhanced the Navy's military training, live fire exercises, joint training, warship visits and far sea missions (Wen Wei Po, May 10; Global Times, May 11).
According to Xia, in the 11th Five-Year Plan, the Chinese navy admitted more than 20,000 officers from military and civilian academic institutions, and sent them to the Navy's surface warship, subsurface, naval aviation, marine and coastal defense units. In the 12th Five-Year Plan, the Chinese navy plans to train over 2,000 Ph.D.s, which means that around 20 percent of officers will hold graduate degrees. Furthermore, corps-, division-, and regiment-level level officers will have to receive 2-3 levels of professional military education (PME) as they rise up the ladder. Ostensibly, this education regimen is considered necessary for officers to develop a command of informationization, system warfare and to raise the Navy's capabilities to conduct informationized warfare (Wen Wei Po, May 10; Global Times, May 11).
In the past five years, the Chinese navy directly recruited over 7,000 enlisted personnel from around 400 some technical institutes across the country's 20 provinces (Wen Wei Po, May 10). Moreover, the Navy relied on academies (yuan xiao) to train more than 11,000 noncommissioned officers. Consequently, the noncommissioned officers' education level and professionalism have significantly improved. Currently, noncommissioned officers make up about 70 percent of all enlisted personnel in the Navy, and 83 percent of all enlisted personnel deployed on surface vessels (Wen Wei Po, May 10).
Xia stated that between 2005 to 2010, the PLA Navy recruited nearly 1,000 enlisted personnel from civilian colleges at the undergraduate level and above. Every year the Navy will select from these enlisted personnel a proportioned amount to rise through the ranks and go through military academy training. After qualifying through tests, these enlisted soldiers will become part of the officer corps. Starting this year, the Navy will select enlisted soldiers who already have a degree from a civilian academy to become pilots; after they attend flight school, they will be deployed to aviation units as pilots (Wen Wei Po, May 10).
The PLA Navy's codification and standardization of its recruitment and training process appear aimed at enhancing its operational capability. Indeed, the PLAN's future operational effectiveness depends just as much on expanding and cultivating its human resources as developing new platforms, which require experienced pilots and commanders to operate. The standardization of recruitment practices and PME in the PLA Navy are also indicative of new levels of professionalism, but one needs to be careful in applying Western standard of PME on the PLA, which differ both in terms of length and programs. Nevertheless, the apparent increase of noncommissioned officers in the PLAN seem to signal the growing role of the Navy in the Chinese armed forces. These initiatives, in the long-run, could greatly enhance the operational capabilities of the PLAN.
[Ed. note: This article was revised and updated on May 27, 2011. The author would like to thank Ken Allen and Tiffany Ma for their comments.]