Russia Pushes Hard to Capture South Caucasus' Energy Markets
Publication: Eurasia Daily Monitor Volume: 13 Issue: 13
By: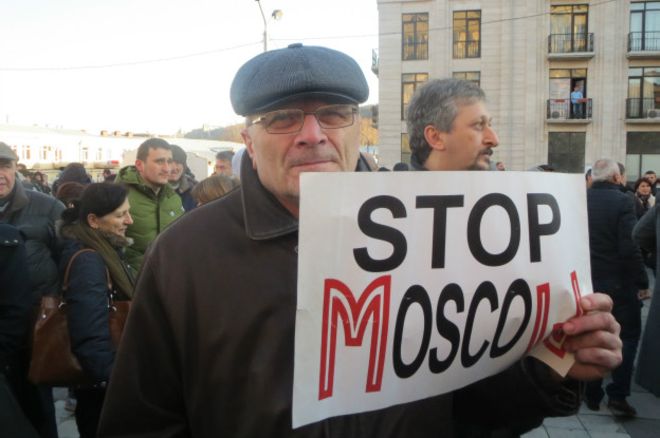 Tbilisi and Moscow's negotiations over the expansion of Russian Gazprom's share of the Georgian energy market heightened the political fever in the country over the last several weeks. The negotiations that started largely in secrecy in September 2015 (see EDM, October 21, 2015), have continued in January of this year.
The opposition accused the Georgian government of collaborating with Moscow by opening the door for the state-owned natural gas giant Gazprom to significantly boost its operations in Georgia and allegedly again make the country dependent on the Russian energy company (Rustavi 2 TV, Imedi TV, January 8–18). Some even held a protest in front of the government headquarters, in Tbilisi, demanding a stop to the negotiations (Argumenti.ge, January 16).
The Georgian government tried to justify itself, stating several times that Azerbaijani natural gas, which supplies 88 percent of Georgia's needs, is not enough to satisfy Georgia's increased demands (Civil Georgia, January 18). Azerbaijan, however, asserted that Baku can fully meet Georgia's needs (Rezonansi, January 13).
According to Georgian officials, the government is holding negotiations with Russia on two issues: first, the transit of Russian gas to Armenia via Georgia, which involves a Russian demand to pay cash as a transit fee instead of giving Georgia 10 percent of the transported gas (as it is today), and second, Tbilisi's plan to fill the gap between its supply and demand by buying additional Russian gas (Channel 1 TV, Rustavi 2, January 5–18). The Georgian government also strongly denied the opposition's claims that it is holding negotiations in secret, instead arguing that the information was fully available to the public. The United States' embassy in Georgia somewhat sided with the Georgian government on this, as well as on the entire energy negotiations. US Ambassador Ian Kelly stated that the Georgian government has been "very open" with the United States about the negotiations with Gazprom and further argued that as "Georgia does have a short term energy need… it's prudent to talk to all potential energy suppliers" (Civil Georgia, January 18).
Whatever the Georgian government's intentions, its stated position is only one part of the story. Fixating on it while ignoring the Russian side's goals risks offering only a simplistic explanation to the larger geopolitical strategy that is unfolding in the South Caucasus. Notably, after losing the dominant role on the European energy markets, Russia has been attempting to strengthen and cement its position across the post-Soviet space. Georgia is one important piece in this configuration. Strategically bordering every state and political entity in the wider Caucasus region, Georgia is thus of a vital importance for Russia, particularly as it attempts to reach its satellite Armenia unhindered.
Whether Russia somehow threatened the Georgian government to bring it to the negotiating table is another question. It feasibly could have done so, especially via some back channels. Russia's large-scale military drills in occupied Tskhinvali region (South Ossetia) since mid-December 2015 to mid-January of the current year (Interpressnews.ge, December 12, 2015, January 14, 2016) are one indication that Moscow is deliberately keeping Tbilisi under pressure.
Overall, Russia is clearly playing a double game in the region. On the one hand, it tries to lock the South Caucasus states of Georgia and Armenia into joint energy projects with Moscow. For instance, in December 2015, Russia, Georgia, Armenia and Iran signed a memorandum to cooperate in synchronizing these four countries' electricity transmission systems (see EDM, January 4; Armenpress.am, December 23, 2015). Needless to say, Russia certainly would welcome the establishment of a single energy corridor stretching from the Black Sea to the Persian Gulf. Such an outcome would gain even greater significance if Russia and its client regime in Damascus prevail in the Syrian civil war, thus leaving Russian in a much stronger position in the entire Middle East.
On the other hand, Russia wants to maintain the South Caucasus market only for itself and keep Iran at bay. For instance, Moscow is trying to take control of Iranian gas deliveries to Armenia (TASS, December 10, 2015), which could ultimately undermine Georgia's recent attempts to import Iranian gas via Armenia (Verelq.am, January 14). Russia may even offer Georgia natural gas at lower prices than the State Oil Company of Azerbaijan Republic (SOCAR) does, just to lure in Tbilisi (Armenianow.com, January 13).
The Russian-Georgian and Russian-Georgian-Armenian-Iranian energy negotiations certainly are a geopolitical (and economic) blessing for Yerevan. Armenia has been isolated and sidelined for a quarter of a century from any such projects because of the war over the Karabakh region and the subsequent Azerbaijani-Turkish embargo. However, the Georgian-Russian rapprochement, which now is rapidly expanding into the energy sphere and increasingly includes Armenia, is not being viewed as good news in Azerbaijan. If ultimately successful, this rapprochement and resulting joint projects would help Armenia break its regional isolation and gradually pull Georgia back under Russia's economic influence. Eventually, such a reshaping of the geopolitical and geo-economic environment would most probably weaken Azerbaijan's position in the region. Undoubtedly conscious of the dangers of such an outcome, Azerbaijani energy officials have repeatedly stated that their country can fully satisfy Georgia's natural gas needs. On January 13, SOCAR President Rovnag Abdullayev even visited Tbilisi and held talks with Prime Minister Giorgi Kvirikashvili about this matter (Contact.az, January 14).
So far, the Russian-Georgian energy negotiations are continuing. And it looks as if Georgia may, indeed, opt to expand its natural gas trade with Gazprom, even though 20 percent of this country remains under Russian occupation since 2008. However, the negotiations between Gazprom and Georgia could have much larger geopolitical repercussions for the entire South Caucasus, gradually altering the balance of power in the region. The following years will offer a much clearer picture of what today's Russian-Georgian negotiations really mean for the volatile Caucasus.