Transnistria Moves Toward Russia Despite Talk of Rapprochement With Moldova
Publication: Eurasia Daily Monitor Volume: 13 Issue: 66
By: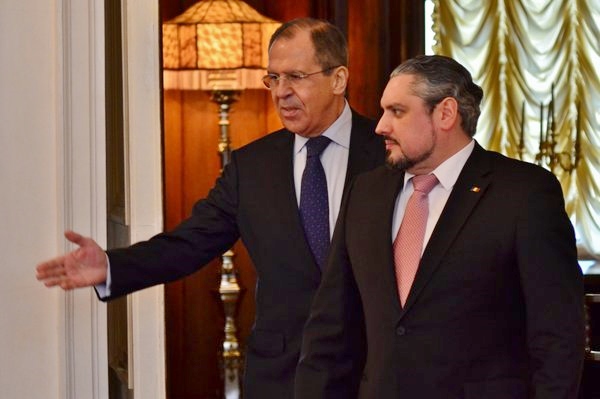 Moldovan Deputy Prime Minister Andrei Galbur, who also serves as the minister of foreign affairs and European integration, paid a working visit to Moscow, on April 4–5. Just days before, the Moldovan parliament approved a controversial declaration proclaiming "the inviolability, sovereignty, independence and permanent neutrality of Moldova" (Jurnal.md, March 31). This way, the Moldovan leadership hopes to improve economic and political ties with Russia. Ironically, one day later, on April 1, Moldova's Deputy Foreign and European Integration Minister Lilian Darii summoned the Russian ambassador to Moldova, Farit Mukhametshin, following media reports that the Russian Army had been recruiting Moldovan residents in Bender, Transnistria (Deschide.md, March 31; TASS, April 1). Furthermore, the so-called prime minister of Moldova's breakaway Transnistrian region, Pavel Prokudin, led a delegation to Moscow on March 24, with the goal of boosting exports to Russia, which have dropped tenfold in the last decade to a mere 7.5 percent (Novosti Pridnestrovya, March 25; RIA Novosti, March 25). Transnistria continues to seek closer integration with both Russia and the Eurasian Union.
Falling remittances and exports, including a lower price for electricity that Moldova buys from Transnistria, precipitated a currency crisis in the breakaway region (Regnum, March 10; Publika, March 26; TCV, March 26). The head of the local "Central Bank," Eduard Kosovskiy, warned of a looming 30 percent depreciation of the Transnistrian ruble (Regnum, March 22). Transnistria's local economy has been struggling for some time. Salaries and pensions have been cut, and now real wages are going to shrink even further. These conditions have contributed to the opposition winning a constitutional majority in the separatist regions' legislative elections on November 29, 2015. Furthermore, lack of progress makes the sitting "president," Yevgeny Shevchuk, an easy target in the presidential race scheduled for December 11. Even though he defeated Anatoliy Kaminski, who was supported by Moscow in the 2011 election; this time around, Shevchuk's only chance of staying in power is a strong endorsement from the Kremlin. Yet so far, his main competitor, Vadim Krasnoselski, elected with the backing of the opposition Obnovleniye party to become "parliament" speaker, seems to have the upper hand in courting that endorsement. On February 17, Krasnoselski led a "parliamentary" delegation on a four-day working visit to Moscow, striking a partnership agreement between Obnovleniye and the ruling United Russia party (TCV, February , 17; 20). Krasnoselski even met with Russian Deputy Prime Minister Dmitry Rogozin, an honor previously bestowed only upon Shevchuk, prompting journalists to quip about the start of the Moscow primaries (Newsmaker, March 3).
Meanwhile, in Chisinau, the ruling social-democrat faction (Democratic Party and 14 Communist defectors) allied itself with the Communists and Socialists from the opposition to approve a largely symbolic declaration reaffirming Moldova's sovereignty and constitutional neutrality (Jurnal.md, March 31). The move is as much an attempt to please Moscow as it is a warning for those supporting Moldova's reunification with Romania (see EDM, February 9). Seemingly in response, the story about the Russian Army recruiting openly in Transnistria suddenly hit the press. These allegations against Russia are not a new revelation. But the fact that the story made the news again in the past week suggests it was likely orchestrated as a response by the pro-unionist camp, particularly the Liberal Party. This member of the Moldovan government had earlier nominated the current head of the country's Information and Security Service (SIS), Mihai Balan. And Balan, in turn, was likely the source for the leaks to the media of the photos and details pertaining to Russia's alleged recruitment activities in Transnistria (Deschide.md, March 31). An alternative explanation posits that Moldova's ruling majority used this opportunity in an attempt to increase in Chisinau's leverage vis-à-vis Moscow ahead of Deputy Prime Minister Galbur's visit to the Russian capital. Russian authorities have not presented a response so far.
As of late, attempts by the Moldovan leadership to improve relations with Russia are apparently being reciprocated by Moscow. The recent visit by the Russian State Secretary for Foreign Affairs Grigoriy Karasin to Moldova and plans for a visit by Russian Deputy Prime Minister Dmitry Rogozin indicate that Russia may be finally reconsidering its strategy in Moldova (Kommersant, March 31). Now that Russia is facing international isolation and major economic difficulties, it has been suggested that the Kremlin is looking for a way out and would support a special status for Transnistria within Moldova's recognized borders. Such a proposal—unlike the 2003 Kozak Memorandum, which called for an asymmetric federalist arrangement—may be acceptable to Moldova. Russia's cost of subsidizing Transnistria, including the natural gas that Tiraspol does not pay for, has been estimated at about $1 billion per year (Europalibera.md, April 4). Hence, finding a mutually acceptable solution would not only save Moscow valuable resources, but would de facto increase Russian leverage over the reintegrated Moldova, as Transnistrian voters would inevitably remain strongly pro-Russian.
Yet, any real discussion about a potential reintegration remains premature. The 5+2 negotiations format over Transnistria, likely to be renewed soon, will offer some clarity as to whether there is any promise for a way forward or if everything will remain just business as usual. On one hand, Valeriy Litskai, a former negotiator for Tiraspol and the current advisor to parliamentary "speaker" Krasnoselski, has expressed optimism about Transnistria becoming a platform for finding mutual understanding between Russia and the European Union—particularly in light of Germany's chairmanship of the Organization for Security and Cooperation in Europe (OSCE) this year (Newsmaker, April 1). And such optimism was echoed by Moldova's Foreign Minister Andrei Galbur when he told his Russian counterpart, Sergei Lavrov, "Moldova should not serve as a field of geopolitical confrontation, but rather can become a platform for cooperation" (Mfa.md, April 4).
However, there are plenty of reasons to be skeptical. The "presidential" race in Transnistria, which is essentially a competition about who is more pro-Russian, is not at all conducive to reintegration. Neither is the presidential election in Moldova. In fact, Moldova's approach of avoiding the Transnistrian issue in public discourse and strictly focusing on the diplomatic route can only contribute to an already volatile political situation in the country. Little evidence exists for the painstaking work that would be needed to create fertile ground for reintegration, especially as it pertains to the public discourse on both sides of the conflict.