Ukraine's Naftohaz to Sue Russia Over Crimean Assets
Publication: Eurasia Daily Monitor Volume: 12 Issue: 206
By: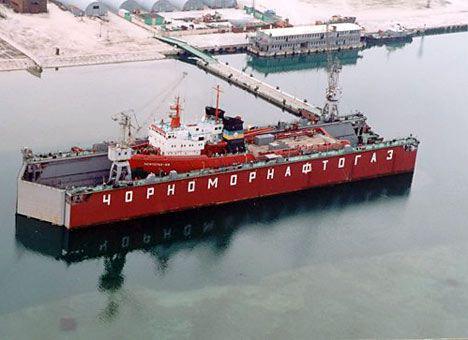 The Ukrainian national oil and gas company, Naftohaz Ukrainy, plans to sue Russia over the assets lost in Crimea following the peninsula's annexation by Russia last year, Naftohaz CEO Andry Kobolev said on November 4 (Interfax, November 4). The seizure by Russia of Chornomornaftohaz, Naftohaz's subsidiary for oil and gas deposits in the Black Sea and the Sea of Azov, dashed Ukraine's plans to increase domestic gas production with the help of foreign investment into offshore deposits. This would have allowed Ukraine to further diminish the country's dependence on Russian gas. Naftohaz will be filing its lawsuit separately from the Ukrainian government, which mulls suing Russia over Crimea at the European Court of Human Rights (ECHR).
Naftohaz is seeking approval from the Ukrainian Cabinet of Ministers to hire a law firm with "roots" in the United States to represent the energy company in court, said Kobolev. He neither named the firm nor said in which court the proceedings would be instituted. Kobolev did acknowledge that Naftohaz would file its lawsuit separately from the Ukrainian Ministry of Justice, which wants to sue Russia over Crimea's annexation in the ECHR. The justice ministry, rather than Naftohaz, is supposed to sue Russia over the offshore deposits lost near Crimea because Naftohaz has no legal rights to those deposits, Kobolev said (Interfax, November 4).
The previous (pre–Maidan revolution) Ukrainian government planned to attract big Western investors into offshore oilfields. In 2012, it awarded the rights to develop the Skifska field in the Black Sea to an international consortium led by Shell and ExxonMobil. However, Shell pulled out of talks with the government on a production sharing agreement (PSA) for the Skifska field last year. Shell said it exited the talks in January 2014, but the announcement from Shell came in March, when Russia annexed Crimea. ExxonMobil said the Ukrainian crisis prevented the project from moving forward (Kyiv Post, Naturalgasintel.com, Reuters, March 19, 2014). Skifska had been expected to produce three to five billion cubic meters (bcm) of gas per annum once put into operation. For comparison, Ukraine imported 20 bcm of gas in 2014.
The Italian company Eni signed a PSA with Kyiv, in November 2013, to develop an offshore area in the eastern part of the Crimean Peninsula (Eni.com, November 27, 2013). The PSA is now in limbo. Kyiv also offered investors another Black Sea field, Foroska, but that project will be on hold for the indefinite future. Without Crimea, Ukraine's gas production fell by almost 5 percent, to 20.5 bcm last year.
Naftohaz's claims will regard mainly Chornomornaftohaz, whose assets Naftohaz estimated at more than $600 million, as of the end of last year. Two semi-submersible jack-ups, which the Singaporean company Keppel FELS built in 2011–2012, are apparently Chornomornaftohaz's most valuable assets. The two jack-ups cost Ukrainian taxpayers $400 million each; at that point, government opponents claimed they were overpriced. In addition, Naftohaz's own property in Crimea is estimated to equal some $260 million, so the Ukrainian energy giant's claims to Russia may total up to $900 million (Apostrophe.com.ua, November 4). In the company's financial report for 2014, which it issued this past September, Naftohaz attributed $870 million out of its total losses last year of $3.9 billion, to the illegal Russian annexation of Crimea (Naftogaz.com, September 29).
It is more difficult to evaluate the potential lost revenue from promising offshore fields. Chornomornaftohaz produced 1.7 bcm of gas in 2013. At the start of 2014, in the weeks before Vladimir Putin's "little green men" appeared at Chornomornaftohaz's drilling rigs, Ukraine received 0.3 bcm of gas from Crimea. Throughout all of 2014, Chornomornaftohaz increased production to a total of 2 bcm of gas (RIA Novosti, January 16). But during that period, the Ukrainian government was also buying the two jack-ups for the offshore fields, and Chornomornaftohaz planned to increase production to 3 bcm of gas in 2015. Furthermore, Kyiv planned to buy another three deep-water jack-ups for the offshore fields in the future, so hopes were high. Russia, for its part, is unlikely to develop any of the deep-water fields off Crimea because of the international sanctions over Crimea's annexation.
Meanwhile, it is not clear when or if at all the Ukrainian state will sue Russia over Crimea. Immediately after the annexation, the Ukrainian Ministry of Justice estimated the country's losses due to losing Crimea to total at least $85 billion (Unian.net, May 14, 2014). President Petro Poroshenko instructed the government to calculate precise losses in Crimea and to hire lawyers to follow up on Ukraine's legal disputes with Russia only last August (President.gov.ua, August 26). The deputy head of the Ukrainian parliamentary committee for human rights, Heorhy Lohvinsky, estimated losses in Crimea to be around $55 billion, but predicted that the figure will eventually double (Rbc.ua, September 29). In any case, Russia is likely to ignore the international courts as far as Crimea is concerned. After all, just last July, the Russian Constitutional Court ruled that Russia was not obliged to obey ECHR verdicts in particular (Interfax, July 14).