Pocketbook Purges: Why Investors Everywhere Need to Understand CCP Politics
By: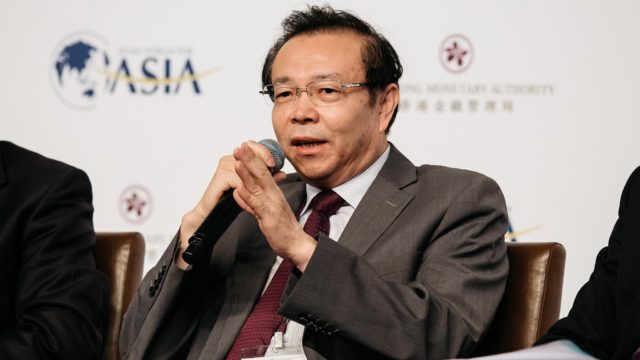 In the last issue of China Brief, this column examined the case of Huarong Asset Management, a major PRC financial firm, whose fortunes nose-dived after its chairman Lai Xiaomin (赖小民) was detained in a corruption probe. Most media coverage of Lai's downfall speculated that he had been targeted because of the government's campaign against excessive leverage in the economy (Huarong's debt load had climbed significantly on Lai's watch).
However, in the PRC, where the chief executives of many banks and large financial institutions serve at the Party's pleasure, it is unlikely that regulators would take such drastic action for purely technocratic reasons, particularly since the leaders of Huarong's peer institutions—many of whom have debt problems that are as bad or worse than Huarong's—were left untouched. It is therefore reasonable to wonder whether Lai was removed from power for political, rather than financial reasons.
If this were the case, it would have ramifications far beyond a single company: As PRC regulators move to rein in leverage, which companies win and which lose across the broad sweep of the PRC economy may be determined not by how efficiently they use capital, but whether they have the political connections necessary to remain afloat. It may be time to begin using the tools traditionally used to analyze PRC elite politics to better understand business outcomes. In Huarong's case, three such factors present themselves: two factional, and one personal.
Factional Factors: The Shanghai Connection
It might seem strange to talk about 'factions' in CCP politics in an era where CCP General Secretary Xi Jinping appears to rule unchallenged. But it is unlikely that Xi's dominance has put a complete end to jockeying between political 'factions' centered around individuals, geographical regions, or interest groups. Analysis of these factions may offer several clues to Huarong's downfall.
For example, for the past two decades one of the touchstones of PRC elite political analysis has been the existence of a "Shanghai faction" (上海帮) centered around former CCP General Secretary Jiang Zemin (China Brief, November 10 2017). Both Xi and his predecessor Hu Jintao have had to contend—with varying degrees of success—with roadblocks thrown up by the Shanghai faction.
The Shanghai connection is relevant in this case because of Huarong's institutional pedigree. Huarong was created to manage the bad debts of Industrial and Commercial Bank of China (ICBC; 工商银行), China's largest bank. Huarong was seeded at birth with ICBC's personnel and business culture (including ICBC's reputation as the best run of China's four largest banks) [1].
Although, like China's other largest state-run banks, ICBC is headquartered in Beijing, the company is known as a redoubt of the Shanghai faction. This is reflected in the background of its top personnel. From 2005 to 2016, ICBC was headed by Jiang Jianqing (姜建清; no relation to the former general secretary), an unusually long tenure for the head of a major Chinese bank. Jiang was educated at Shanghai Jiaotong University—Jiang Zemin's alma mater—and spent his entire career prior to 1999 in Shanghai (China Vitae). It is unusual for someone of such a geographically uniform background to reach such a senior rank in China's party-state bureaucracy. Both Jiang's successor as chairman and the bank's current second-in-command also have very strong links to Shanghai and its immediate vicinity, and, similar to Jiang's unusual trajectory, have spent their entire careers with ICBC [2].
Publicly available documents do not detail the extent to which Huarong's ties to ICBC persist in the form of cross-held assets or liabilities. But there have been public reports indicating that a large part of the ICBC debt Huarong was created to retire is, in fact, still held on its books. ICBC was one of the first places new Huarong CEO Wang Zhanfeng visited upon taking over from Lai. (Sina, May 7). A strike upon Huarong might be, in at least a peripheral way, a strike upon the Shanghai faction via its central financial institution.
Factional Factors: Wang Qishan and Guangdong
Another factor worth considering is the background of the individuals chosen to replace Lai Xiaomin and his top lieutenants. Li Yupin, who was head of Huarong's internal discipline committee under Lai, was removed from his post 11 days after Lai's resignation (HKExNews, August 31). In PRC state-led corporations, the internal discipline committee has two main jobs: combatting graft and ensuring political discipline, making it an important political post.
Lai Xiaomin and Li Yupin's replacements—Wang Zhanfeng and Wu Jinglong, respectively—were both drawn from the Guangdong branch of the China Banking and Insurance Regulatory Commission (CBIRC), China's top banking regulator (Caixin, May 31). Among parts of China's financial professional community, the Guangdong branch of the CBIRC is known as a stronghold of Wang Qishan, who currently serves as PRC vice president. Wang cut his professional teeth in financial roles, gaining a reputation as one of the CCP's most talented financial troubleshooters. In 1998 Wang was made vice-governor of Guangdong Province and tasked with overseeing a cleanup of the province's financial sector in the wake of the Asian Financial Crisis (Brookings).
When Xi Jinping launched his ferocious anti-corruption campaign in 2012, he turned to Wang Qishan as his enforcer, later elevating Wang to the VP slot. Wang's clout in the financial and discipline bureaucracies make him the most powerful person in the PRC outside of Xi himself. Were the move against Lai an attempt to diminish the influence of the Shanghai faction, elevating personnel from an institution under Wang's control would be a logical follow-on step.
The Personal Factor: A Ten-Year Grudge
Unconfirmed reports in PRC media after Lai's downfall hinted at another possible cause. One article detailed the circumstances behind Lai's arrival at Huarong, saying that he had been transferred there from a post at CBIRC headquarters in Beijing after getting on the wrong side of a "leader's secretary" (360doc7.net, April 20). It is reasonable to assume that the leader in question was Liu Mingkang, the head of the CBIRC at the time; secretaries of lower-level leaders would not have had the power to effect a transfer of a senior employee. The report contains the additional corroborating detail that the secretary then took the position Lai had previously held as the CBIRC's official spokesperson.
This description appears to match the career path of an official named Liao Min (廖岷), who did indeed move from the role of secretary to spokesperson in early 2009, soon after Lai Xiaomin departed for Huarong (Baike). Liao Min's career progress stalled afterwards, but his fortunes turned around in 2016 when Liu He—Xi Jinping's economic czar and current pointman on Sino-US trade negotiations—tapped the Oxford-educated Liao to run a sub-office in the Office of the Central Leading Group for Financial and Economic Affairs, one of the PRC's most powerful economic policymaking bodies. In May 2018, one month after Lai's downfall, Liao's star rose even further, when he was promoted to Deputy Director of the General Office of the Central Financial and Economic Affairs Commission, and made a Vice Minister of the PRC Finance Ministry. If Liao had indeed continued to hold a grudge towards Lai Xiaomin, he would have been well-placed to act upon it.
Conclusion
The above factors are admittedly speculative, and difficult to definitively prove. Individuals like Lai Xiaomin lead complex lives, and run even more complex institutions. Any number of unseen factors could have combined to bring him low. Such is the difficulty of political analysis in an opaque system like the PRC's.
The economic effects of Lai's downfall, on the other hand, have been far from opaque. As of this writing, Huarong's share price was down almost sixty percent from the day the CCP investigation into Lai was announced, representing a shareholder's equity loss of approximately $14 billion, a significant portion of which has been borne by foreign investors. Huarong Asset Management's largest non-state shareholder, for example, is not a Chinese company; it is the prominent American private equity firm Warburg Pincus (Huarong Annual Report, 2017). Also, up until very recently, Huarong was included on MSCI's China Index, an index of PRC firms listed on foreign exchanges widely used in investment decisions by asset managers, pension funds, and other institutional investors in the United States and other industrialized democracies. Anyone invested in Huarong through MSCI-based indices would have taken significant haircuts on their investments.
Huarong's case demonstrates that at least attempting to understand the intricacies of PRC politics will become increasingly important to people far removed from the narrow specialization of CCP elite politics. Rarely will surface-level due diligence reveal the most important parts of the story. China's financial institutions remain under strict Party control, and, as China's capital markets become more intertwined with the rest of the world's, foreign investors who do not educate themselves about how CCP politics can affect business outcomes may find themselves more and more likely, as in the case of Huarong Asset Management, to be left holding the bag.
Matt Schrader is the editor of the Jamestown China Brief. Follow him on Twitter at @tombschrader.
Notes
[1] Sources are the author's conversations with PRC financial industry professionals.[2] For more detail, see the backgrounds of Yi Huiman and Gu Shu (ICBC's current chairman and president, respectively).