Alleged Connection between Boko Haram and Nigeria's Fulani Herdsmen Could Spark a Nigerian Civil War
Publication: Terrorism Monitor Volume: 12 Issue: 10
By: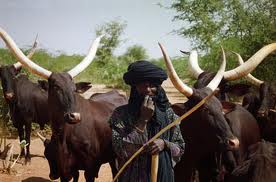 In recent weeks, Nigerian security forces have claimed that some groups of semi-nomadic Fulani herdsmen engaged in bitter and bloody conflicts with farmers in several Nigerian states are actually composed of members of Boko Haram. A statement from Nigerian Director of Defense Information Major General Chris Olukolade claimed the potentially dangerous identification came during the interrogation of Fulani herdsmen arrested after a series of killings and arson attacks in Taraba State (Vanguard [Lagos], April 23; Leadership [Abuja], April 24; Nigerian Tribune, April 24). Reports of Boko Haram members (who are mostly members of the Kanuri ethno-cultural group) disguising themselves as Fulani herdsmen while carrying out attacks in rural Nigeria are common. Though many of these reports may be attempts to deflect responsibility from Fulani herders for attacks on sedentary farming communities throughout north and central Nigeria, even the perception that the Fulani herdsmen have joined forces with Boko Haram could propel Nigeria into a new and devastating civil war.
Conflict between Fulani Pastoralists and Nigerian Agriculturalists
With origins in the Senegambia region, the Fulani now stretch across some 20 states in West Africa and the Sahel belt, ranging from Guinea-Conakry to Sudan. Though the Fulani herders once existed in a symbiotic relationship with sedentary agriculturalists in this region (involving the fertilization of fields by cattle who fed on the vegetative debris left over after crops had been taken in and the exchange of meat and milk for grain and other agricultural products), this relationship has been disturbed in recent years by environmental changes that have driven the herders further south, massive growth in the size of Fulani herds, the growth of practices such as agro-pastoralism, the expansion of farmland into traditional corridors used by the herders and the general collapse of customary conflict-resolution methods.
Many Fulani now tend to reach for automatic weapons to resolve disputes with agricultural communities. This has in turn led to the development of "self-defense" forces in the agricultural communities and the growth of cattle-rustling. Vigilante groups are often more trusted than the Nigerian security forces, which are often suspected of collusion with the herders and/or Boko Haram. Farmers routinely accuse the Fulani herders of allowing their animals to feed on still-growing crops and contamination of community watering-places. The rape of non-Fulani women by herders is also identified as a growing source of conflict and prevents women from carrying out traditional and necessary roles in gathering food and water. The herders in turn accuse the farmers of denying them access to grazing areas when alternatives cannot be found.
The conflict between herders and farmers is not solely a Nigerian problem, but is now common across the Sahel. The fact that the Fulani are nearly exclusively Muslim and the agricultural communities are largely Christian in Nigeria adds the disturbing possibility that this bloody conflict could shift into a sectarian conflict that could be easily exploited by Boko Haram extremists. The increasing number of recent attacks on Nigerian churches by Fulani gunmen or militants posing as such is an unwelcome trend. Pastoralist-sedentary agriculturalist violence is now common in a growing number of Nigerian states, though Benue, Taraba, Nasarawa and Plateau states remain the most affected.
The Fulani herders, however, often find themselves on the receiving end of communal violence or attacks by government forces. On April 3, a uniformed group alleged to be Hausa-speaking Nigerian soldiers arrived at a Fulani settlement in Nasarawa State in armored personnel carriers (APCs) and killed over 30 Fulani, most of them elderly members of the community who were too slow to run away. The attack came only 24 hours after Fulani herders had signed a peace agreement with local Tiv agriculturalists. Military authorities would only say they were "investigating" whether the attackers were actually Nigerian troops (Premium Times [Lagos], April 3; April 9; Nigerian Tribune, April 4). Within days, Fulani herders were carrying out mass attacks on Tiv agricultural communities in Benue State while nearby security forces failed to respond (Vanguard [Lagos], April 12).
Following a massacre of 15 Fulani mourners by security forces in Nasarawa State, Nigeria's Muslim Rights Concern (MURIC) issued a statement that placed the herder vs. farmer conflict in the context of a larger and more dangerous sectarian conflict:
Cattle-grazing is not new in this country and it had been very peaceful in the past. But recently there appears to be a kind of organized resistance and stereotyping of the Fulani herdsmen. This is what we find disturbing. Witnesses have reportedly confirmed that efforts at reconciliation between Fulani herdsmen and their neighbors have always been frustrated by external forces who perpetrate fresh killings just when peace accords have either been signed or were about to be signed… Any hostile act against the Fulani is therefore an indirect attack on Muslims. Genocide aimed at the Fulani is indubitably mass killing of Muslims. It is war against Islam (SpyGhana.com, April 22).
After enduring attacks that killed over 50 people and destroyed nine villages in southern Taraba State, the mostly Christian Jukun people's Jukun Development Association of Nigeria announced: "We earlier thought the crisis is having [the] Fulani's face, but when we saw the type of weapons the attackers possessed, we are convinced that the sudden attack on Jukunland has political undertones" (Osun Defender, April 25). Suggesting that the Jukun people may be targeted for a genocide similar to that experienced in Rwanda, Association president Benjamin Bako warned: "We want the world to know that the Jukun people, as warriors, do not shy away from fighting which is our heritage… we the people will have no other option than to resort to any means to defend ourselves" (Codewit.com, April 22; Vanguard [Lagos], April 25).
The conflict between herders and farmers, like the Boko Haram conflict, has already shown signs of spilling across national borders. On April 22, Fulani herdsmen fleeing clashes in Nigeria's Taraba and Benue states responded to demands from villagers in northern Cameroon to leave the area by killing at least 20 people and displacing thousands more as they torched schools, housing and crops (Osun Defender, April 25). The Nigerian military has denied targeting the Fulani, insisting its operations are non-partisan and non-sectarian (The Nation [Lagos], April 9).
A Kanuri Jihad?
Just as the early 19th century military/religious reform movement led by Uthman Dan Fodio is often called "the Fulani Jihad," the activities of Boko Haram are increasingly called a "Kanuri Jihad" against the powerful Hausa-Fulani community in north-central Nigeria. The modern Fulani (a.k.a. Peul, Fulbe) are regarded as a pastoral group separate from the Fulani who integrated with the Hausa following the Fulani conquest of north-central and north-western Nigeria.
The traditional Kanuri religious leader, the Shehu (shaykh) of Borno Alhaji Kyari Garbai al-Kanemi, has rejected Boko Haram and has himself been the target of attempts on his life by the Islamist radicals. While the late Boko Haram founder Muhammad Yusuf and current movement leader Abubakr Shekau are both Kanuris, the movement itself cannot be accurately described as a Kanuri project as many of the victims of Boko Haram operations have been Kanuri. Mohammed Wakil, a Borno politician currently serving as Nigeria's Minister of State for Power, recently noted that the Boko Haram crisis is "inflicting enormous damage on the Kanuri nation" (Daily Post [Lagos], April 21).
The heavy-handed response of the Nigerian Army and the large number of Kanuri civilian casualties inflicted in the military's efforts to tackle Boko Haram in the north-eastern states of Adamawa, Borno and Yobe (all currently under emergency rule) have led to calls from some members of the political elites in these states for the removal of the army. Most notable of these was a memo issued by Adamawa governor Vice-Admiral Murtala Nyako (former Nigerian Chief of Naval Staff) to his fellow northern state governors calling for the withdrawal of the Nigerian Army from these states on the grounds that the Army is carrying out a government-sponsored "genocide" in the region. Nyako also made a connection between the Boko Haram crisis and the Nigerian Civil War of 1967-70, claiming that Jonathan, "the Adolf Hitler of Nigeria," was intent on continuing a campaign by the southern Igbo to establish dominance over the Hausa-Fulani of northern Nigeria (This Day [Lagos], April 27; Leadership [Abuja], April 19; Punch [Lagos], April 20). Nigeria's information minister described such remarks from a former military leader as an attempt to incite the public against the national military and "the height of irresponsibility" (Leadership [Abuja], April 19).
The Kanuri-Fulani Rivalry in Northern Nigeria
The Kanuri people are found mainly within the borders of the old Borno Empire (1380-1893), which now spread across Borno and Yobe states in Nigeria, northern Cameroon, southwestern Chad and southeast Niger, a territory that now matches Boko Haram's operational zone. Nigerian security operations have encouraged Boko Haram to develop cross-border refuges and supply-lines that extend into neighboring Kanuri communities. Boko Haram also recruits non-Kanuris, though these recruits tend to be used for suicide operations rather than Kanuri members of the group. Numbering about five million people today, the Borno Kanuris originally came into conflict with the Fulani during the Fulani jihad of Islamic reformer Uthman Dan Fodio in the early 19th century. The Fulani jihadists eventually merged with the Hausa community of northern Nigeria to form a powerful and partly urbanized Hausa-Fulani community based on the Sokoto Caliphate, which entered into a long rivalry with the Kanuri of Borno, whose power and influence has declined steadily.
The Fulani herders do not have an established political structure and tend to be represented by various cattle breeders associations. Alhaji Bello Abdullahi Bodejo, the leader of one of the largest of these groups, the Miyetti Allah Cattle Breeders Association, claims that most of the attacks attributed to the Fulani herdsmen are actually carried out by "terrorists" who have infiltrated the Fulani to carry out violence (Leadership [Abuja], April 25). The association has also explained that many of the clashes between herdsmen and farmers were caused by the encroachment of the latter on traditional cattle routes (Daily Sun [Lagos], April 18).
In early April, the governor of Niger State expelled recently-arrived Fulani herders on the grounds that insurgents would pose as herdsmen to carry out attacks on local residents, saying he did not believe the Fulani herders were behind the attacks on civilians in Nigeria, but added that he would "prefer to be accused of dislodging people than to be counting corpses on the roads" (This Day [Lagos], April 11).
The ongoing conflict between pastoralists and agriculturalists has attracted American attention, with U.S. Ambassador to Nigeria James Entwistle emphasizing the need for peace in the north-central region of Nigeria before the 2015 elections (Channels TV [Lagos], April 9).
Conclusion
While it is still difficult to determine whether Fulani gunmen are now joining forces with Boko Haram (as alleged by Nigerian security forces) or Boko Haram militants are using the pastoralist-agriculturalist conflict as a cover for their own activities, it is apparent that the two conflicts are beginning to converge, intentionally or not. The Kanuri-Fulani rivalry inhibits but does not prevent the eventual cooperation between militants from both groups, particularly as the pastoralist-agriculturalist conflict begins to take on sectarian overtones. If Boko Haram is to succeed in its goal of establishing a Salafist caliphate in northern Nigeria, it must expand its base beyond the Kanuri community. The Fulani herders are already well-armed and engaged in a bitter struggle with the Christian and non-Salafist Muslim agricultural communities of Nigeria, making expansion into the aggrieved Fulani communities an excellent place to start the necessary broadening of Boko Haram's base. If the continuing conflict between pastoralists and agriculturalists cannot be contained and resolved in the near future, there is every possibility that Nigeria could once more descend into a nation-wide struggle for dominance that will ultimately be of little benefit to anyone other than the extremists.
Andrew McGregor is Director of Aberfoyle International Security, a Toronto-based agency specializing in security issues related to the Islamic world.