Azerbaijan Boosts Trilateral Cooperation With Pakistan and Turkey
Publication: Eurasia Daily Monitor Volume: 18 Issue: 130
By: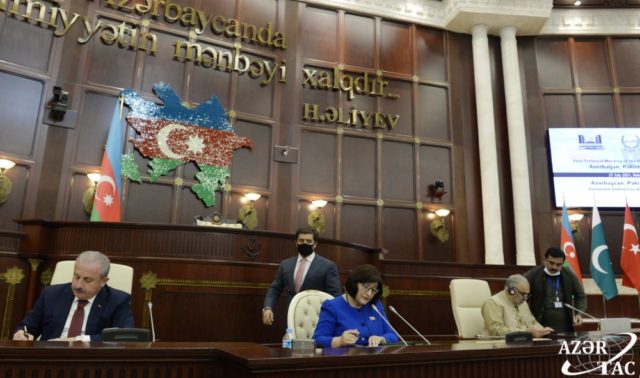 On July 27, the parliamentary speakers of Turkey, Azerbaijan and Pakistan signed a strategic partnership document—the "Baku Declaration"—in Baku, Azerbaijan, which creates a new format for political cooperation between the three states (Azertag, July 27). The foundation for this grouping was originally laid in 2017, when Azerbaijan's then–foreign minister Elmar Mammadyarov held the first trilateral meeting with his counterparts from Turkey and Pakistan, Mevlüt Çavuşoğlu and Khawaja Muhammad Asif (since succeeded), respectively, in the Azerbaijani capital (Azertag, November 30, 2017). The declaration signed by the three ministers at that time "underlined the firm determination of their states to explore the ways to develop trilateral cooperation" and agreed to regularly hold successive trilateral meetings (Islamabad.mfa.gov.az, November 30, 2017). In a similar vein, last month's declaration of the parliamentary speakers vowed to build lasting tripartite cooperation between their parliaments and agreed to meet next year in Islamabad (Meclis.gov.az, July 27).
The Baku Declaration of July 27 reaffirmed the sides' interest in trilateral cooperation, echoing the earlier such pronouncement at the second meeting of the three countries' foreign ministers in Islamabad in January 2021 (Mfa.gov.az, January 13). Compared to the original declaration signed by the ministers in 2017, their 2021 document was significantly more explicit in stating the parties' support for each other's territorial integrity and positions in their conflicts with other countries (Mfa.gov.az, January 13). It expressed support to Azerbaijan in its efforts to rebuild and rehabilitate the liberated Karabakh territories; to Pakistan in its conflict over Jammu and Kashmir, calling for a resolution in accordance with the respective United Nations Security Council resolutions; and to Turkey in the settlement of the disputes in Cyprus, the Aegean and the Eastern Mediterranean, on the basis of international law.
The three sides are cautious to stress that this is a peace platform, not an alliance directed against any other state or group of states (Axar.az, January 13). Nevertheless, the military and political scope of their cooperation outweighs that of economic cooperation, although Baku, Ankara and Islamabad introduced a wide range of initiatives to boost their ties in this area as well. This is particularly related to Pakistani-Azerbaijani and Pakistani-Turkish relations, since along the other axis—i.e., Azerbaijani-Turkish—the economic bonds are as strong as military and political ones. Pakistan's annual trade turnover is less than $15 million with Azerbaijan and around $800 million with Turkey, which does not reflect the depth of relations amongst them in the other domains (see EDM, December 15, 2016 and July 11, 2019; see Terrorism Monitor, July 16, 2021).
The 44-day war of Armenia and Azerbaijan between September 27 and November 9, 2020, convinced Baku, Ankara and Islamabad of the benefit of this trilateral format of cooperation. The unwavering political and moral support provided by Turkey and Pakistan along with the modern military technology purchased by Azerbaijan from Turkey played a critical role in Azerbaijan's military victory over Armenia. And in turn, this outcome inspired the three countries to further promote their trilateral communication. Therefore, not coincidentally, a meeting of the three countries' foreign ministers was convened in early 2021, soon after the Second Karabakh War ended—following a delay of more than two years (according to the 2017 declaration, the trilateral meetings would be convened on annual basis, with the next one in 2018, which never ended up taking place).
In March, Azerbaijani President Ilham Aliyev received a delegation to Baku led by the chair of the Joint Chiefs of Staff Committee of the Islamic Republic of Pakistan, General Nadeem Raza. In meeting with the Pakistani visitors, Aliyev stressed the importance of their tripartite cooperation with Turkey. "We have already witnessed good results of the trilateral cooperation format involving Azerbaijan, Turkey and Pakistan in political and other fields, including defense," he said. Moreover, he suggested holding joint Azerbaijani-Pakistani military exercises, stating, "We think this is the right time" (President.az, March 3).
Although Azerbaijan participates in military drills with Pakistan and Turkey in other multilateral or, as in the case of Turkey, bilateral formats, trilateral defense cooperation is a new phenomenon for the three partners. Thus, in a move to further expand and intensify the relationship in this framework, they have recently initiated joint, tripartite military exercises for the first time. The three sides are currently preparing to hold special forces exercises in Azerbaijan, in September of this year (Report.az, June 26). The defense cooperation among the three countries has the potential to extend to collaboration on producing military technology, as they have already initiated this bilaterally (Hurriyet Daily News, June 21; Tribune.com.pk, January 14).
Cooperating with strategic partners in a trilateral format is a strategy Azerbaijan has employed ever more frequently in recent years. In addition to the already-established Azerbaijan-Turkey-Pakistan, Azerbaijan-Turkey-Georgia and Azerbaijan-Turkey-Turkmenistan frameworks, Baku is interested in promoting such a grouping in the Azerbaijan-Turkey-Israel and Azerbaijan-Turkey-Ukraine formats (Azertag, February 19, 2018; Dailysabah, April 26).
For Rusif Huseynov, the director of Topchubashov Center, a Baku-based political think tank, these "trilateral alliances" allow Azerbaijan to respond flexibly and timely to geopolitical developments and provide Baku with robust alternatives if one of those aforementioned alliances does not work when needed (Top-center.org, March 18). In turn, Turkey's participation in each of these formats initiated or attended by Azerbaijan is a remarkable attestation to the comprehensive strategic bilateral alliance between Baku and Ankara, as reaffirmed by the latest Shusha Declaration (see EDM, June 23).