Pakistan-Armenia Friction Has Intensified
Publication: Eurasia Daily Monitor Volume: 13 Issue: 197
By: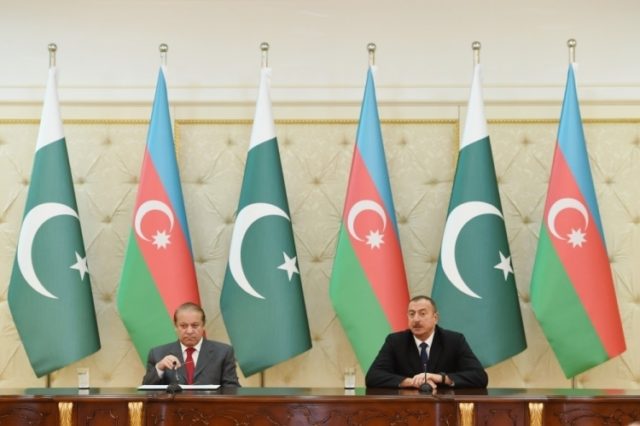 The conflict between Armenia and Azerbaijan over the Karabakh province, which has simmered since the collapse of the Soviet Union, seems to have drawn Pakistan and India into the most violent and enduring rivalry in the South Caucasus. As Yerevan and Baku both endeavor to gain political and military allies, the Karabakh conflict has evolved from a regional to a global issue. Most recently, Pakistan and India, which are engaged in a similar conflict over Jammu and Kashmir, have seen their relations in the South Caucasus shaped by the Karabakh conflict.
Armenia has reportedly vetoed Pakistan's observer bid in the Russian-led Collective Security Treaty Organization (CSTO) Parliamentary Assembly, arguing that "Pakistan has refused to not only set diplomatic ties with Armenia, but also to formally recognize the latter as an independent state" (RFE-Armenia, November 24). In particular, Yerevan has made clear that it denied Islamabad's bid as a CSTO observer due to the latter's "staunch pro-Azerbaijani posture on the Nagorno-Karabakh conflict" (Sputnik-Armenia, November 24).
Pakistan's goal in getting involved with the CSTO stems from the Russia-Pakistan political and military rapprochement, which was underpinned by the first-ever joint military exercise conducted on Pakistani soil in late September (Russia Today, September 27). Subsequently, the Pakistani naval Alamgir class frigate visited Novorossiysk, one of Russia's major naval bases in the Black Sea, in order to take part in joint maneuvers on December 8 (Regnum, December 8). While the bilateral relationship in the defense and security spheres is developing, more inclusive joint military drills between Russia and Pakistan are yet to be arranged in the coming year (Vzglyad, December 8).
On the economic side, in June, the Pakistani leadership launched negotiations with the Russia-led Eurasian Economic Union (EEU), aimed at forging a free trade agreement between the two. However, given that Pakistan does not recognize the sovereignty of one of the EEU's members, its attempt to bypass this problem while negotiating a trade deal with the EEU is fuelling resentment in Armenia (Panarmenian, June 8).
Amid the emergent Russian-Pakistani détente, relations between Armenia and Pakistan are shifting toward a new stage of political antipathy, following the cordial alignment between Islamabad and Baku. In particular, multiple bilateral high-level visits in the last six years have elevated Islamabad-Baku relations to a strategic level, to the detriment of Armenia's interests. During a visit to Baku in 2010, Pakistan's Defense Secretary Syed Athar Ali discussed with Azerbaijan's President Ilham Aliyev Islamabad's intention to strengthen cooperation with Azerbaijan in the military sphere and the defense industry. In return, President Aliyev expressed gratitude to Pakistan for voting in the UN General Assembly in favor of "the resolution on the situation of the occupied Azerbaijani territories and for not recognizing Armenia in connection with the aggression against Azerbaijan" (Mediaforum, April 22, 2010). Since then, in light of multiple visits, the Pakistani side gradually amplified its anti-Armenian rhetoric, in an effort to express comprehensive solidarity with its South Caucasus ally.
Most recently, during the unprecedented escalation of tensions along the Line of Contact in Karabakh in April, the Pakistani Foreign Ministry unequivocally backed Azerbaijan's position by proposing military-technical and political support for Baku (Day.az, April 4). Furthermore, Azerbaijan's Defense Minister Yavar Jamalov, during a meeting with Pakistan's Prime Minister Nawaz Sharif in Islamabad, underscored that Azerbaijan was keen on purchasing military hardware from Pakistan (Report.az, April 26). Following the military parade in Yerevan on September 21, where Armenia showcased an Iskander-E short-range ballistic missile arsenal procured from Russia, the Azerbaijani media reported that Baku was holding negotiations with Islamabad to purchase offensive arms including "long-range ballistic missiles" as well as Tunder-17 jets (Haqqin.az, November 2).
On October 14, Pakistan's Prime Minister Muhammad Nawaz Sharif paid a visit to Baku. At a joint press conference, President Aliyev confirmed the intention of the two sides to jointly manufacture advanced military equipment (APA, October 14). Commending Pakistan for "the official recognition of the Khojaly genocide," President Aliyev noted that Baku seeks to sign deals on purchasing arms and military equipment from Pakistan, highlighting the plans for joint military training between the armed forces of the two countries (Haqqin.az, October 14). Meanwhile, Aliyev stated that Pakistan is an ally and a close partner, so that the two countries "enjoy full solidarity on Nagorno-Karabakh and Kashmir problems and demonstrate mutual support in these aspects" (Vesti.az, October 14). In return, the Pakistani official thanked Azerbaijan for consistent and staunch support over the Jammu and Kashmir issue, concluding that their foreign policy priorities should be further coordinated. The strategic ties of Baku and Islamabad reached the level of a comprehensive partnership, embodied in a joint action plan that includes enhancing Pakistan's exports to Azerbaijan from $60 million to $500 million (APA, November 2).
The Armenia-India relationship stands in stark contrast to the intensification of the Azerbaijani-Pakistani alliance. However, the coordinated efforts of Baku and Islamabad in international organizations, as well as developments in Pakistani-Russian relations, serve as a catalyst for Delhi and Yerevan to step up their bilateral ties in multiple spheres (News.am, December 5; Panarmenian, November 12). Armenia's relations with India seem to be reinvigorated, as demonstrated by the meeting between the Secretary of Armenia's National Security Council, Yuri Khachaturov, and India's Ambassador Sangwan Yogeshwari on December 13. As reported, the two sides agreed to establish a solid groundwork to spur defense cooperation "in light of international and regional developments" (Razm.ifo, December 13).
Prospective Pakistani involvement in the Russia-led CSTO and EEU appear to evoke a sense of concern in Yerevan, which fears that Pakistan may serve as a potential conduit for Azerbaijani influence within these organizations, at the expense of Armenia's interests—although Azerbaijan does not participate in either of them. Meanwhile, the Russia-Pakistan political and military rapprochement and the emergence of strategic relations between Baku and Islamabad appear to be raising new challenges for Armenia within the CSTO and beyond. Seeking to draw Islamabad into its integration initiatives, Moscow could neglect Armenia's interests, in an attempt to force Yerevan to abandon its principal position vis-à-vis Pakistan. Such a prospect is likely to deepen disagreements between Russia and Armenia, eventually rendering Armenia irrelevant and sidelined from the decision-making process of the CSTO and EEU.