Uzbekistan's New President Focuses on Improving Regional Relations
Publication: Eurasia Daily Monitor Volume: 13 Issue: 197
By: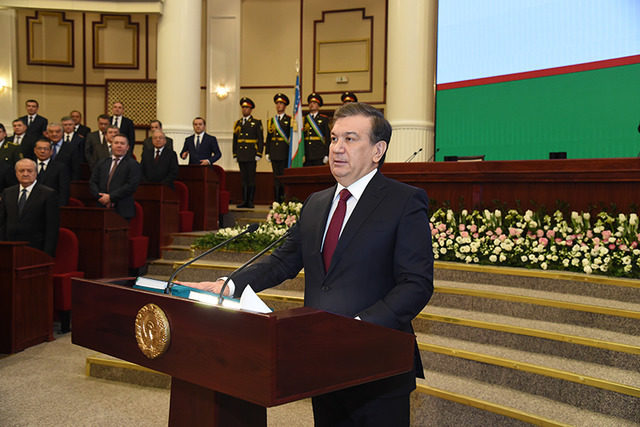 The fifth presidential election in the history of independent Uzbekistan on December 4 has ended with a definite win for Shavkat Mirziyaev, previously the country's prime minister for 13 years under the late Islam Karimov. As Uzbekistan enters its post-Karimov era, it is important to examine the new president's foreign policy priorities.
Uzbekistan has been and will remain a country of competing interests for major world powers, such as Russia, China, Europe, and the United States. Mirziyaev's election program and his government (when he served as an interim president after Karimov's death in September) have outlined some of his foreign policies on several occasions. It is unlikely he would deviate from those stated positions now that he has been elected for a five-year term, which allows us to project outlines of Uzbekistan's foreign policy under the new president. Those stances are: non-intervention in the internal matters of foreign countries; non-alignment with any military organizations, including non-deployment of foreign military bases on the territory of Uzbekistan; non-membership in the Russia-led Eurasian Economic Union (EEU); and improvement of relations with Uzbekistan's immediate neighbors that will be implemented as a priority matter (Liberal-Democratic Party, October 20).
Overall, the foreign policy stances indicate little change from the previous policies, as the first three positions are legacies of Islam Karimov. Senator Sodiq Safoev, Chair of the Foreign Relations Committee, and Abdulaziz Kamilov, Minister of Foreign Affairs, have also recently confirmed that no major shifts will take place in Uzbekistan's foreign relations (Gazeta.uz, November 30; MFA, December 8). Surprisingly, the government of Uzbekistan chose not to overemphasize the fourth and fully new foreign policy stance to improve relations with Kazakhstan, the Kyrgyz Republic, Tajikistan and Turkmenistan. Mirziyaev introduced it subtly as soon as he became the interim president and quickly it became not only a new foreign policy, but also a strategic priority.
China and Russia will remain the two key players and partners for Uzbekistan. China as a major investor in the country's infrastructure, largely in building roads and transportation corridors within its multi-country "One Belt One Road" strategy. These investments aim to enhance Uzbekistan's road inter-connectivity with Europe to the north and South-East Asia and South Asia to the south. Russia and China are the largest export markets for Uzbekistan (World Bank, January 2016). Unlike China, Russia prefers to ensure Uzbekistan's alignment with its integration agenda and therefore would want to see Uzbekistan as a member of the EEU—Russia's political, rather than economic, body designed to extend Moscow's control over the former Soviet countries. To end the speculations that Uzbekistan was interested in EEU membership, Uzbekistan's Deputy Minister for Foreign Economic Relations, Shavkat Tolaganov, reiterated the fact that at this point the EEU was not beneficial for his country (RIA Novosti, November 29). This means that Uzbekistan will have to play a delicate political game to retain Russia as an export market, without entering into relations with the EEU as a political-economic body. Both China and Russia are also the two major players in the Shanghai Cooperation Organization (SCO), the most significant regional organization for Uzbekistan.
The importance of economic development, economic cooperation, investments, and foreign markets for Uzbekistan in domestic and foreign affairs cannot be underplayed. The new president's Liberal-Democratic party represents entrepreneurs and small and medium-sized businesses and therefore, their interests and new economic opportunities are at the center of Uzbekistan's foreign policy. Close relations with China and Russia are quite logical and both countries are not slowing down their economic endeavors in Uzbekistan; they might be even competing with each other to start new companies—between January and September, China started 78 companies and Russia 75, both becoming leading players in the country (Review.uz, October 17). In addition, Uzbekistan doubled its earnings from agriculture exports to Russia within a year, from $41 million to $89 million (Russia's Ministry of Agriculture, November 11).
European countries and the US have been mainly engaged in promoting the liberal democratic values Uzbekistan had committed itself to. Uzbekistan's economic cooperation with European countries and the US is not nearly as close as that with China and Russia. The incoming US leadership has vowed to scale back Washington's traditional democracy promoting agenda, while the rise of populism in Europe, along with a string of changes of leaderships, might decelerate the human rights and democracy values agenda that help determine EU relations with Uzbekistan. The C5+1 initiative, a regional platform involving the five Central Asian countries and the US, launched in 2015, has so far been a symbolic form of cooperation. The initiative allocated $15 million for all five countries for five projects, which clearly will not result in any serious infrastructure or investment ventures (Uzdaily.uz, August 5, 2016). US-Uzbekistan relations will also be dominated by the problems with returning to Uzbekistan around $850,000 that supposedly belong to Gulnara Karimova, the late president Karimov's elder daughter (Ozodlik, November 4). The money has been associated with corrupt deals and bribes, allegedly received by Karimova, which complicates its repatriation to Uzbekistan.
While Uzbekistan's overall foreign policy will not experience a major overhaul, the country's foreign affairs will be indisputably dominated by the expected breakthroughs in relations with its immediate neighbors. Uzbekistan also reaffirmed that EEU membership is not on the table, ending speculations that the country might be moving closer to Russia after the change of leadership. With minimal economic relations with the West, the US and Europe will continue serving as a guide for liberal democratic values for Uzbekistan, and, importantly, as a balancer to other powers with influence in the country, such as Russia and China.