Baluch Nationalist-Separatist Militant Alliance Threatens Pakistani Security Forces
Publication: Terrorism Monitor Volume: 19 Issue: 3
By: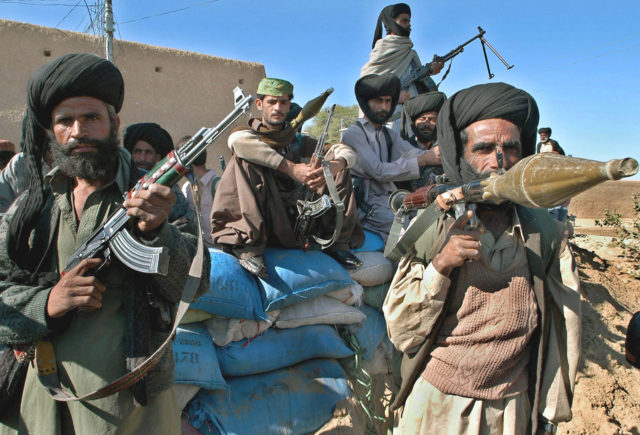 Pakistan's restive Baluchistan province has experienced a fresh wave of nationalist-separatist terrorist attacks since 2019, with new targets indicating shifting trends. Baluch nationalist–separatist militant groups have not only ramped up their attacks, but also have changed strategy and formed a new alliance. The implications of this are a steep incline in attacks against the Pakistani security forces.
Background of the Baluch Insurgency
Unlike Islamist insurgencies in Pakistan, which escalated after the Global War on Terrorism commenced in 2001, Baluch nationalist-separatist violence in Baluchistan is much older. The current insurgency, which can be considered the fifth iteration since Pakistan's independence in 1947, started after the death of Nawab Akbar Bugti, who was the head of the Bugti tribe, during a 2006 military operation (Dawn, August 27, 2006). However, even before this incident, sporadic attacks against security forces were taking place in Kohlu and Dera Bugti districts since 2004. One major terrorist attack, for example, targeted then-President General Pervez Musharraf, who was making a speech in December 2005 in Kohlu (Dawn, December 15, 2005).
The killing of Nawab Akbar Bugti sparked a new wave of violence in Baluchistan, which is still ongoing and has caused security forces, including the Pakistani military, paramilitary forces (Frontier Corps and Baluchistan Levies Force), and police, to become involved in combating various militant groups across the province, including local, regional and global groups. The latter, globally operating organizations, include Islamic State Khorasan Province and al-Qaeda in the Indian Subcontinent. The Baluch nationalist-separatist insurgency is also important because Baluchistan is Pakistan's largest province. It is almost the size of Germany and comprises 42 percent of Pakistani territory and is the most sparsely populated province in Pakistan. The vast province also has a coastal belt of almost 650 kilometers and borders Iran and Afghanistan.
Baluch nationalist-separatist militant groups mostly operate in southern and central Baluchistan. However, they have managed to perpetrate attacks all over the province. In 2019, for example, there were 84 such attacks, and in 2020 the number of attacks still increased, despite the severe COVID-19 outbreak in the province (Dawn, January 8, 2020).
Shifting Tactics in Baluch Militancy
At least six major Baluch nationalist-separatist militant groups are currently operating in Baluchistan: Baluchistan Liberation Army (BLA), Baluchistan Republican Army (BRA), Baluchistan Liberation Front (BLF), United Baluch Army (UBA), Lashkar-e-Baluchistan (LeB) and Baluch Students Organization (BSO). The most potent among these are the BLA and BRA, which operate in central and southern Baluchistan districts, including Bolan, Sibi, Kharan, Khuzdar, Turbat, Awaran, Lasbella, Mastung, and Kalat. The other four groups operate in those same districts and some other districts, such as Naseerabad and Jaffarabad near Sindh province's border.
The BLA also has a suicide attack squad known as the Majeed Brigade, whose best known fedayeen (suicide) attacks targeted a five-star hotel recently built in Gwadar in May 2019 and another at the Pakistan Stock Exchange in June 2020 (BBC Asia, May 12, 2019; News International, June 30, 2020). The intensity of attacks by groups other than BLA and BRA have always been low and mostly involved perpetrating roadside IED blasts, assassinations of defectors and informers, bombings of railroad tracks and cell-phone towers, and attacks on security forces. These groups were also hampered by infighting and turf wars.
A shift in strategy, however, has become evident since the formation of a new group: Baluch Raji Ajohi Sangar (BRAS), meaning "Alliance for Baluch National Freedom" (Terrorism Monitor, September 20, 2019). It is the first ever alliance between the four main Baluch nationalist-separatist militant groups in decades of the Baluch nationalist-separatist insurgency. BRAS comprises BRA, BLA, BLF, UBLF and is the brainchild of Dr. Allah Nazar Baluch, who was BLF's supreme leader and now is BRAS' leader. He made the effort to combine forces of Baluch nationalist-separatists on November 10, 2018.
The slain leader of BLA's Majeed Brigade, Aslam Baluch (a.k.a. Achu), also announced the formation of the alliance, albeit not publicly. [1] The primary reason for the alliance is for the sharing and pooling of resources, including, weapons, equipment, personnel, intelligence, safe havens, and other materials in order to conduct attacks against Pakistani and Chinese China–Pakistan Economic Corridor (CPEC) projects. Previously, the Baluch nationalist-separatist insurgents were not able to coordinate because of their different areas of operations, but after joining together they are expected to perform more effectively.
BRAS' Targeting of Security Forces
BRAS has been involved in several major attacks targeting the security forces, especially the Frontier Corps, a paramilitary organization. In one attack, BRAS targeted and killed 14 Coast Guard and naval personnel travelling back to Ormara Naval base near Gwadar district in southern Baluchistan in April 2019 (Nation, April 19, 2019). Before that, BRAS claimed responsibility for killing nine security forces personnel in an IED attack in February 2019 in Turbat district (Outlook, February 18, 2019). In yet another attack in the same area, BRAS claimed to have killed seven military personnel in October 2020 (Dawn, October 16, 2020). BRAS further claimed that it was launching an operation that would be focused on only targeting security forces in Baluchistan in March 2020 (News Intervention, March 2020).
Even in separate attacks not involving BRAS, Baluch nationalist-separatist organizations, such as UBA, appeared to be specifically focusing on the Pakistani military and Frontier Corps. This is a shift from their earlier tactics. They did not, in contrast, expend efforts on destroying railroad tracks or cell-phone towers that would negatively impact the lives of the masses.
Meanwhile, the increase in intensity of militancy in Baluchistan has garnered regional attention. The Pakistani government has, for example, repeatedly blamed archrival India for backing and bankrolling the Baluch nationalist-separatists perpetrating attacks in Baluchistan. Specifically, Pakistan alleges India seeks to sabotage Sino-Pakistani business interests, especially because Baluchistan's Gwadar port is central to China's supposed Indo-Pacific 'string of pearls' strategy – referring to a series of Chinese bases and outposts along India's maritime periphery. New Delhi has repeatedly denied Islamabad's allegations (dw.com, November 11, 2016). The BLA had also previously attacked China's embassy in Karachi in November 2018 and injured Chinese engineers in a roadside attack in Baluchistan three months before then (Dawn, June 30, 2020).
Conclusion
The insurgency in Baluchistan appears to be growing compared even to the tempo witnessed in 2019 and 2020, and the insurgents are conducting attacks across the province. This means Pakistani security officers and policymakers must adopt new policy measures in order to reverse their momentum. However, this does not seem probable, and violence can be expected to increase.
Notes
[1] Author's discussions with a senior security studies expert based in Islamabad, January 14, 2020