Baluch Raji Ajohi Sangar: Emergence of a New Baluch Separatist Alliance
Publication: Terrorism Monitor Volume: 17 Issue: 18
By: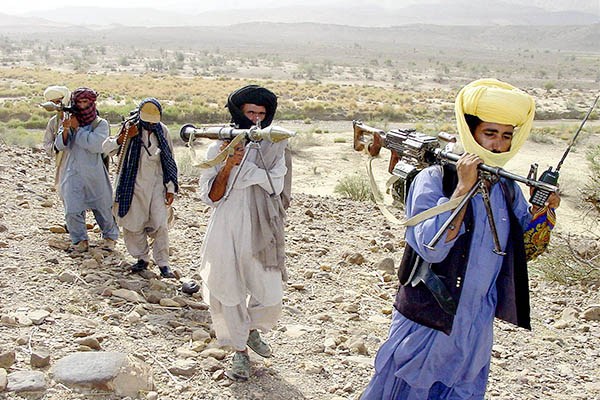 The surfacing of a new Baluch separatist organization in Pakistan's terrorism-ridden Baluchistan province marks a major new development. The newly established organization, Baluch Raji Ajohi Sangar (BRAS) (in English, Baluch National Freedom Movement), is an alliance of three Baluch nationalist-separatist terrorist groups—Baluchistan Republican Army (BRA), Baluchistan Liberation Army (BLA), and Baluchistan Liberation Front (BLF) (CSCR, April 18). It is the first alliance ever formed by Baluch terrorist organizations.
BRAS is reportedly the brainchild of Dr. Allah Nazar Baluch, the leader of BLF. The combination of the various nationalist-separatist groups' forces was a long-time dream of Nazar Baluch. He held a meeting with the various groups prior to the alliance's formal announcement on November 10, 2018. Prior to BRAS' announcement, the slain leader of the BLA's Majeed Brigade (suicide squad) Aslam Baluch (a.k.a. Achu) announced the formation of an alliance between the BLA and BLF. BRA formally joined the alliance in June 2019, under Nazar Baluch's leadership. [1]
The primary reason for the alliance was a growing feeling among Baluch nationalist-separatist groups that rifts among them only weakened their insurgent movement. Additionally, the alliance allows the major Baluch nationalist-separatist terrorist groups to share and pool resources. The groups now intend to share weapons, equipment, human resources, intelligence sources, safe havens, and other materials to conduct operations against security forces and Chinese working on China-Pakistan Economic Corridor (CPEC) projects in a more effective manner. The Baluch nationalist-separatist groups have not been able to coordinate their efforts because of the geographic vulnerabilities and different areas of operations of all of these organizations. After joining hands together, these groups assessed that an alliance will result in better operational performance.
Aims, Ideology, and Areas of Operation
Apart from Nazar Baluch, Bashir Zeb of BLA, Gulzar Imam of BRA, and Akhtar Nadeem of BLF are perceived to be commanding the alliance. Nazar Baluch acts as a patron and the main mastermind of the alliance. Baluch Khan is the official spokesperson of the alliance. Little is known about the leaders other than Nazar Baluch, who commands the BLF, one of the oldest insurgent groups in the Baluch nationalist-separatist movement, having formed in 1964.
BRAS's ideology revolves around establishing a separate Baluch state and not allowing outside powers (including both China and Pakistan) to extract resources from Baluchistan's territory. Their nationalist-separatism is influenced by Marxist-leftist ideology.
BRAS militants operate in the southwestern portion of Baluchistan—along the Arabian Sea and Iranian border—and have safe havens in Kacha, DG Khan, and Koh Suleman. Some militants of BRAS operate mainly from Iran in the far south Mekran division of the province. Nazar Baluch operates from Veish, along the Pakistan-Afghanistan border and from the Afghan city of Kandahar. [2]
BRAS' primary intended targets are Chinese workers and CPEC projects in Baluchistan. The terrorist alliance has also targeted both military and paramilitary security force personnel near the Makran coast. Individually, these groups have faced significant challenges as they have been isolated over large swaths of territory in Baluchistan, creating difficulties in coordinating attacks against security forces outside of their primary areas of operation. Logistical issues and supply lines have also been a notable challenge that will be improved by combining resources.
Since its formation, BRAS has perpetrated four major acts of terrorism.
Relations With Other Terrorist Organizations
BRAS militants have sporadically engaged in violent skirmishes with Jaish al-Adl—a Salafi-jihadist terrorist group in Iran's Sistan and Baluchistan province—along the border of Pakistan and Iran. Two of the BRAS member groups, BLA and BLF, are beneficiaries of Iranian support and consider Jaish al-Adl its enemy because it conducts terrorist attacks against Iranian security forces. Blogs maintained by BRAS supporters on social media are highly critical of Jaish al-Adl and its tilt toward Pakistan. The clashes and discord between BRAS and Jaish al-Adl also stem from underlying ideological differences. BRAS is a left-leaning nationalist-separatist militant organization whereas Jaish al-Adl is an anti-Iranian Sunni-Islamist terrorist group. BRAS considers Jaish al-Adl to be a threat because it is dividing the Baluch youth on religious grounds.
BRAS generally maintains cordial relations with other terrorist organizations working in Baluchistan. The level of relations the group enjoys with the local Islamic State affiliate, Islamic State Khurasan (IS-K), is unclear. IS-K has a strong base in some southern districts of Baluchistan and neighboring Afghanistan. Lashkar-e-Jahngvi (LeJ), a violent sectarian terrorist organization is also based in Baluchistan and time and again targets  the Shia community living in Baluchistan. The BLA group within BRAS does enjoy working relations with LeJ. [3]
Conclusion
The emergence of a new Baluch nationalist-separatist organization in the restive Baluchistan province is a matter of serious concern for policymakers due to the significant security and economic implications. The government of Pakistan proscribed the group as a banned terrorist organization on July 26. The BRAS alliance showcases the surge of Baluch nationalist-separatist tendencies and a pragmatic shift for previously disparate groups. The pooling of resources will not only help the terrorist groups to conduct more, and likely increasingly sophisticated, attacks but will also significantly improve the group's ability to attract new recruits. Pakistani security and law enforcement agencies need to act quickly and decisively to coordinate efforts to deter and counter further terrorist attacks before the alliance can grow any stronger.
Notes
[1] Telephonic discussions with senior police officer of Baluchistan Police, September 12, 2019.
[2] Discussions with senior security officials, April, 12, 2019.
[3] Discussions with security official on the issue of BRAS, September 12, 2019.