Budgetary Fight in Moscow Sends US-Russian Relations Into Deep Crisis
Publication: Eurasia Daily Monitor Volume: 13 Issue: 161
By: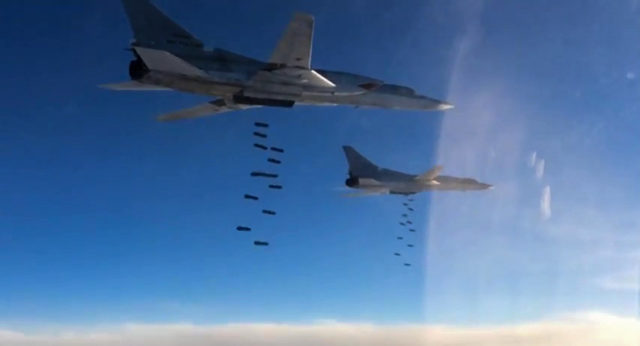 US Secretary of State John Kerry's attempts to hammer out a Syrian ceasefire agreement with his Russian counterpart, Sergei Lavrov, have collapsed, leaving relations between Washington and Moscow in tatters. The Russian-led coalition, which includes military forces loyal to Syrian President Bashar al-Assad's government as well as Iranian-led Shia militias, has used the collapse of the ceasefire to begin a relentless air and ground assault against Aleppo. And the haste with which that assault began is proof Moscow (together with al-Assad) are determined to militarily win the civil war.  Both Russia and the United States angrily accused each other of failing to implement the ceasefire accord. Moscow denounced Washington for allegedly siding with the recently rebranded al-Nusra Front jihadists, apparently calculating they may help topple al-Assad. Foreign Minister Lavrov blamed a supposed "party of war" inside the US administration of deliberately sabotaging the Lavrov-Kerry ceasefire accords (Kommersant, October 5).
Washington announced Monday (October 3) it would suspend its participation in bilateral channels with Moscow concerning finding a resolution for the Syrian conflict. But as early as October 5, Kerry and Lavrov were reportedly again discussing Syria, according to the Russian foreign ministry (Sputnik News, October 5). Military-to-military communications will be maintained to help avoid direct US-Russian clashes in Syria. A source in the Russian defense ministry told Kommersant that the country's Armed Forces are unfazed by the US cutting communications channels, since they were seldom used and all previous attempts at bilateral talks ended in failure (Kommersant, October 3).
The Russian military disclosed they had shipped and deployed a "division" of modernized S-300V4 anti-aircraft missiles to the Russian naval base in Tartus, on Syria's Mediterranean coast. The S-300V4 is an army-issue anti-aircraft system, known in the West as the SA-23 Gladiator. It was designed to move together with Russian tank armies and defend the ground forces against enemy jets, cruise missiles and medium-range ballistic missiles. The S-300V4's nomenclature similarity with other Russian/Soviet anti-aircraft systems like the S-300P, S-300PPS or S-300PMU is somewhat misleading: the S-300V4 was developed separately and only partially uses the same components. Last November, the Russian military deployed an S-400 Triumph "division" to defend the airbase near Latakia. The S-400 is a deep modernization of the S-300PMU2 and it was apparently transported to Syria by air. The heavier S-300V4, on the other hand, was reportedly transported to Tartus via a large convoy of naval transport and assault vessels. The S-300V4 deployment took two weeks, and a decision to prepare to deploy "in response to the worsening situation in the region" was taken earlier (Kommersant, October 5).
Apparently, the Russian military was planning for the Lavrov-Kerry ceasefire's collapse before it actually happened. But the Islamic State and the Syrian rebels have no aircraft or medium-range missiles the S-300V4 could intercept. Defense Ministry spokesperson Major-General Igor Konashenkov insisted the S-300V4 is benign: "It is a purely defensive system and does not threaten anyone" (Interfax, October 4). Former chief of the General Staff Army-General (ret.) Yuri Baluyevsky told reporters the S-300V4 could be deployed "against NATO [North Atlantic Treaty Organization] air forces." According to Baluyevsky, "The US has provided the so-called Syrian opposition with guided anti-tank TOW [tube-launched, optically tracked, wire-guided] missiles—[subsequently] they may give them, say, drones to attack the Russian military" (Interfax, October 4).
The Moscow press and experts have been discussing the possibility of direct military encounters between Russian and US (NATO) forces over Syria. The rising Aleppo death toll is putting more pressure on Western governments to do something to stop the carnage, while the Russian military seems ready to oppose, by high-tech force, any moves to create safe zones for civilians that could restrict their and al-Assad's  freedom of action. Still, the predominant view is that a direct US-Russian military clash is improbable, since it could escalate into a full-blown war nobody wants. Instead, a Cold War–style war by proxy may develop in Syria, with Washington and its allies training and supplying the opposition with increasingly potent weapons to hit the Russians and al-Assad. (Mk.ru, October 4; Kommersant, October 5).
Lavrov bargained long and hard with Kerry and managed to secure important concessions: Russia would have an institutionalized equal say with the US in the future of Syria, and the continued use of Russian military bases was to be secured. The existing Alawite-dominated al-Assad regime would be guaranteed a future, though al-Assad himself is expected to retire eventually—with dignity. The Syrian model of US-Russian military cooperation to solve regional calamities could be applied in other places, effectively granting Moscow a controlling say in regions it considers within its vital sphere of interests. But all this went out the window because the Russian military and its General Staff—which has increasingly dominated internal, external, defense, political and economic decision-making in Moscow—seems to have other priorities.
The revised 2016 state budget is being finalized this month in Moscow, but more important is the discussion of the financing of the 2018–2025 massive rearmament program, which must be settled by July 2017. The defense ministry has reportedly more than halved its budgetary request from 55 trillion rubles ($915 billion) to 22 trillion ($366 billion). But the finance ministry is apparently offering only 12 trillion ($200 billion). At a cabinet meeting in the Kremlin, Defense Minister Sergei Shoigu yelled at Finance Minister Anton Siluanov after the latter offered the petty sum (Kommersant, September 17). The price of oil remains depressed at under $50 per barrel. The contracted Russian economy is still stagnant. Russia cannot continue to spend on defense as when oil was well over $100 a barrel, but the Russian generals will not take "no" for an answer. The most effective way to secure greater budgetary allocations, therefore, is to amplify tensions with the US and make all-out war a distinct possibility.
No one in Moscow (or Washington) really wants to fight a major war over Syria. But as budgetary battles continue in Moscow, US-Russian tensions will rise; while actual military incidents are possible in Syria or on other fronts. On October 3, Moscow announced it "suspended" a 2000 nuclear deal with the US to mutually destroy some 34 tons of weapons-grade plutonium left over after the Cold War. The "suspension," which was accompanied by official anti-American propaganda, does not make any practical sense—it only raises tensions (Vedomosti, October 5). Other, much more important nuclear agreements, like the Intermediate-Range Nuclear Forces Treaty (INF), could also be scrapped by the Kremlin, which the military-industrial complex is lobbying for. This bout of warmongering may eventually be followed by some détente; but that may have to wait until the intra-governmental Russian budgetary standoff is resolved.