Chechnya's Ramzan Kadyrov Makes Territorial Claims on Neighboring Ingushetia
Publication: Eurasia Daily Monitor Volume: 15 Issue: 136
By: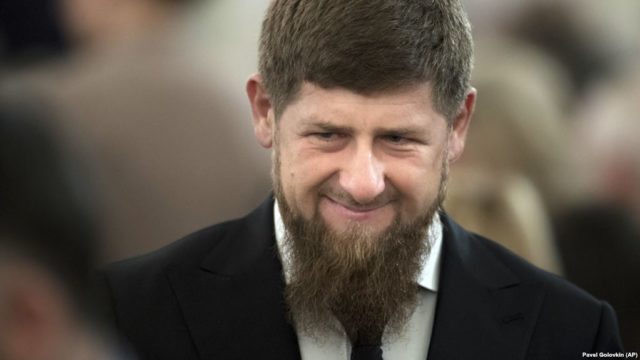 The head of Chechnya, Ramzan Kadyrov, issued an executive order, on September 6, creating a "republican state commission on resolving issues related to the definition (clarification) of the boundaries of the Chechen Republic" (Apchr.ru, September 7). Just weeks earlier, the Ingush civil society organization Opora Ingushetii expressed concern about road repairs currently being carried out by Chechen authorities in close proximity to the frontier village of Arshty. Moreover, Opora Ingushetti objected to observed Chechen attempts to establish a police checkpoint on the broder manned by Kadyrov's security services (popularly called "kadyrovtsy") (Ekho Kavkaza, August 30). The latest developments clearly underscore the ongoing territorial disputes raging between these two neighboring North Caucasus republics.
The Chechen-Ingush border conflict can be traced back to the early Soviet period when, in 1934, the Ingush Autonomous Soviet Socialist Republic (ASSR) was abolished and unified with the Chechen ASSR to form the Checheno-Ingush ASSR. Following the collapse of the Soviet Union, the formation of a new Ingushetia Republic independent of Chechnya reignited their territorial dispute (Forbes.ru, September 6, 2016). The two primary bones of contention between the two neighboring republics are Sunzha and Malgobek districts, both currently located in the northern part of Ingushetia. In 1993, the then-leaders of the two republics, Ruslan Aushev (of Ingushetia) and Dzokhar Dudaev (Chechnya) signed an agreement according to which, among other points, Sunzha district remained under Ingushetian control. During the interwar period, between 1996 and 1999, there were minor skirmishes along the mutual republican border, including Ingush police forces entering the territory of the self-proclaimed Chechen Republic of Ichkeria. But following the second Chechen war, the new leaders of Chechnya and Ingushetia, Akhmad Kadyrov and Murad Zyazikov, respectively, ended up signing another border agreement that actually closely resembled the accord from 1993 (Kavkazsky Uzel, September 6).
That relative comity between the neighboring republics ended after the appointment of Ramzan Kadyrov (the murdered Akhmad's son) as leader of Chechnya. Notably, the younger Kadyrov has been much more willing to make territorial claims on areas lying beyond Chechya's administrative borders. For instance, in 2005, Kadyrov stated, "The [Chechen] people are concerned about the issue of our ancient territories. It is known in Chechnya and its neighboring regions where the border was prior to the unification [of Chechnya and Ingushetia]—and where it should have been after the separation" (Nezavisimaya Gazeta, December 6, 2005). Since he has taken over as republican head, the number of incidents along the Chechen frontier have markedly increased. For instance, in 2013, a group of 300 kadyrovtsy entered the Ingush village of Arshty without permission from Ingush authorities (Freedomrussia.org, April 19, 2013). Formally, the border between Chechnya and Ingushetia is the border of 1934; but due to the ongoing territorial dispute, the administrative line separating the two republics has not been demarcated yet (Kavkazsky Uzel, September 6).
Ingush activists and residents of several border-area villages in Ingushetia have reported Chechen forces attempting to unilaterally adjust this border. However, the Chechen authorities deny these charges, claiming that the observed presence of Chechens along the border was simply construction crews carrying out internal road repair works.
Even as Moscow has continued to increase its political control over the other North Caucasus republics, in Chechnya Kadyrov has not only retained his monopoly of power but also now seeks to expand his control beyond Chechen borders. One clear demonstration of Kadyrov's ambitions has been his ongoing attempt to interfere in Ingushetia's domestic policy, including the religious and business spheres, which the authorities in Magas have been trying to resist (see EDM, June 13). Furthermore, from time to time, high-ranking members of Kadyrov's administration will propose a reunification of Chechnya and Ingushetia (Memo.ru, September 5, 2012). And Kadyrov's appetite is not only restricted to Ingushetia: he has also sought to increase his influence over the Novolaksky district in Dagestan, which has a significant ethnic-Chechen population (Kavkazr.com, February 23, 2017).
In order to avoid further political escalation with Chechnya, the Ingush authorities have tended to be cautious in their official rhetoric. For example, the recently re-elected head of Ingushetia, Yunus-Bek Yevkurov, stated a few weeks ago that the situation on the Chechen-Ingushetian border "is under control" (Kavkazsky Uzel, September 17). Additionally, in order to increase their leverage against Kadyrov, Ingush officials rely on mediation by the federal center. For instance, Kadyrov and Yevkurov agreed to negotiate their border issues at the federal level (Kavkazsky Uzel, September 6).
The territorial dispute between Chechnya and Ingushetia is a complex and multidimensional issue. And Ingush society has increasingly expressed concern about the growing influence of Kadyrov over their republic. Indeed, Ingushetia had already experienced a bloody territorial conflict with North Ossetia in 1992, over the Prigorodny district. Therefore, any suggestion of redrawing the administrative border with Chechnya is, naturally, a highly sensitive topic for Ingush residents. According to recent reports, news of an alleged agreement to transfer some Ingushetian territory to Chechnya brought dozens or perhaps even hundreds of Ingush demonstrators out into the streets in Magas, on September 26, forcing Russian police and National Guard troops to make mass arrests (Kavkazr.com, Facebook.com/groups/ossetia, September 26). The possibility of the situation spinning out of control for Yevkurov's republican government is, thus, not outside the realm of possibility.