De-Sovereignization: Testing a Conflict-Resolution Model at Moldova's Expense in Transnistria (Part Two)
Publication: Eurasia Daily Monitor Volume: 15 Issue: 135
By: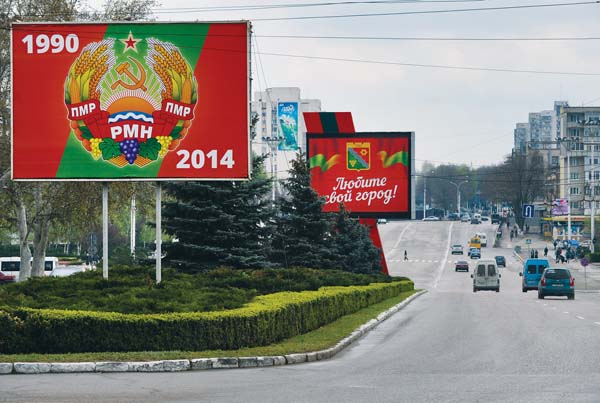 The 5+2 negotiation format—comprised of the Organization for Security and Cooperation in Europe (OSCE), Russia and Ukraine as mediators; the United States and the European Union as observers; and Moldova and Transnistria as "parties to the conflict"—oversees the "small-steps" process of de-sovereignizing Moldova in Transnistria since 2016. Germany does not participate in this format, but the German Embassy in Chisinau firmly supports the consensus between this format's Western participants and Russia.
The Moldovan government, unpopular at home and discredited in Europe, is facing a Russian-Western consensus on the "small-steps" process. US diplomats, in particular, tell Chisinau that the United States acts in consensus with Russia ("unity of mediators and observers") regarding the small steps. Unsophisticated in diplomacy, and vulnerable despite its authoritarian character, the Moldovan government sees its concessions on Transnistria as a means to re-ingratiate itself with the West and mend fences with Russia at the same time.
It is only in recent months that this process has gathered some speed. The actual negotiations take place at a lower level, between Moldova and Transnistria as co-equal parties, under the OSCE's mediation, This elevates the unrecognized Transnistria to the same level de facto as the recognized state of Moldova. The higher-level players in 5+2 push the lower-level negotiation forward, then have the Chisinau-Tiraspol "small-steps" validated in 5+2. The Moldovan government, isolated in this process from the outset, resisted for a while, but began yielding by the end of 2017 as the informal ruler, Vladimir Plahotniuc, took this matter into his own hands. Since then, Moldova has signed five agreements with Transnistria, involving a piecemeal renunciation or handover of sovereign prerogatives (see below).
The framework document that launched this small-steps process was pushed through the OSCE by its then-chairman, Frank-Walter Steinmeier, in 2016 (see Part One, EDM, September 20) and is known as the Berlin Protocol. In a September 2018 press release, the organization states that, "as of September 2018, five agreements were implemented" (Osce.org, accessed September 20). This refers to Chisinau-Tiraspol agreements on vehicle registration and license-plates for international traffic, agricultural land ownership in a left-bank district, Latin-script schools in Transnistria, diplomas of Transnistria's "state" university, and the opening of a bridge across the Nistru River.
Beginning this month (September), Transnistrian automobiles and their owners or drivers will be traveling in Europe with "neutral" licenses plates and car registration documents, instead of Moldovan plates and documents (see EDM, July 23, September 18). No Moldovan state symbols (flag, coat-of-arms) appear on these license plates and documents; and yet, they are accepted at the international level. Furthermore, Transnistria's residents shall be able to drive their cars in Europe with drivers' licenses issued by Transnistria's authorities, not Moldova's. Such arrangements negate Moldova's sovereignty and mark a small start toward international codification of Transnistria's separateness from Moldova.
Apart from the political and legal implications, those rules entail potential security risks at the international level, since this new dispensation applies to all permanent residents of Transnistria regardless of citizenship or allegiance (both unverifiable). The dispensation applies to foreign citizens residing in Transnistria without Moldovan passports, a sizeable category in Transnistria that includes Russian military and security personnel.
Under an agreement that took effect on August 1, Moldovan farmers in the Dubasari district shall be "allowed to access" their fields in a Transnistrian-controlled portion of that district (on the left bank of the Nistru River) (Osce.org, accessed September 20). Those farmers are owners of those fields under Moldovan law, but Transnistria does not recognize private land ownership. Transnistrian authorities had "allowed access" for those Moldovan farmers conditionally for a long time, then denied them the access altogether since 2014. The new agreement provides free "access" for the "use" of that land for a 20-year period, thus in effect de-recognizing the previously existing right of private land ownership. Although officially in effect since August, the agreement does not yet operate in practice. Transnistria's authorities will probably demand some concession on some other issue in return for another promise to allow this agreement to maybe operate.
The agreement on the functioning of Latin-script schools in Transnistria similarly affects Moldovan property rights—state property in this case—amounting to expropriation. Only five Latin-script schools were allowed to (barely) survive in Transnistria after 1991, their buildings belonging to Moldova's Education Ministry. Under the agreement just signed, however, Moldova shall pay rent to Transnistrian authorities for the use of those five remaining Latin-script school buildings. This act of school expropriation is only one aspect to the overall issue of linguistic russification and political russianization of Transnistria's non-Russian majority. The rental agreement does not ensure the free functioning of those surviving Moldovan schools. Even after the agreement's signing, Transnistria's police again forbade those schools from hoisting the Moldovan state flag and having the national anthem performed at the traditional ceremony for the opening of this school year (RFE/RL, September 8). Such prohibitions imply, as does the rental agreement, Transnistria's separateness from Moldova.
Transnistria's "state" university in Tiraspol was expropriated by secessionist authorities in 1992, literally by force of arms, from the state of Moldova, and lacks any valid international accreditation (except in Russia). Under the agreement just signed, however, Moldova's Education Ministry shall automatically (without verification) validate graduation diplomas issued by Tiraspol's university, supposedly qualifying those graduates for further study abroad. Moldova thus assumes responsibility for validating diplomas from an institution that uses Russia's state-approved methodology, curricula, standards and textbooks, and where even the Moldovan language is taught in the Cyrillic script. This university, under the authority of Transnistria's "state president," prepares mainly teachers and civil servants for Transnistrian schools and administration. The validation agreement implies Moldova's acceptance of another attribute of statehood in Transnistria.
The bridge over the Nistru River at Gura Bicului-Bicioc, repaired in 2001 with European funding for international traffic, but available only to local traffic long afterward, finally opened for potential international traffic in November 2017. Long sought by the OSCE and mediated by it between Chisinau and Tiraspol, the agreement gives sole responsibility for security at both ends of the bridge to the tripartite military Joint Control Commission (comprised of representatives of Moldova, Transnistria, Russia). Yet Transnistria's authorities acting unilaterally have installed their own "customs" and "border" posts at the bridge. This situation persists, encouraged by the Russian part of that tripartite control—commissioned and tolerated by the OSCE.
Western diplomats in the 5+2 format have touted the agreements on this bridge, on agricultural land use, and on schools, as their "successes"; and moreover, as successes of Western cooperation with Russia, achieved thanks to the "unity of mediators and observers," meaning in this case the US and the OSCE positions aligning with Russia's. Yet, when that whole diplomatic contingent visited Transnistria on September 10 (see EDM, September 20) to celebrate another "success"—the license plate agreement—they carefully avoided visiting those agricultural villages, those schools or the bridge. Western diplomacy has been played on these issues. Transnistria's authorities are the winners on the substance of those agreements as well as the interpretation of their practical implementation, exposing Western diplomacy's lack of means to influence this process. For its part, the Moldovan government, vulnerable to the "mediators' and observers' united position," goes along with renouncing or handing over prerogatives of its sovereignty in "small steps," in the slow process of incremental de-sovereignization.