Moldova: Federalization's Ghosts Return From the Past
Publication: Eurasia Daily Monitor Volume: 15 Issue: 130
By: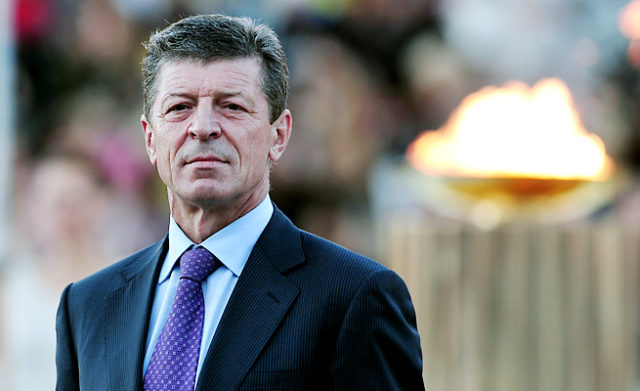 Yevgeny Primakov and Dmitry Kozak, names identified with Russia's past attempts to "federalize" Moldova with Transnistria (1997 "Primakov Plan Memorandum"; 2003 "Kozak Plan Memorandum"), are now returning to Moldova in updated iterations.
Kozak, currently deputy prime minister, has been tasked by Russian President Vladimir Putin with the additional mission of special presidential envoy for economic relations with Moldova. In this new capacity, Kozak received Transnistria's leader, Vadim Krasnoselsky, on September 7, in Moscow, to discuss "peacekeeping" and political issues. Such issues exceed Kozak's formal economic mandate. Kozak is due to visit Chisinau shortly (Interfax, RIA Novosti, Pridnestrovye, September 7, 8). In a long interview, released in Chisinau on this occasion, Kozak defended his 15-year-old Moldovan federalization project on its merits, blamed its non-acceptance on Chisinau and Washington in equal measure, but acknowledged that the "federalization" project can no longer be submitted in the same form (Moldavskie Vedomosti, September 7).
The current Yevgeny Primakov is the grandson of the eponymous Russian intelligence chief, foreign affairs minister and prime minister (in that order) during the 1990s, highly respected by Putin ever since. The Kremlin has propelled Primakov Jr.'s career (see below).
On September 9, Primakov Jr. and Kaliningrad's former mayor Aleksandr Yaroshuk were elected to the Russian State Duma (lower chamber of parliament) from single-mandate electoral districts in the Saratov oblast and Kaliningrad oblast, respectively. In the Russian Duma's electoral system, voters residing in Transnistria are technically allocated to these two Russian single-mandate electoral districts. Russia's Central Electoral Commission tabulated the returns of the vote from Transnistria.
These elections in the Saratov and Kaliningrad oblasts were by-elections to fill vacant seats in the Duma (single-mandate electoral districts no. 165 and no. 98, respectively). In both cases, the mayors of the oblast centers (Saratov and Kaliningrad cities) swapped places with the newly elected Duma deputies from those oblasts' single-mandate electoral districts. All four of these politicians are members of the governing United Russia party.
Primakov and Yaroshuk are supposed to represent the interests of Transnistria voters—and of Transnistria as such—in the Russian Duma. While the Primakov name itself carries a message to Moldova (all the more in combination with Kozak's), the Kaliningrad connection is also intended as a political message. When Yaroshuk met with Krasnoselsky in Tiraspol during the pre-election campaign, it was emphasized that Kaliningrad and Transnistria face similar problems as exclaves, noncontiguous to Russia. Hence, Yaroshuk would share with Tiraspol his own experience in organizing travel and cargo transportation to and from "mainland Russia" (Pridnestrovye, August 20). The message is that Russia intends to stay in Transnistria for the long haul.
Yaroshuk, born in 1965 in Kaliningrad, turned from a naval artillery officer into large-scale construction entrepreneur (BaltKommertsStroy). He was Kaliningrad city mayor in 2007–2018 (last re-elected in November 2017 to a third term) until picked for a seat in the Duma (Vesti Kaliningrad, RIA Novosti, September 10, 14).
Primakov Jr., born in 1976, was a high-profile TV correspondent and bureau chief in conflict theaters throughout the Middle East, representing NTV as well as the state-owned Channel One and Rossiya-24 TV (in that order) from 2002 through 2017, under the pseudonym Yevgeny Sandro. In 2017, Putin appointed Primakov Jr. as a member of Russia's Public Chamber (a Kremlin forum for stage-managed dialogue with civil society groups). Also in 2017, the Duma's chairperson, Vyacheslav Volodin, appointed Primakov Jr. as political advisor. Primakov Jr. served as Putin's trustee (i.e., campaigning on candidate Putin's behalf) in Russia's March 2018 presidential election.
Three polling stations were opened for these Duma by-elections in Transnistria. The voting was held in deliberate contravention to Russia's own legislation (let alone Moldova's), given that many Transnistrian residents, including Russian passport-holders, are known to possess two or three citizenships at the same time (Moldovan, Russian, Ukrainian, Romanian citizenships, in any combination per resident). The pre-election campaign was apathetic, and the turnout low on voting day, September 9, according to Transnistria's "electoral commission" (Cikpmr.com, September 10).
But the actual quality of these elections is, of course, immaterial. Moscow and Tiraspol did score their points against Chisinau and, mainly, for the edification of international participants in the "conflict-settlement process." Congratulating the newly-baked Duma deputies as if representing Transnistria voters in that forum, the separatist region's leader, Krasnoselsky, reminded them, "It is precisely with Russia that the inhabitants of our state [sic] link their hopes" (President.gospmr.org, September 10).
This whole exercise was conducted unlawfully on what is internationally recognized Moldovan territory, without the Moldovan government's consent. Moldova routinely opens polling stations on government-controlled territory for Russia's citizens to vote in Russian elections, including the by-elections just held. But Transnistrian authorities (fronting for Russia) do not allow Moldova's electoral authorities in Transnistria. Nor does Transnistria allow Moldova's parliamentary and presidential elections to be conducted in Transnistria.
The Moldovan government used to issue at least pro forma statements of protest against Russian elections held unlawfully in Transnistria in the past. But, according to the Chisinau-based election monitoring organization Promo-Lex, Moldova's government no longer reacted to the holding of Russia's presidential election in Transnistria in March 2018 (IPN, September 11), and failed again to react to the holding of these Duma by-elections in Transnistria. This silence can be attributed to de facto ruler Vladimir Plahotniuc's ongoing, twin projects: normalizing relations with Moscow and consolidating his electoral pact with President Igor Dodon's Socialist Party, ahead of Moldova's February 2019 parliamentary elections. (Dodon is receptive while Moscow and Tiraspol are unreceptive thus far). Both tracks envisage (inter alia) bringing Transnistrian voters into Moldova's elections, so as to increase the share of pro-Russia voters against pro-Europe parties, whom Plahotniuc treats as the main adversary.
The Organization for Security and Cooperation in Europe (OSCE) also closed its eyes to the Russian Duma's elections in Transnistria. This election day coincided with the visit of a high-profile international delegation, led by the OSCE, to the ceremonial inauguration of non-Moldovan ("neutral") license plates for Transnistrian automobiles (OSCE press release, September 10). The official "de-Moldovanization" of Transnistrian license plates is one element in a package of OSCE-pushed measures, amounting to a piecemeal erosion of Moldova's legal title of sovereignty in this territory (see EDM, July 23). This delegation—led by the OSCE's current Italian chairmanship and the ambassadors of the OSCE, the United States, the European Union, and Russia accredited to Moldova—celebrated with Transnistrian officials what they all regard as a diplomatic success.
The delegation acted as if not noticing the announcement of the unlawful Russian election results on Moldova's otherwise recognized territory. Furthermore, the delegation did not seem to register the paramilitary youth festival in Tiraspol, where "President" Krasnoselsky urged the young people to choose military careers in Transnistria's own army, according to his press release (President.gospmr.com, September 9). Failures to react to flagrant breaches of Moldova's sovereignty will keep the 5+2 negotiations over Transnistria's status barely alive, without rehabilitating them. The OSCE in particular, as an international organization with democracy prominently written into its billing, gave Russia a free pass on the Duma elections in Transnistria. The challenge was not to pronounce them as undemocratic or substandard, but simply as unlawful, as well as a prima facie breach of Russia's "mediator" status in the Transnistria conflict. Chisinau's own supine silence could not excuse the silence of the OSCE as an international organization.