End of the Golden Era: Sino-British Relations Enter Difficult Period
Publication: China Brief Volume: 21 Issue: 23
By: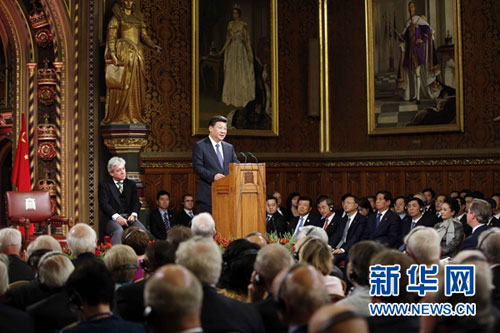 Introduction
In May, the United Kingdom's (UK) Carrier Strike Group (CSG) led by the HMS Queen Elizabeth set off for the Indo-Pacific region on a seven-month deployment, which is the first of its kind (UK Ministry of Defence, May 22). The CSG has so far conducted a series of engagements with nations in the region such as Singapore, South Korea and Vietnam, and in July, navigated the South China Sea with aircraft and ships from Australia, Japan, Canada, the U.S. and New Zealand. The group is set to return home at the beginning of December. Chinese media has repeatedly condemned this renewed British naval presence in the Indo-Pacific region, labelling it as intended "to provoke China" and even to "contain" it (Global Times, July 26; July 29).
Sino-British relations have steadily declined in recent years. Britain's negative reaction to the implementation of the National Security Law in Hong Kong and condemnation of the situation in Xinjiang has complicated the relationship and indicates a widening gap in world views between Zhongnanhai and Westminster. Post-Brexit Britain's desire to be more closely aligned with the U.S. on security issues is a main point of friction; Beijing sees Washington's China consensus as a containment strategy that is driven by "Cold War thinking" (冷战思维, lengzhan siwei) (China Brief, October 22). As a result, China perceives the UK's expanding security ties with the U.S. as implicit adherence by London to the view from Washington (PRC Ministry of Foreign Affairs, September 16). Britain has subsequently been labelled in China's media as a U.S. "toady," and ridiculed for trying to "revive its dream of an empire" (Global Times, July 26; March 16). The decline in relations between Beijing and London is driven in part by Britain's renewed Indo-Pacific naval presence – a manifestation of the UK's desire for closer security ties with the U.S. and its increasing tendency to view China as a geopolitical threat.
Despite growing bilateral frictions, the UK and China still maintain a working relationship driven by rising bilateral trade, people-to-people exchange, and a shared interest in cooperation on international issues such as tackling climate change and the global economic recovery from the COVID-19 pandemic. The impact of Brexit has also left China as the UK's largest import market, an important element of the relationship as Britain is still trying to find its feet in the international market as an independent trading nation in the aftermath of its departure from the European Union (The Guardian, May 25).
Background
In 2015, Sino-British relations were, as then-UK finance minister George Osborne proclaimed, in a "golden era" (UK HM Treasury, September 22, 2015; BBC News, October 23, 2015). The UK welcomed Chinese President Xi Jinping on a state visit, where he and then Prime Minister David Cameron announced a landmark deal to build a nuclear plant in Somerset and warmed to one another over fish and chips and pints of ale (PRC Ministry of Foreign Affairs, October 23, 2015; Prime Minister's Office, October 21, 2015). At that time, bilateral trade was soaring, and the UK was a trailblazer within the European Union (EU) for fostering better relations with China, regularly advocating for an economic approach that satisfied Chinese interests, and touting the benefits of the Belt and Road Initiative. The UK was hailed as China's "best partner in the West", and served as an important financial hub for China. For example, the UK was the first Western country to issue RMB sovereign bonds, and to apply for full membership in the China Asian Infrastructure Investment Bank (Xinhua, March 21, 2019; BBC News, October 23, 2015). This "golden era" is long over now, and the relationship has entered a difficult period.
Hong Kong and Human Rights
The situation in Hong Kong has been the catalyst for the recent decline in relations. China's quashing of protests and implementation of the National Security Law was of great concern to the UK, as it infringes upon the Sino-British Joint Declaration of 1984 and Hong Kong's independent judicial process (Joint Declaration on the question of Hong Kong, December 19, 1984). Britain was the first nation to take concrete steps to counter the National Security Law by introducing a new visa for Hong Kong nationals holding a British National Overseas Passport, allowing them to work and live in the UK for five years with the future prospect of acquiring citizenship (UK Visas and Immigration, July 22, 2020). As a result, Britain is somewhat of a "safe haven" for dissenters wanting to flee Hong Kong. Foreign Minister Wang Yi told then-British Foreign Secretary Dominic Raab that China "firmly opposed  this act, which "violated the basic norm of non-interference in other countries' internal affairs" (PRC Ministry of Foreign Affairs, July 28, 2020). So far, 65,000 people from Hong Kong have applied for UK visas under this scheme (UK Government, August 26).
The UK's reaction to the ongoing situation in Xinjiang has further complicated Sino-British relations. The UK imposed asset freezes and travel bans against four Chinese officials and a Xinjiang Security body in March for alleged human rights violations against Uyghurs (UK Foreign, Commonwealth & Development Office, March 22). Beijing responded immediately by sanctioning ten British organizations and individuals for spreading "lies and disinformation" about the situation in Xinjiang (PRC Ministry of Foreign Affairs, March 26). This is the first-time that Britain and China have levied sanctions of this nature against one another. In response to Britain's concerns over the human rights situation in Xinjiang, the Chinese Communist Party (CCP) has accused London of spreading  "fake news" (PRC Ministry of Foreign Affairs, February 4; August 31, 2020).The situation in Xinjiang has become a normative obstacle to Sino-British relations, with the UK finding it difficult to navigate between its desire to cooperate with China on economic issues and transnational challenges, and its commitment to defending human rights and liberal norms.
Britain's Indo-Pacific "Tilt"  
In March, the UK drew a clear line with the release of its foreign policy paper – Global Britain in a Competitive Age: The Integrated Review of Security, Defence, Development and Foreign Policy (hereafter the Integrated Review) (The Integrated Review, March 16). The policy paper stresses the UK's desire to be "deeply engaged in the Indo-Pacific [by 2030]" in supporting "open societies and economies" with "allies and partners – in particular the United States," and labels China a "systematic competitor" (The Integrated Review, March 16).
The Integrated Review includes an economic element, which is highlighted by Britain's bid to join the Comprehensive and Progressive Agreement for Trans-Pacific Partnership and its new status as an Association of Southeast Asian Nations (ASEAN) dialogue member. However, the main thrust of the paper focuses on addressing China's growing power and the perceived threat it presents to the international norms that Britain adheres to and upholds. The Integrated Review stresses Britain's desire to deal with this challenge by deepening ties to the U.S. Britain's decision to send the CSG into the Indo-Pacific and South China Sea is indicative of this new approach as it further entrenches the UK in Washington's Indo-Pacific security architecture.
The September 15 announcement of the AUKUS pact between Australia, the UK and the U.S., which is a key element of Britain's Indo-Pacific "tilt", confirms the UK's acknowledgment of China as a competitor, and alignment with the U.S. on Indo-Pacific security matters. Foreign Ministry spokesperson Zhao Lijian responded to AUKUS by urging "relevant countries [to] abandon the[ir] outdated Cold War zero-sum mentality" (PRC Ministry of Foreign Affairs, September 16). AUKUS has been overtly labelled as a pact designed to "counter China" in Western media, and Beijing now seemingly views it, and Britain's renewed Indo-Pacific presence, as such (BBC News, 16 September).
Chinese Investment and Involvement in UK Domestic Affairs
The UK's growing perception of China as a geopolitical threat has intensified scrutiny of Chinese investment in Britain. The UK's National Security and Investment Bill, which was issued in November 2020, gives the government increased powers to "scrutinize and intervene in investment to protect national security" (UK Parliament, May 5). Members of parliament (MPs) have regularly expressed anxiety over Chinese investment, citing the detrimental impact of large Chinese stakes in key UK infrastructure projects and companies, and the bill is an attempt to combat this concern (Financial Times, May 23, 2020). The U-turn last year in the policy toward Huawei, whose equipment was used and then banned from the UK's development of 5G networks, is a manifestation of this anxiety. The ban on Huawei equipment was rebuked by Wang Yi as "discriminat[ion] against Chinese companies" (UK Department for Digital, Culture, Media & Sport and UK National Cyber Security Centre, July 14, 2020; PRC Ministry of Foreign Affairs, July 28, 2020).
British concerns are also growing over Chinese influence in the UK's domestic affairs. Liu Xiaoming, China's former ambassador to the UK, was heavily criticized for claiming images of constrained Uyghurs were "fake" and defending the imposition of the National Security Law in Hong Kong (The Guardian, December 27, 2020). Liu stood down at the end of 2020, after having served as Ambassador in London since 2010.
The UK has been one of China's top destinations for investment over the past few decades, however, the UK's crackdown on investment is now causing Chinese officials to question whether it is a safe and fair investment environment (American Enterprise Institute, July 20). For Britain's part, disapproval of China's position on Xinjiang and Hong Kong has led to fears that the CCP is spreading disinformation in the UK, which is an unwanted interference in Britain's public life (PRC Ministry of Foreign Affairs, July 28, 2020). These points of friction in Sino-British relations will likely worsen in the near future.
Down But Not Out 
Despite the currently rocky relations, a working relationship between the UK and China endures. China considers the UK an important player in international affairs due to its economic strength, developed financial markets, and permanent position in the UN Security Council (Xinhua, October 29). The UK is also an important trade partner of China, particularly in providing manufactured goods such as machinery equipment and motor vehicles. According to the latest statistics from the PRC General Administration of Customs (GACC, 中华人民共和国海关总署, zhonghua renmin gongheguo haiguan zong shu), bilateral trade between the two countries has increased dramatically in the first three quarters of 2021, with Chinese exports to the UK experiencing a year-on-year increase of 26 percent, and China's imports of goods from the UK achieving a year-on-year increase of 26.4 percent (GACC, October 13). Some of this increase can be attributed to a low baseline resulting from complications in bilateral trade stemming from COVID-19; however, the value of trade between the UK and China has steadily increased since 2018, and recent trends forecast further future increases in trade flows (GACC, January 14; January 22, 2020; January 14, 2019).
Conventional diplomatic exchange between the two countries also persists. After his appointment in July, Zheng Zeguang, the Chinese ambassador to the UK, met with a swath of important British individuals such as diplomat Lord Powell, Director of the University of Oxford China Centre Rana Mitter and banker Sir Douglas Flint. In September, protests over China sanctioning British MPs resulted in Zheng's invitation to deliver a speech at the Palace of Westminster being rescinded, and the ambassador being banned Parliament. (The Telegraph, September 15). Since then, however, Ambassador Zheng has continued to meet with influential British individuals and speak warmly of the Sino-British relationship (Embassy of the PRC in the United Kingdom of Great Britain and Northern Ireland, September 29). In an article published in The Guardian that coincided with the COP26 climate conference in Glasgow, Zheng also stressed that China would honor its pledges to reduce carbon emissions (The Guardian, October 27). British Prime Minister Boris Johnson and Xi also had a phone call on October 29 (Xinhua, Prime Minister's Office, October 29). Both leaders acknowledged recent difficulties in the bilateral relationship and expressed a desire to address these challenges and cooperate on global issues such as climate change, public health and the global economic recovery after COVID-19. Xi's comments on how China views the relationship "from a strategic and long-term perspective" shows China's continuing desire to engage with the UK (Xinhua, October 29).
Cultural and people-to-people exchanges remain strong pillars of the bilateral relationship. Despite pandemic restrictions, there is continued interest in cultural exchange between China and Britain [1]. The new James Bond film has been widely viewed in China; and Chinese state-run television network- CGTN resumed UK broadcasts in August (Xinhua, November 4; CGTN, August 20). Chinese students still see British universities as among the best in the world as evidenced by a report issued this year by a Chinese education consultancy that shows the UK as the first choice for Chinese students (29.8 percent) for the third year in a row, followed by the U.S. and Australia (24.5 percent and 16.5 percent respectively) (EIC Education, March 25). The Great Britain China Centre also launched a course designed to educate British policymakers and officials over two years on China, the Future Leaders Programme, in July (Great Britain China Centre, October 8).
Conclusion

Despite the continuation of extensive economic, diplomatic, cultural and educational ties, clear points of friction in Sino-British relations persist, and are unlikely to subside anytime soon. Westminster will continue to condemn and combat the CCP's infringement on human rights and individual freedoms in Hong Kong, Xinjiang and elsewhere in China. Beijing will continue to rebuke such actions, and as time goes on, the persistence of conflicting views will likely further preclude increased engagement. London will also continue looking to Washington to deepen cooperation on Indo-Pacific security matters, which will perpetuate Beijing's narrative that the U.S., and its main allies including the UK, intend to contain China's rise. The Royal Navy's CSG will return to the UK in December, but Beijing's perception of Britain's "Cold War mentality," and the UK's military presence in the Indo-Pacific, will remain [2].
To navigate this difficult period, the Sino-British relationship will need to be carefully managed, particularly on the UK side. If the UK adopts a more competitive approach toward China and continues to seek closer ties with the U.S., Beijing may curtail its trade and investment, and become more reluctant to cooperate on issues such as tackling climate change. If the UK takes an alternative approach and accommodates Chinese behavior in an effort to seek economic opportunities, it may find itself diplomatically and militarily isolated by the West – particularly the U.S. In this scenario, the UK would find it difficult to make new economic inroads around the globe; and due its relationship with China could even be perceived as a national security threat that lacks a solid commitment toward human rights.
The Sino-British relationship is ultimately transactional. Westminster sees access to Chinese markets and investment as integral to its economic recovery from COVID-19 and Brexit. Meanwhile, Beijing sees access to British markets, its financial system and universities as important to its economic, human and technological development. The endurance of the relationship, despite the many strains, indicates the importance of these areas of cooperation for China and the UK in today's multipolar world. However, both sides must undertake a precarious balancing act in order to navigate escalating geopolitical competition and deepening normative differences.
Patrick Triglavcanin is a Master's researcher and freelance writer and researcher. He has previously written for China Brief, the China Story, Fabian Society and Future Directions International. 
Notes
[1] See: "2021 UK-China Connections through Culture Grants," The British Council, https://www.britishcouncil.cn/en/programmes/arts/connections-culture.
[2] The HMS Spey and HMS Tamar will remain deployed in the Indo-Pacific for the next five years. "Patrol ships bid farewell to Portsmouth as they begin Indo-Pacific deployment," Royal Navy, September 7, https://www.royalnavy.mod.uk/news-and-latest-activity/news/2021/september/07/210907-spey-and-tamar-deploy