First Trilateral Meeting of the Ministers of Türkiye, Azerbaijan and Kazakhstan
Publication: Eurasia Daily Monitor Volume: 19 Issue: 107
By: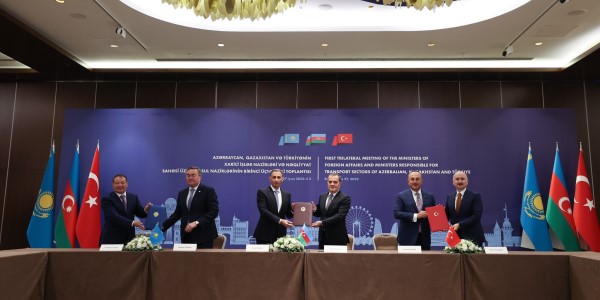 On June 27, Baku, Azerbaijan, hosted the first trilateral meeting of the ministers of foreign affairs and transport of Türkiye, Azerbaijan and Kazakhstan (News.az, June 27). The ministers paid special attention to issues of regional cooperation and the development potential of the Middle Corridor (Trans-Caspian International Transport Route). At the conclusion of the meeting, the Baku Declaration was signed (Apa.az, June 27) and an interdepartmental working group on transport to address practical issues related to the full use of the Middle Corridor was established (Anadolu Agency, June 28). Following the ministers' gathering, the first meeting of the Azerbaijani-Turkish Working Group on Transport and Communications was held on June 29–30 (Azertag, July 1). The sides set a target to increase mutual trade turnover from $4.6 billion to $15 billion in 2023 (AzerNews, July 1).
As a consequence of challenging geopolitical situations throughout the world, traditional logistical ties have been severely disrupted. In this respect, the inoperability of the Northern Corridor due to the Russian-Ukrainian war has brought the Middle Corridor to the fore as an alternative route between Europe and China, bypassing Russia. Türkiye, Azerbaijan and Kazakhstan fully understand that increasing capacity and efficiency of the Middle Corridor today requires even greater rapprochement, and they must immediately take measures to eliminate transit bottlenecks and to harmonize their policies so as not to miss this opportunity. Therefore, the participants agreed that, with the increase in cargo flows, it will be necessary to modernize technical and tariff conditions in all ports, which will be an incentive for increased trade and economic cooperation (Sputnik Kazakhstan, June 27).
On July 5, the 18th meeting of the Azerbaijani-Kazakhstani Joint Intergovernmental Commission on Trade and Economic Cooperation was held in Nur-Sultan. At the meeting, Azerbaijani Minister of Energy Parviz Shahbazov noted, "The Comprehensive Program for the Development of Cooperation between the Republic of Azerbaijan and the Republic of Kazakhstan for 2022–2026, which is at the stage of agreement, will become a roadmap for the development of dialogue between countries." Shahbazov added that trade relations between the two countries are developing dynamically: Between January 2022 and April 2022, trade turnover increased more than six times compared to the same period in the previous year, amounting to $215 million (Interfax.az, June 22).
Earlier, Kazakhstan, Azerbaijan and Georgia agreed to establish a joint venture to fully exploit the transit potential of the Trans-Caspian International Transport Route (TITR) (Apa.az, March 11). "The joint venture is expected to have the same effect as the joint venture of Kazakhstan Railways, Russian Railways and Belarusian Railways on a parity basis," said Batyr Kotyrev, chief engineer of Kazakhstan Railways (Silkroadbriefing.com, March 10). On March 31, Azerbaijan, Georgia, Türkiye and Kazakhstan signed a declaration on the Trans-Caspian East-West Corridor (Agenda.ge), and later, the parties approved a 2022 Action Plan for future collaboration among the four countries (AzeMedia, May 11).
In addition to a transit and energy hub, Azerbaijan seeks to become a digital hub and link between Europe and Asia (see EDM, June 23). Accordingly, accelerating the implementation of the Trans-Caspian Fiber Optic Project was underlined in the Baku Declaration (Caspian News, June 28).
Indeed, the meeting with Türkiye and Kazakhstan encompasses certain elements of foreign policy actively pursued by Azerbaijan in recent years—particularly trilateral diplomacy (Geopolitical Monitor, December 20, 2021; Top-center, March 18, 2021). The trilateral format of cooperation—including, Azerbaijan-Türkiye-Georgia, Azerbaijan-Türkiye-Iran, Azerbaijan-Türkiye-Turkmenistan, Azerbaijan-Türkiye-Pakistan and Azerbaijan-Türkiye-Kazakhstan—helps strengthen regional ties and settle contradictions by providing foreign policy flexibility. As it stands, Azerbaijan and Türkiye are the locomotives of this new "minilateral" format.
In parallel, Central Asia is gradually becoming a new foreign-policy vector in Azerbaijan's approach. The clear manifestation of this inclination is the statement by Hikmet Hajiyev, foreign policy advisor to the president of Azerbaijan, about Azerbaijan's willingness to work in various regional formats, including the US–Central Asia–Azerbaijan configuration (Caspian Policy Center, February 2).
As the Kremlin is distracted by the war in Ukraine, Kazakhstan has successfully used its multifaceted policy by keeping political contacts with Türkiye at the highest levels of government and by diversifying its economy. The two-day visit of Kazakhstani President Kassym-Jomart Tokayev to Ankara turned out to be quite productive. According to the joint statement on the visit, the parties have decided to raise their relations to the level of an "enhanced strategic partnership" (Daily Sabah, May 11). In addition, 15 different documents were signed and a commitment was made to increase the mutual trade turnover between the two countries from $5.3 billion to $10 billion.
Considering Ankara's significant activities in Central Asia after the start of the Russian-Ukrainian war, the economic and military agreements signed between Türkiye and Kazakhstan become much more meaningful. Moreover, from Kazakhstan's perspective, Türkiye has become a balancing actor to diminish its dependence on Russia. Similar agreements with other Central Asian countries (i.e., Uzbekistan) have transformed Türkiye, along with Russia and China, into one of the most important actors in the region. Although it is difficult for Türkiye to compete with Russia and China in Central Asia owing to historical and geopolitical factors, Türkiye also has its own advantages in closer ethnic and religious ties.
Recently, Türkiye's efforts to increase its presence in Central Asia, which Moscow sees as its sphere of influence, have come to the fore in an economic sense. The Middle Corridor provides a direct entry for Türkiye into Central Asia, which will increase the export of Turkish goods to the region and the import of raw materials from it. Kazakh political scientist Islam Kurayev contends that the transit route along Kazakhstan-Azerbaijan-Türkiye plays an important role, first of all, in the consolidation of the Turkic world. According to him, this is explained by the fact that common economic components and financial interests tend to bring countries closer together than shared political views (Trend, July 1).
In parallel with trade and transport activities, Ankara skillfully uses "soft power" in Central Asia. For example, a protocol was recently signed during the 5th Scientific Council of the International Turkic Academy held in Nur-Sultan on the inclusion in textbooks of "General Turkic History", "General Turkic Literature" and "General Turkic Geography" for secondary school curriculum (Kazinform, June 26). Russian scholars have evaluated the decision as a clear consequence of Türkiye's growing influence in the region (Regnum, July 4).
The most recent development that should not be ignored regarding the Middle Corridor pertains to a Russian court's suspension of the Caspian Pipeline Consortium's operations. In response, Tokayev instructed the Kazakhstani government to diversify oil export routes, giving priority to Trans-Caspian routes (Akkorda, July 7).
To sum up, the Middle Corridor is no longer just an alternative transit route, it is an indispensable necessity. The Caspian Sea plays the role of passage into Europe for Kazakhstan. In that sense, Azerbaijan and Turkey play the role of transit gateways. Moreover, to overcome infrastructure dependence on Russia, the EU also needs the Middle Corridor as an alternative route. Thus, Trans-Caspian transit routes represent a critical point for potential increased collaboration among Turkey, Central Asia, and Europe.