Gagauzia Elite Reveal Strong Signs of Russian 'Capture' in Moldova
Publication: Eurasia Daily Monitor Volume: 19 Issue: 141
By: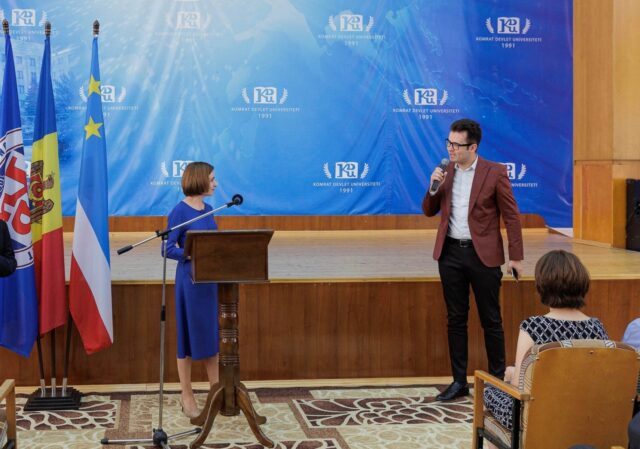 The Party of Action and Solidarity (PAS) government in Moldova is confronted with the largest popular dissent during its mandate, as thousands of people have gathered over the past few days to protest in front of parliament and the presidential administration building. These protests are seemingly a formidable challenge to the survival of the pro-European governing PAS. The protesters have even installed tents in front of parliament, which faces the Presidential Palace, giving the protesters a strategic advantage in laying siege to both institutions. The protesters have been mobilized by fugitive oligarch Ilan Shor—who was issued an arrest warrant by the Moldovan authorities for his role in a $1 billion bank fraud scheme. He is hiding out in Israel. In truth, Shor is paying for the protesters transportation costs to the capital, their daily food and the organization of the protests, corrupting the economically strained citizens to sell their support (Ziarulnational.md, September 23; Newsmaker.md, September 25; Newsmaker.md, September 25).
The protesters were incited mostly by the growing price of Russian natural gas and the consequent impact on electricity prices, as the annual inflation rate reached 34 percent in August 2022 (Infotag.md, September 9). These protests are clearly an artificial event, orchestrated by the Russian Federation's tailored energy policies toward the PAS government, in tandem with its local political proxies, such as the Shor Party and the electoral block of Communist and Socialists, who obtained seats in parliament along with the majority-holding PAS. The function of these local proxies is to shift the blame for the effects of Russia's gas policies onto Chisinau, attributing it to PAS, thus building political perceptions favorable to Russia and antagonistic to the incumbent government. Consequently, the protests' aim is to trigger early parliamentary elections and bring back to power the local proxies that Russia controls in Moldova. Shortly before the protests began, a few members of the Shor Party, along with Socialists Party member Constantin Staris—one of the protest's informal leaders—had visited Moscow, meeting with, among others, Leonid Slutsky, chairman of the Russian State Duma committee for international affairs (Tvrmoldova.md, September 10). Nevertheless, while these protests may provide significant political pressure on Moldova's government, they are unlikely to represent the biggest challenge to Moldova's political sovereignty.
A less visible—but much more impactful than the ongoing protests—threat of Moscow's potential attack on Chisinau's sovereignty is apparent in Moldova's Gagauzia region. The region is generally ignored by the Moldovan government, being left to various international and aid organizations operating in Moldova working on issues of local autonomy and ethnic minorities. The Russian Embassy in Moldova is also extremely active in Gagauzia, along with a few other (potentially) pro-Russian regions, including Transnistria, Taraclia and Balti municipality. Moldovan President Maia Sandu's recent visit to Gagauzia has unveiled a set of critical problems in the region, as well as a staunchly pro-Russian and anti-European local political elite.
During her meeting with members of the Gagauz popular assembly, which lasted two hours, Sandu faced multiple aggressive verbal attacks (YouTube, September 2). Most the deputies demanded that she go to Moscow to befriend Russia's leadership and garner cheap natural gas in return. A revelatory request by the chairman of the local popular assembly included an inquiry on whether the Moldovan authorities would allow the transit of cheap Russian gas only to the Gagauz region. The local legislative representatives implied that they had a preliminary agreement with Russia and only needed Chisinau's approval. Not coincidentally, Shor made a similar statement during his video address to the protesters, claiming that Russia is ready to provide cheaper gas for the Orhei District, where most of his supporters originate from, referencing Russia's Leonid Slutsky (Tvrmoldova.md, September 16).
Indeed, this is part of the Russian plot against the incumbent pro-European government in Moldova. The Kremlin understands that the promises given to Gagauzia and Shor are not going to come to fruition, since Moscow expects Moldovan authorities to refuse the selective treatment by Russia. However, it generates expectations and contributes to the blame game that the Kremlin has been playing against the PAS government, attempting to make it solely responsible for Moldova's sharp economic deterioration.
Gagauz deputies—among other things—have claimed that, if Sandu asks the people in Gagauzia if they are happy with Moldova becoming an EU candidate state, then 90 percent will respond negatively. The Moldovan president's prompt response that this was due to predominant pro-Russian propaganda in the region, including with the efforts of the deputies present at the meeting, did not do much to assuage this conviction. Her interlocutors complained that the Moldovan government should have consulted with them before applying for candidacy and insisted that Moldova should stay "neutral." The deputies alleged that "our people are not ready to demonstrate solidarity with Ukraine … so that our kids freeze in winter." They insisted that "if you want Gagauz people to support you … you should understand our friendship with Russia." Sandu's interlocutors clarified their position, stating that when "our Russian friends visit us, they say 'you love Russia more than yourselves'" (YouTube, September 2).
Besides the topic of befriending Russia and giving up solidarity with Ukraine, the Gagauz deputies demanded more power and autonomy for the region. They strategically asked for five permanent seats in the national parliament (out of 101) and requested that Gagauzia have its own independent tax agency. The local deputies' statements were dominated by expressions such as "our land," "our Gagauzia" and "our Moldovan neighbors," revealing a strong political detachment from Moldova and an incipient separatist perspective. The signals sent by Sandu's interlocutors revealed signs corresponding to conditions increasing the risk of minorities to radicalize and pursue separatism in Moldova (Journals.sagepub.com, September 2007; Cambridge.org, July 5, 2015). Given the aggressive behavior of the deputies, Sandu closed the meeting before answering some of the more moderate economic questions.
Gagauzia has accumulated a set of conditions—at the political and social levels—that truly make it Moldova's Crimea. In February 2014, for instance, Gagauzia organized, with money from businesses linked to Russia, a referendum opting to join Russia's customs union (98 percent) and rejecting EU integration (97 percent) (Radio Free Europe/Radio Liberty, February 3, 2014). Unless Chisinau learns Kyiv's lessons and resolutely blocks Russian influence channels in Moldova, it is likely to face an invincible joint front between fugitive oligarchs, operating as Moscow's proxies, and the pro-Russian local Gagauz elite.